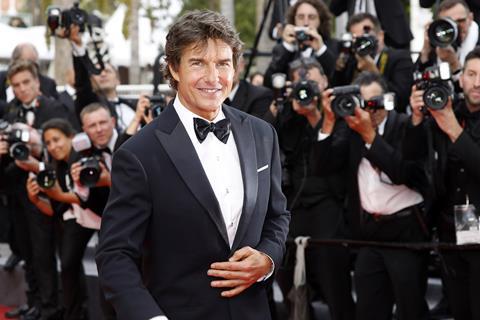 "I came to thank you" were the first words from Tom Cruise when he strode onto the stage at the climax of the Paramount presentation at CineEurope in Barcelona (June 20-23).
But there was no question who was doing the thanking — the many hundreds of cinema exhibitors who leapt to their feet to give the global movie star a strong and very sustained standing ovation, in gratitude for the $900m box office hit Top Gun: Maverick that has been bringing audiences back to cinemas post-pandemic.
Cruise is no stranger to CineEurope, having also attended last year, for an edition that unfolded very much in the shadow of the ongoing pandemic, with a reduced number of delegates. This year, attendance is back to capacity, and the mood is positive among attendees.
"I know the times you have been through," Cruise told the delegates, arriving on stage after a showing of the filmed tribute that earlier played at this year's Cannes Film Festival. "I came here last year. I know what it takes to do what you do. I understand all the effort. And I'm just here to thank you. Thank you for allowing me the career that I've had, helping me to deliver to audiences, the care you have for audiences, your love for movies, your love for cinema, and the theatrical experience."
Remaining very much on message, he then added: "This summer has been incredible. People are coming back to the movies. They're enjoying the communal experience. And I'm going to keep delivering these films for you."
As a way of building anticipation for Paramount's Mission: Impossible — Dead Reckoning Part One, due July 2023, the verdict of attendees was mission accomplished.