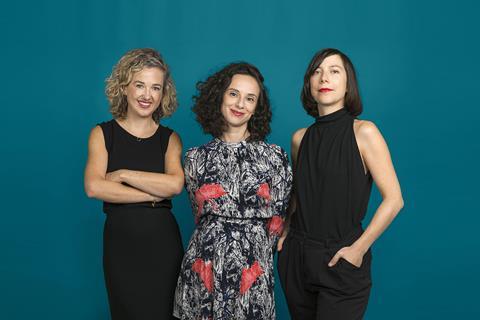 Top French sales agents Agathe Valentin and Bérénice Vincent are joining forces with cinema finance expert Laure Parleani to create Paris-based sales and financing company Totem Films.
The new outfit will handle around 10 titles a year spanning fiction, documentary and animation. The founders have already secured one investor and are in the process of raising more funds.
"We came together gradually through the complementary nature of our professional profiles. We were all three looking for new outlooks, new horizons and had long been dreaming of getting involved in something with a collective spirit," said Valentin.
The trio has already begun scouting for acquisitions with the aim of launching Totem's first slate at the beginning of 2019.
"The name Totem evokes the influence of cultural differences in creation, but also the idea of a collective work," said Parleani.
Breadth of experience
All three founders bring a breadth of experience in films sales and financing to the table as well as a commitment to encouraging more gender equality in the cinema industry as a whole.
Valentin's 15 years in the business include an eight-year stint at historic French film company Les Films du Losange, where she oversaw the sales campaigns for some 100 prestige auteur titles, including Stranger By The Lake and Michael Haneke's Palme d'Or and Oscar-winning drama Amour.
She joined Pyramide International in 2015 where she handled films such as Anne-Marie Jacir's Wajib and most recently Cannes Critics' Week title Sauvage.
With a background in commerce and law, Vincent cut her sales teeth at Celluloid Dreams before heading to Wild Bunch and then Les Films du Losange, taking over from Valentin as head of sales in 2015.
In addition, Vincent also co-founded the French gender equality lobbying group Le Deuxième Regard in 2013, followed by pressure group and think-tank Le Collectif 5050 last March.
The latter body – uniting industry and artistic figures from the world of French cinema – spearheaded the festival gender equality charter, which has since been signed by a raft of festivals including Cannes, Venice and San Sebastian, and the silent 82 women red carpet protest in Cannes last May.
Parleani started her film career in the business affairs department of production company Les Films Pelléas, then deepened her understanding of film finance at cinema investment specialist Sofica Palatine Etoile et Cine Nomine, before going into sales at Les Films du Losange.
While working together at Les Films du Losange, Vincent and Parleani handled a number of top festival titles including Mia Hansen Love's Things To Come, Juho Kuosmanen's Un Certain Regard winner The Happiest Day in the Life of Olli Mäki and Haneke's Happy End.
Under the new company structure, the three partners will share sales duties on all the territories with Valentin overseeing sales; Vincent looking after acquisitions and Parleani handling administration and finance.
"Our past experience in integrated and independent structures has enabled us to master the export chain in its entirety. This transversal vision is key to being able to put in place the ambitious and thought-through strategy necessary to face up to an extremely competitive market in perpetual evolution," said Valentin.
Gender-sensitive
The trio is also creating a subsidiary arm called Totem Atelier, aimed at co-developing content exploring stories around gender norms and identity in other formats such as TV drama series and web-series.
"Totem Atelier is an extension of our reflexions on gender that began with the creation of Le Deuxième Regard," said Vincent. "These new formats – mainly because of their young audiences – are often more audacious in the questions they throw-up."
Vincent highlighted the fact that although the trio's commitment to encouraging gender equality would be interwoven into the fabric of the new company's activities it would not manifest itself in set gender quotas, or types of story, or production set-ups.
"We're three women setting up an independent sales company, which is already unusual in the French sales scene, and we're also all gender equality activists," she said. "It follows that there will, of course, be a certain sensitivity to issues of gender in how we do things, including our perception of male characters, the complexity of which is still too rare on our screens."
"But we won't be aiming for a 50:50 split along gender lines, nor do we want to tie ourselves to a certain genre or story type," she added. "That's not our aim. One year, 90% of the films we work with could be directed by women, the next it could 10%… our end game is to reflect the diversity of talent out there."