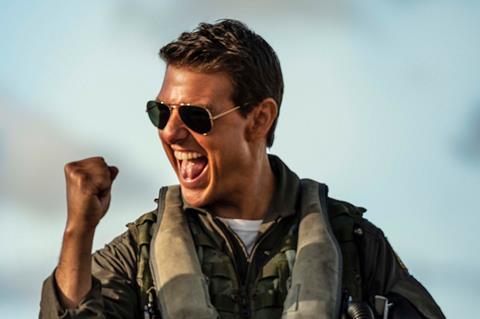 Top Gun: Maverick has crossed the $900m threshold at the worldwide box office on its 25th day of release.
The Tom Cruise smash stands at $901.9m globally, $472.8m in North America and $427.1m internationally and is the star's highest box office performer after recently overtaking Mission: Impossible - Fallout.
Maverick, directed by Joseph Kosinski for Paramount and Skydance, also ranks as Cruise's biggest film in 23 markets including the UK, Australia and Brazil.
According to Paramount distribution sources by its fourth weekend of release in North America 16% of the audience had returned more than once, with 4% returning three times or more. It is Paramount's second highest release in North America behind 1997 release Titanic on an unadjusted $659.4m.
The cast includes Miles Teller, Jennifer Connelly, Jon Hamm, Glen Powell, Lewis Pullman, Charles Parnell, Ed Harris and Val Kilmer. Ehren Kruger and Eric Warren Singer and Christopher McQuarrie co-wrote the screenplay from a story by Peter Craig and Justin Marks based on characters created by Jim Cash and Jack Epps, Jr.
Jerry Bruckheimer, Cruise, McQuarrie and David Ellison served as producers.