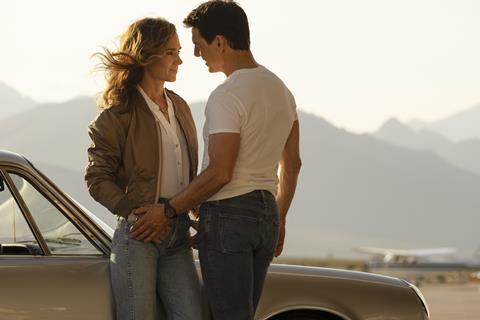 JUNE 6 UPDATE: Top Gun: Maverick performed even better than Sunday's estimates suggested as a 29% second weekend drop to $90m resulted in a $295.6m North American running total.
The action adventure was expected to cross $300m on Monday (June 6) and observers have speculated it could finish on more than $500m en route to a $1bn final worldwide tally. International and global as of Monday stood at $261.6m and $557.2m, respectively.
JUNE 5 REPORT: Top Gun: Maverick defied gravity to record an impressive 32% drop in the second weekend as an estimated $86m propelled the running total to $291.6m in North America.
That combined with $81.7m from international markets for a $167.7m weekend and $548.6m running total for Paramount and Skydance.
Paramount executives said the 32% decline was the lowest for any film that has opened at $100m or higher. The Tom Cruise tentpole also delivered the eighth highest second weekend and the ninth highest three-day weekend in Paramount's history, placing it in the studio's all-time top 10 pantheon.
The portion of the audience aged under 35 grew by 3% to 49%, which conforms with the notion of younger crowds driving late-pandemic cinema-going. At the same time the studio will be pleased that it is not only the older audience (which grew up on the 1986 original) which is buying tickets.
Maverick overtook all three key final grosses of Top Gun late last week. Tony Scott's original finished on $356.3m globally, $176m internationally and $180.3m in North America.
Imax screens dropped a mere 21% to add $11m for $39.7m in North America. Worldwide the large screen format has generated $62.7m.
Joseph Kosinki directed Maverick, which also stars Miles Teller, Jennifer Connelly, Glen Powell, Monica Barbaro, Jay Ellis, and Val Kilmer and Ed Harris.