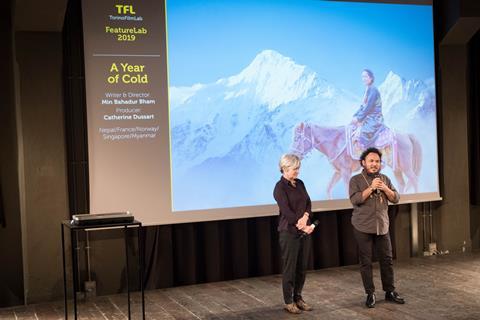 The TorinoFilmLab (TFL) has unveiled the 10 projects at an advanced stage by first or second-time international directors selected for this year's FeatureLab.
The prestigious six-month programme kicks off with a workshop in May – held online due to the pandemic - and will be followed by second one in September to be held physically in Austria, if possible. The Austrian Film Institute and the Comunidad de Madrid and Ayuntamiento de Madrid are partnering on this iteration of the Lab.
Scroll down for the list of projects
The FeatureLab is led by TFL's head of studies Violetta Bava and curated by Vincenzo Bugno. They will work with the 10 teams of directors, scriptwriters and producers to get their ideas on screen. All are at an advanced stage of production.
The participants will work on the artistic and creative aspects of production as well as on promotion strategies. International consultants will also help with individual encounters focusing on directing, cinematography, sound, editing, but also on production, financing, sales and audience engagement.
"The narrative structures of the projects we've selected are innovative," said Bugno. "Their characters come from very different environments and cultural realities. The topic of the family – including contradiction and sense of belonging – seems to play a common and central role within the projects."
Among the participants are directors whose first films have premiered in Locarno (Elsa Kremser with Space Dogs), Rotterdam (Fawzi Saleh with Poisonous Roses), Venice (Alireza Khatami with Oblivion Verses) and Cannes ACID (Tao Zhang with Last Laugh). There are also projects backed by Vincent Wang, producer of Tsai Ming Liang's Stray Dogs, and Jussi Rantamäki, producer of Un Certain Regard winner The Happiest Day In The Life Of Olli Mäki.
Of the 11 directors selected, seven are women and four are men.
Two FeatureLab projects won awards at the Berlinale 2021; Dénes Nagy's debut Natural Light, which won the Silver Bear for best director, and Lê Bảo's Taste, which went on to win the Encounter's Jury special prize.
The filmmaking teams of the 10 projects will present their projects to an industry audience at the annual TFL Meeting Event in November.
An international jury will then grant the TFL Production Awards as well as collateral prizes supporting the production process.
TorinoFilmLab is promoted by Museo Nazionale del Cinema, with the support of Creative Europe –MEDIA Sub-programme of the European Union, Direzione generale Cinema e audiovisivo - Ministero della Cultura, Regione Piemonte and Città di Torino.
FULL SELECTION
Cuerpo Celeste, dir. Nayra Ilic García (Chile), prod. Dominga Ortúzar, Oro Films (Chile)
Dayao Swims Against The Flow, dir. Tao Zhang (China), prod. Vincent Wang, House On Fire (France)
Family Time, dir. Tia Kouvo (Finland), prod. Jussi Rantamäki, Aamu Film Company (Finland) - debut
Hamlet From The Slum, dir. Ahmed Fawzi-Saleh (Egypt), prod. Ahmed Amer, A. A. Films (Egypt-US)
Home, dir. Or Sinai (Israel), prod. Adi Bar Yossef (Israel) - debut
Little Trouble Girls, dir. Urška Djukić (Slovenia), prod. Marina Gumzi, Nosorogi (Slovenia) - debut
Nina, dir. Andrea Jaurrieta (Spain), prod.Alex Lafuente, Bteam Pictures / Icónica (Spain)
The Green Parrot, dir. Elsa Kremser (Austria), Levin Peter (Austria), prod. Lixi Frank, Panama Film (Austria)
Things That You Kill, dir.Alireza Khatami (Iran), prod. Elisa Sepulveda Ruddoff, Fulgurance (France)
Ze, dir. Lkhagvadulam Purev-Ochir (Mongolia), prod. Katia Khazak, Aurora Films (France) - debut