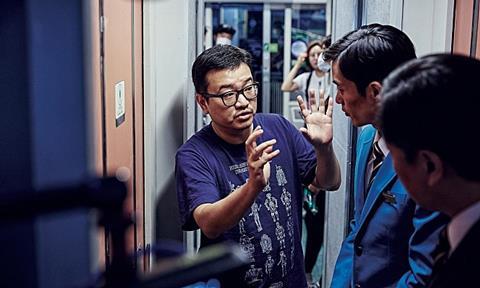 South Korea's Contents Panda has announced a raft of deals on Train To Busan director Yeon Sang-ho's follow-up to the zombie hit, titled Peninsula, led by deals to North America (Well Go USA) and France (ARP SAS).
Although it is already being billed in some places as a "sequel to Train To Busan", the director says, "Peninsula is not a sequel to Train To Busan because it's not a continuation of the story, but it happens in the same universe."
Budgeted at roughly twice Train To Busan's $8m and starring top actor Gang Dong-won (1987: When The Day Comes) with Lee Jung-hyun (The Battleship Island), Peninsula takes place four years after the outbreak of zombies that were chasing protagonists on a train speeding south to Busan. The Korean peninsula is devastated and Jung-seok, a former soldier who has managed to escape overseas, is given a mission to go back and unexpectedly meets up with survivors.
Currently in post-production, the film has also sold to Latin America (BF Distribution), Hong Kong (Edko), Taiwan (Movie Cloud), the UK (Studio Canal), Japan (Gaga Corp), Spain (A Contracorriente Films), Germany and Benelux (Splendid Film), Australia and New Zealand (Purple Plan), in-flight (Emphasis), Philippines (Pioneer Films), Thailand (Sahamongkol Film), India (Kross Pictures), and Singapore, Malaysia, Indonesia and Vietnam (CLOVER Films).
Yeon's prequel to Train To Busan, Seoul Station, was an animated film that is set on the day before the Train To Busan events happen.
Train To Busan made its world premiere at Cannes' Midnight Screenings in 2016 and clocked up more than 11 million admissions and $83m at the local box office. Internationally, it also clocked up around $50m, becoming phenomenal hits in Taiwan and Hong Kong.
Peninsula is produced by the same Redpeter Films that made Train To Busan, Psychokinesis and Birthday. NEW is planning to release the film this summer, hopefully after a debut in Cannes.
Esther Yeung, general manager, head of Sales & Distribution at Edko Films, said: "We're thrilled to be joining again Yeon Sang-ho's breathtaking and hair-raising journey. Train to Busan is a game changer in contemporary world cinema. It's the first Korean film which won both rave reviews at Cannes and huge box office successes around the world. It has become the highest grossing Asian film in Hong Kong. Our audiences are looking forward to taking the new Peninsula ride."
"Four years ago we boarded an amazing movie we saw in Cannes and we could not have imagined our audience would have received Train to Busan so well the way they did. Since then many Korean titles have been released and now we can see Parasite's amazing performance everywhere. Momentum is built for Korean cinema to consolidate its presence not only in Latin America but worldwide. 2020 it's the perfect year to bring Peninsula to the world," said Carlos Hansen, CEO of BF Distribution.
Doris Pfardrescher, president and CEO of Well Go USA said: "Train To Busan is timeless. Four years after its North American release, it's still one of our top performing titles. Our fans can't get enough of it, so when we heard about Peninsula, we knew that not only was this a title that belongs under the Well Go brand, but also a story we wanted to continue to tell."
Jed Benedict, vice president, International Acquisitions and Productions at Studio Canal said: "We could not be more thrilled to board the next ride from the extraordinary Train to Busan filmmaking team, especially in such a ground-breaking year for Korean cinema."