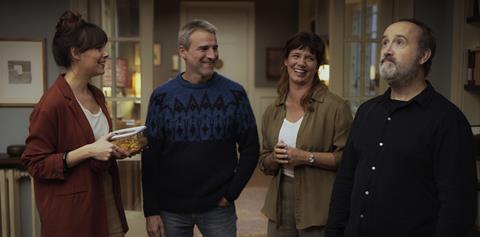 Transilvania International Film Festival (TIFF, July 23 - August 1) has selected Cesc Gay's Spanish comedy The People Upstairs as the opening film of its 20th edition, marking a new collaboration with San Sebastian International Film Festival.
The opener is part of a Spanish focus planned for this year's festival, which TIFF artistic director Mihai Chirilov said had been in the works for some time.
"We had been thinking for the last couple of years about having a more consistent focus on Spanish cinema and had been discussing with [SSIFF director] Jose Louis Rebordinos and [programmer] Roberto Cueto about a selection of Spanish films in a showcase called Carte Blanche: San Sebastian," he said. "[San Sebastian] has been a continuous source of inspiration for developing TIFF itself as well as for looking for fresh new talents."
The People Upstairs, which takes a light-hearted look at two couples as they explore the complexities of modern-day relationships, world premiered at San Sebastian in 2020 and has since won several awards, including a Goya for best supporting actor Alberto San Juan.
TIFF president Tudor Giurgiu told Screen that the comedy would be shown at 20 outdoor venues around the Transilvania region on July 23 in addition to being screened at the open-air cinema on Unirii Square in the city of Cluj-Napoca.
"I thought it would be a nice surprise event for many different communities," said Giurgiu. "And we also have a partnership with a movie caravan who will show the film in a small town with no cinema where they haven't had any screenings now for probably more than 30 years."
It will kick off a selection of 10 Spanish titles that also includes action series Riot Police, directed by Rodrigo Sorogoyen – winner of TIFF's Transilvania Trophy in 2014 for Stockholm – as well as Imanol Rayo's thriller Death Knell, Celia Rico Clavellino's intimate mother-daughter drama Journey To A Mother's Room, and Léon Siminiani's documentary Notes For A Heist Film.
The Spanish focus will also include special screenings, talks and masterclasses, industry initiatives and exhibitions supported by ICAA, Acción Cultural Espanola, Etxepare Basque Institute and Instituto Cervantes Bucharest.
"Apart from inviting filmmakers to introduce their films to audiences in Cluj, we are looking to have some decision-makers from ICAA coming to talk in a workshop about how they managed to implement several initiatives such as regional funds as well as the tax rebate scheme," Giurgiu said. "Romania could do with some inspiration because we are still struggling with getting our cash rebate scheme off the ground."
The ambition for both San Sebastian and TIFF is to continue the collaboration over future editions.
Staging a festival in a pandemic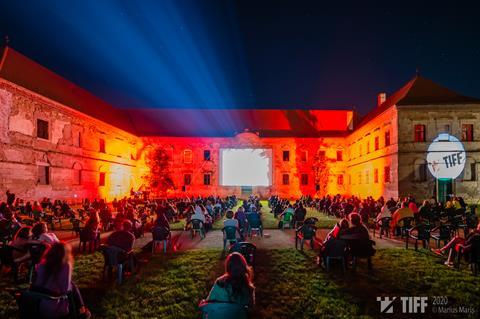 The decision to move the dates of the 20th edition from their traditional slot at the end of May to the end of July was taken last autumn. "We saw that it would be impossible to keep the dates and have a festival with the same format as in the pre-pandemic times, so that's why we thought we would move to the end of July," Giurgiu recalls.
Moreover, the Romanian government has recently unveiled how it plans to ease lockdown measures over the next three months. This could mean that, if infection rates continue to fall, the festival would be allowed to host up to 2,000 people at the open-air screenings, and indoor screenings would be able to operate at full capacity, albeit with mandatory face coverings.
"Last year, it was around the end of March that we decided to move the festival dates to the beginning of August," says Giurgiu, noting that TIFF's 19th edition from July 31 to August 9 was the first major film festival to take place in the region since the outbreak.
"It was pretty hectic and complicated because nobody knew how things would evolve. We were witnessing the waves of the pandemic without knowing what would actually happen during the summer, so we were really announcing blind that we would do an outdoor edition and were 'learning by doing' with the measures that had to be followed. We were later congratulated by the public health officials for observing the rules on social distancing between people and, for instance, ensuring that there were no queues."
Sanitary measures were deployed in all locations, and each screening location had marked entry and exit routes, with members of the festival team guiding the flow. Tickets – which were mainly sold online and through the TIFF official app - were scanned at each entry point; an observational triage point was established; and festival-goers' temperature was checked with a contactless device.
Entry was denied to those whose temperature exceeded 37.3°C; exhibited signs of respiratory infection; or refused to have their temperature checked.
Face coverings and 1.5 metres distancing were mandatory at all venues, with seating set up for one or two people and disinfected after each screening. The regulations at that time specified that the maximum capacity for open-air events was set at 500.
Return to usual programming
At the same time, the TIFF Industry platform had both online and offline components: only a handful of international guests were actually in Cluj to attend the pitch of new Romanian and Moldovan projects on August 7 – with the majority of professionals following proceedings virtually.
The closed screenings programme of new Romanian films, aimed exclusively at sales agents and festival programmers, was held completely online.
While last year's TIFF presented 157 films from 49 countries – around 25-30% less than usual – the 2021 edition is expected to return to a programme comprising more than 200 titles.
This year will also see the festival launch a new section dedicated to series, which could serve as both a catalyst and inspiration for Romanian filmmakers to start developing more stories to be produced as high-end TV drama.
Quarantine exemptions
While regulations for international travel within Europe change by the day as EU member states hammer out a uniform agreement on the specifics, TIFF is confident that it will be able to welcome many foreign guests to Cluj-Napoca.
This could include the delegation invited for the Spanish focus, TIFF "regulars" or newcomers curious about catching the latest in Romanian cinema and sampling the festival's well-regarded hospitality (including the Hungarian Day's famous goulash party).
"The Romanian government has been issuing exemptions to guests from abroad attending major cultural events so people don't have to worry about things like quarantine rules," Giurgiu adds. "The overall situation here in Romania is getting better and better and, with a successful vaccination campaign, we will have a better summer for cultural events this year."