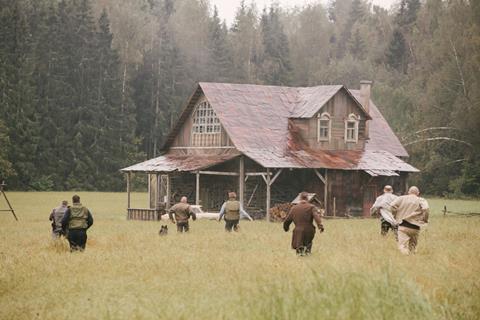 Organisers of this week's Transilvania International Film Festival (TIFF) have defended the programming of Russian director Lado Kvataniya's The Execution in the main competition following criticism from Ukrainian directors Dmytro Sukholytkyy-Sobchuk and Oleg Sentsov.
"Our common mission is to make sure the Ukrainian spirit is present and powerful in our festival," they said in a statement. "At the same time, as already stated by the international filmmaking community, it is important to not direct hate towards individuals based on their nationality."
In an online post at the beginning of the week, Sukholytkyy-Sobchuk, whose debut feature Pamfir premiered in Directors' Fortnight in Cannes last month, and Sentsov criticised the "illusion of cultural reconciliation" created by TIFF's decision to have The Execution competing with 11 other films - including Pamfir - for the Transilvania Trophy.
They declared that "art does not exist outside of politics", noting that Kvataniya's film had been funded by the Russian Ministry of Culture's Fond Kino and sanctioned oligarch Roman Abramovich's Kinoprime fund, and claimed "the film was strongly connected (to) and supported by the Russian government not only before the war, but after the start of the war."
TIFF, whose motto this year is 'Make Films Not War', is also screening Captain Volkonogov Escaped, co-directed by Natasha Merkulova and Alexey Chupov, and Kirill Serebrennikov's Petrov's Flu showing in the Supernova sidebar.
Munich
Meanwhile, Filmfest München remains unwavering in its own plans to show three Russian films in its programme in the coming days.
The festival management told Screen: "We strongly condemn the war of aggression that is plunging Ukraine into disaster. That is why we are focusing on Ukrainian cinema and awareness of this war. Young refugee students are accredited, we talk about Ukraine and Ukrainian cinema on the second Friday of the festival [July 1] and have the most important current works on the subject with Butterfly Vision and Mariupol 2. We are doing everything we can to bring the director of Butterfly Vision to the festival, and the German co-producer will talk about Mariupol 2".
"Filmfest München is also presenting important current Russian films that take a concrete stand against violence and authoritarian systems - by filmmakers who can no longer live in Russia," the statement concluded.
Captain Volkonogov Escaped is also screening at Filmfest Munchen while Kirill Serebrennikov will be in Munich in person with two films: Cannes title Tchaikovsky's Wife and Petrov's Flu.