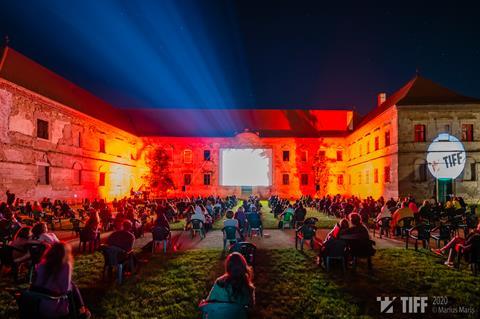 Romania's Transilvania International Film Festival (TIFF) is to host its 20th anniversary edition as an outdoor event in July, two months later than its traditional dates, due to the pandemic.
The festival was initially set to return to its usual period, running May 28 to June 6, after last year's edition was pushed to August as a physical event, with socially-distanced outdoor screenings.
But as Romania works to limit the spread of Covid-19, TIFF organisers have pushed the dates to July 23 to August 1, and plan to repeat last year's outdoor screening approach.
"We now have the pandemic experience of running a festival," said TIFF president Tudor Giurgiu of last year's event, in which 45,000 people watched 159 films across 14 venues in Cluj and its surroundings. "We can only hope that the context will remain favourable and that the 20th edition will be an unforgettable get-together."
The same locations will be used for the 2021 edition and screenings will also be held indoors, restrictions permitting and with safety measures and social distancing in place. Around 150 titles will make up the film selection, which will also be made available online simultaneously, in Romania, on the streaming platform TIFF Unlimited.
The festival also stated that its Industry platform will be "reshaped and expanded" with new programmes, which will feature both online and offline components. The final details will depend on the possibility of both participants and industry professionals to travel to Cluj.
"It's harder to look ahead at a time when the cinematic experience as we know it is seriously affected," said TIFF artistic director Mihai Chirilov.
"But here we are, 20 years later, with the same determination to create a relevant, attractive, educational and performing event for all those who long for the vibration of a collective experience… TIFF 2021 aims to offers not only a memorable event, but also the hope of regaining an almost lost normality."
Cinemas in the Romanian capital of Bucharest were cleared to reopen at 30% of their capacity on January 25, as the coronavirus infection rate dropped. Cinemas had been closed since October. Romania has recorded 752,482 cases and 19,135 deaths related to Covid-19 since the beginning of the outbreak.