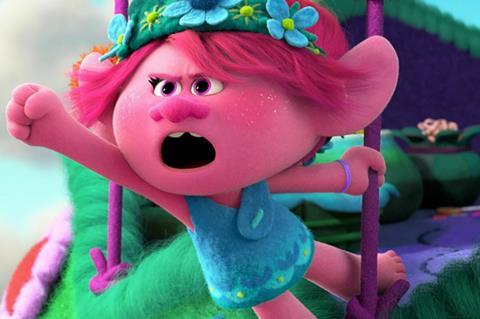 The head of NBCUniversal has signalled a long-term shift in how Universal Pictures will approach theatrical releases as it emerged Trolls World Tour has generated around $95m in the first three weeks on premium VOD.
The number is calculated based on information provided by a source in a report in The Wall Street Journal that said the studio has earned more than $77m in revenue from the film.
However the National Association Of Theatre Owners (NATO) said the number did not indicate a shift in "consumer movie viewing preferences" and was driven by "hundreds of millions of people isolated in their homes seeking entertainment".
Based on a roughly 80% split from digital rental or purchase fees, the $77m number means sales have reached approximately $95m. The report said this return to the studio is more than what Universal saw from the entire North American theatrical run of the original 2016 releaseTrolls, which grossed $153.7m in North America from early November 2016 to late March 2017.
Traditional theatrical releases typically see studio-exhibitor revenue splits of around 50%. Universal has traditionally been the most aggressive studio when it comes to pushing back against the theatrical window – the period of exclusive play in theatres before a release goes to ancillary markets.
Speaking to the Journal, NBCUniversal CEO Jeff Shell said, "The results for Trolls World Tour have exceeded our expectations and demonstrated the viability of PVOD. As soon as theatres reopen, we expect to release movies on both formats."
Universal's decision last month to forego postponing the theatrical release of Trolls World Tour and take it straight to a digital platform while theatres remained closed due to the coronavirus pandemic was met with alarm and disapproval by exhibition executives.
What remains unclear, the WSJ report said, is how the $19.99 rental strategy on Trolls World Tour will affect future sales of the film on DVD and digital downloads. According to the report, researchers at the studio learned that 51% of people who rented the sequel said they would have "definitely" watched it in theatres. About one-fifth said they rarely or never rent films from digital services.
On Monday the studio said it would release The King Of Staten Island, the cancelled SXSW opener and Judd Apatow comedy, on premium VOD in North America on June 12.
NATO responded to the WSJ report later on Tuesday, saying in a press release that the performance was "indicative of hundreds of millions of people isolated in their homes seeking entertainment, not a shift in consumer movie viewing preferences. It is not surprising that people under shelter-in-home ordinances for weeks on end with increasingly limited entertainment options would take advantage of the movie's direct-to-VOD move to keep children entertained, even at a premium price.
"Further, Universal heavily marketed the title as a theatrical release, in theatres and elsewhere, for weeks on end. That is unlikely to recur in normal times, and those costs haven't been disclosed. While Universal may be pleased with the PVOD results of Trolls World Tour, this outcome should not be interpreted as a sign of a "new normal" for Hollywood."
NATO presient and CEO John Fithian said, "Universal does not have reason to use unusual circumstances in an unprecedented environment as a springboard to bypass true theatrical releases. Theatres provide a beloved immersive, shared experience that cannot be replicated – an experience that many of the VOD viewers of this film would have participated in had the world not been sequestered at home, desperate for something new to watch with their families. We are confident that when theatres reopen, studios will continue to benefit from the global theatrical box office, followed by traditional home release."