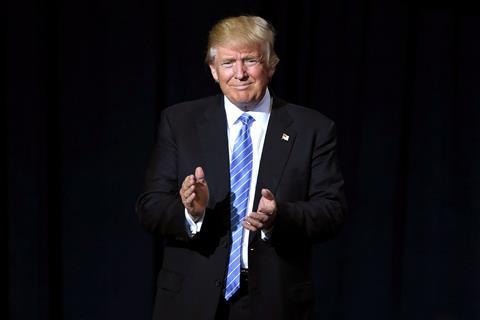 Donald Trump has ruled out a stimulus package until after the US election on November 3, compounding the crisis facing the US film industry amid the pandemic.

The development comes in the week when the world's second largest exhibitor is temporarily suspending operations, and as Hollywood's top cinema lobbyist warned most mid-size and small exhibitors will go bankrupt by the end of the year.

In a tweet on Tuesday (October 6), the US president said, "I have instructed my representatives to stop negotiating until after the election when, immediately after I win, we will pass a major Stimulus Bill that focuses on hardworking Americans and Small Business."
It is understood Trump will instead focus his efforts on getting approval for his Supreme Court nominee Amy Coney Barrett.
Democratic House Speaker Nancy Pelosi and treasury secretary Steven Mnuchin have engaged in talks, although reports have said they were still a way off from coming to a deal.
Exhibitors such as Regal owner Cineworld and other sectors in the US film industry are in urgent need of aid as the pandemic continues to wreak havoc with the release calendar and plunges cinema owners into deeper crisis.
US Federal Reserve chairman Jerome H. Powell has said a lack of federal economic aid could hinder recovery.
The National Association of Theatre Owners (NATO) and a Hollywood cohort that includes Motion Picture Association, Directors Guild of America and dozens of filmmakers including Martin Scorsese, Barbara Broccoli and Steve McQueen, have been lobbying US lawmakers to pass a package like the $2.2tn CARES Act relief initiative in March.
Speaking to Screen on Monday, NATO CEO John Fithian said, "We're asking Congress to help and our compatriots in the UK are asking their governments to help, because if we don't get some kind of liquidity help, we're going to lose – most of our smaller and mid-size members are going to go bankrupt or be closed entirely by December 31.
"We have surveyed them and 69% say they'll close their doors or file for bankruptcy by the end of the year. So it's dire."