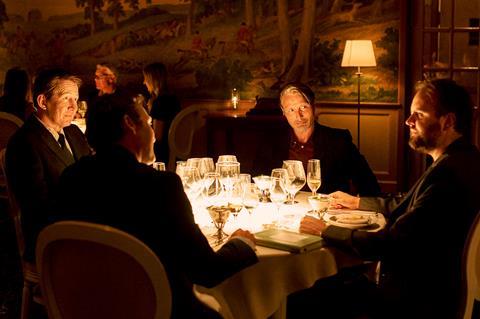 TrustNordisk has sold French rights for Thomas Vinterberg's upcoming drama Another Round to Paris-based distributor Haut et Court.
The feature is about a group of high school teachers who embark on an experiment to uphold a constant level of intoxication throughout the working day.
The production reunites Vinterberg with several collaborators from his award-winning 2012 drama The Hunt, including scriptwriter Tobias Lindholm as well as actors Mads Mikkelsen, Thomas Bo Larsen, Lars Ranthe and Susse Wold.
The film is still in post-production and will ready for delivery in the third quarter of 2020.
The film had previously been tipped as a potential contender for a Competition slot at Cannes this year although the future of that event now hangs in the balance amid the Covid-19 pandemic. Vinterberg previously won the Cannes jury prize forThe Celebration in 1998 and competed with The Hunt in 2012, for which Mikkelsen won best actor.
The deal was negotiated between Nicolai Korsgaard, executive sales manager at TrustNordisk, andHaut et Court acquisitions chief Laure Caillol and CEO Carole Scotta.
Scotta said the company had acquired the film after seeing first images during the Goteborg Film Festival, which ran January 24 to February, before the global coronavirus health crisis took hold.
"These images and the script are the promise of a daring film and offer us a way to think about ourselves, a strange mirror that works insanely well," said Scotta. "It is a peculiar look into society, as edgy as other films we accompanied like The Lobster by Yorgos Lanthimos or Toni Erdmann by Maren Ade. And we are sure that Mads Mikkelsen will deliver a very touching and strong performance. A perfect film for going back to cinemas."
Cinemas in France have been shut since March 14 following a national lockdown to slow the spread of the coronavirus. The measures will last until at least April 15 and may go on longer.
TrustNordisk has achieved a slew of deals on the Another Round since launching sales in June 2019.
Further previously announced deals include to Studiocanal (UK and Ireland), Germany, Austria and Liechtenstein (Weltkino); Benelux (September); Switzerland (Pathé); Hungary (Vertigo Media), Greece (Rosebud); Former Yugoslavia (Discovery Film & Video); Poland (Best Film); Estonia, Lithuania, Latvia (Estin Film) and Czech Republic (Film Europe).
The feature is produced by Sisse Graum Jørgensen and Kasper Dissing for Zentropa Entertainments3 in co-production with Film i Väst, Zentropa Sweden, Topkapi Films and Zentropa Netherlands with support from Danish Film Institute, TV 2 Denmark, Eurimages, the Netherlands Film Fund, Svenska Filminstitutet, the Netherlands Film Production Incentive and the MEDIA Programme of the European Union.
Nordic distribution is in co-operation with Nordisk Film Distribution.