Teenage Mutant Ninja Turtles generate more buzz on social networks in the UK than Brad Pitt war movie.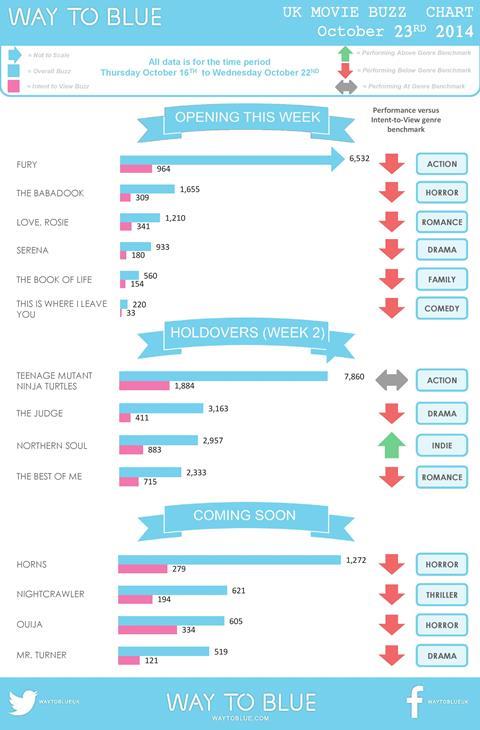 After its first week on release in the UK, Teenage Mutant Ninja Turtles has surfed to the top of the social network buzz charts, according to Way to Blue.
The blockbuster reboot generated nearly 7,900 comments from Oct 16-22 across social networks in the UK, with 24% of those expressing intent to view.
Brad Pitt tank drama Fury put up a good fight ahead of its UK release (Oct 22) but could not quite match the Turtles, with more than 6,500 comments – 15% of which looked to convert comments into tickets.
Other top performers after a week on release included Robert Downey Jr. drama The Judge, with nearly 3,200 comments; British film Northern Soul, with close to 3,000; and Nicholas Sparks adaptation The Best Of Me, with more than 2,300.
Opening this weekend, Australian chiller The Babadook managed to top 1,650 comments, with 19% daring to brave watching the scarefest.
Topping the films coming soon was Daniel Radcliffe fantasy horror Horns, which drew nearly 1,300 comments, 22% of which expressed intent to view.