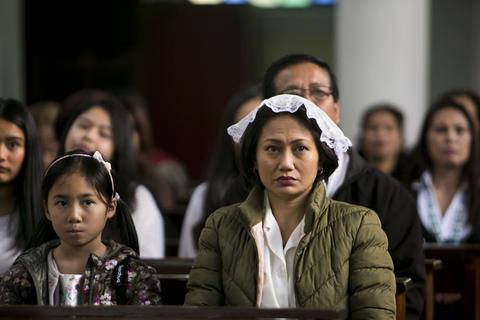 Italy-based sales agent TVCO has boarded world sales on four feature films – three from Europe, and one from Latin America.
Two of the films are feature debuts, with the other two from second-time filmmakers.
Araceli Lemos' debut Holy Emy had its world premiere in the Cineasti del presente competition at Locarno Film Festival last month. It follows a young Filipina woman searching for the missing links between her strange bleeding condition and her faraway mother's healing powers. It is produced by Greece's StudioBahaus, in co-production with France's Utopie Films and Nonetheless Productions from the US.
Constanza Fernandez's second feature (Im)Patient looks at the healthcare system, through the story of an elderly but fit doctor who is suddenly hospitalised with the little-understood Guillain-Barré syndrome. The film is produced by Chile's Nina Nino Films, and is in post-production. Fernandez previously directed 2012 film A Map For Love, which played several LGBTQ+ film festivals and received a UK release through Peccadillo Pictures.
Dovile Sarutyte's debut A Feature Film About Life tells the story of a woman who, in order to save money, chooses to reject professional services and organise her father's funeral herself. Produced by Lithuania's Studio Uljana Kim and currently in post-production, it follows on from Sarutyte's shorts Not Lucky Today and 8 Minutes.
TVCO completes its latest acquisitions with another Lithuanian title: Ernestas Jankauskas' second feature, I'm Fine Thanks. It follows Maria, a neuroscientist who returns home from treatment for panic attacks, only to find a life that creates more of them. Dansu Films produces the title, which is currently in post-production.
The latter three titles are aiming for festival premieres in the final quarter of 2021. They join a TVCO slate which includes Serge Mirzabekiantz's drama Dark Heart of the Forest, which had its world premiere at Brussels International Film Festival earlier this month.