Nadav Lapid's Synonyms and Emin Alper's A Tale Of Three Sisters have finished top of Screen's Berlin 2019 Competition jury grid in a tie.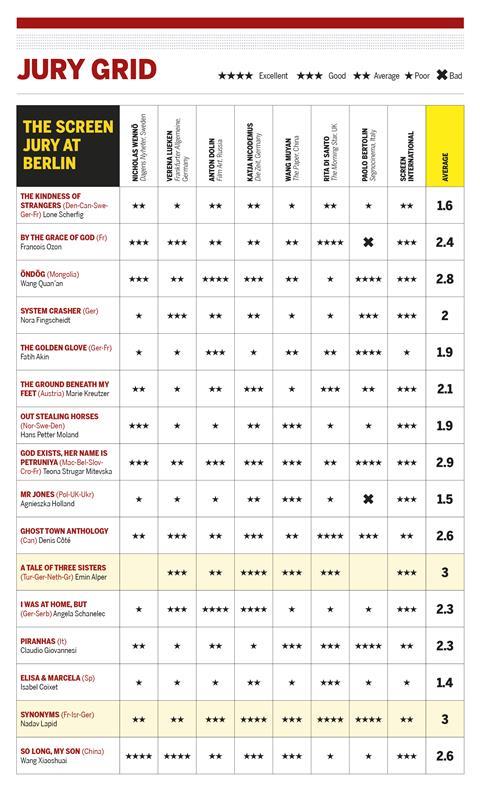 Both films scored a 3.0 average from our critics. Synonyms received all eight scores, whereas A Tale Of Three Sisters missed scores from two critics.
Synonyms centres on a young Israeli man (played by Tom Mercier) who moved to Paris to escape the stressful political situation in his home country. The tale is loosely based on Lapid's own experiences in the French capital at the beginning of his film career.
A Tale Of Three Sisters follows the three titular siblings in poverty-stricken Anatolia. They have each been sent away from home to become housemaids, and return to their father under troubling circumstances.
The second highest score was for Teona Strugar Mitevska's God Exists, Her Name Is Petrunya, which marked 2.9, while Wang Quan'an's Öndög scored 2.8.
Isabel Coixet's Elisa & Marcela finished bottom of the grid this year, only managing a 1.4 average. Other titles to struggle included Agnieska Holland's Mr Jones with a 1.5, and Lone Scherfig's festival opener The Kindness Of Strangers with 1.6.
The average mark for all titles was 2.2, tending nearer 'average' than 'good'.
Last year's Berlin grid was won by Wes Anderson's Oscar-nominated Isle Of Dogs with a 3.3 score, while at Cannes, Lee Chang-dong's Burning set the record score in the history of the grid with 3.8.
Berlin Competition reviews