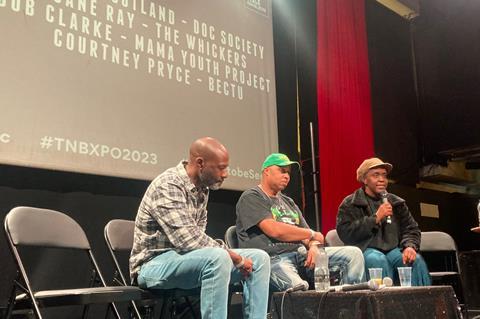 Creatives and executives from across the UK screen industries came together today (March 30) at the second edition of The New Black Film Collective XPO in London, to discuss the "glass ceiling" facing Black individuals in film and TV.
"People of colour said we're tired of being overlooked," reflected Courtney Pryce, a VFX artist, of the impact of the murder of George Floyd in the US at the hands of the police, and the global eruption of the Black Lives Matter movement in 2020. "The Band Aid was off, we could talk about it freely.
"A lot of my peers in the industry, Black people in general, a lot of us are freelancing. The common theme was we all reached the glass ceiling in our workplaces. Off the back of that, we were all spread out sparsely across the industry," said Pryce.
He explained that he joined union body Bectu's Black Members' Committee (which represents the interests of the ethnic minority members of Bectu) to build networks for Black and ethnic minority creatives in the screen industries.
"You get different institutions, bodies and groups who create reports and studies and findings, and that's all well and good, we do need that data and information. But we also need to improve people's working lives and working conditions today," he continued.
Delphine Lievens, a distribution consultant who has worked with Bohemia Media and the T A P E Collective, said on a panel discussing diversity hires, of which Screen was also part: "When I started out in the industry, I was part of a diversity scheme. They [the industry] were very much about just having diversity schemes for new entrants, and after a while everyone said: 'Hang on a minute, we're not actually fostering people beyond that point.' Then the conversation turned to: 'We've got to replace the gatekeepers.'"
The panel discussed plans for future BFI Filmmaking Fund executives to be put onto fixed-term contracts. Mia Bays, director of the BFI Filmmaking Fund, is halfway through a three-year fixed-term contract, and Ama Ampadu, who joined as senior production and development executive at the fund in January, is also on a fixed-term contract.
"I agree with the fixed-term contract thing," said Lievens. "But again, I don't want that to become a tokenistic gesture towards supporting diversity when we all see deeper-rooted issues."
She said the BFI needs "overhaul", but noted: "They know that, they've been undertaking consultation for 18 months now, they've been doing anti-racism training and things like that. So we wait to see what the result will be, because they are such leaders in our sector. It's important they set an example to follow."
Bob Clarke, a veteran TV editor whose production company Licklemor Productions won the TV Bafta for best entertainment programme with Life & Rhymes in 2020, expressed dissatisfaction at the slowness of change in the industry. "Am I going to go to my grave, hearing the same stories from when I was born in this world?"
He is also the founder of London-based talent development youth charity, Mama Youth Project. "We want tangible outcomes. I tell the BBC, and all of them, don't partner with us if you don't want real change."
Lodging complaints
Answering a question from the audience about how freelancers can best be supported when lodging complaints following a negative industry experience, Bectu's Pryce said: "The union is for you – as a first port of call, it is there to support you. The union is made up of freelancers, just like me and you.
"If it's specifically an issue about race, and things that somebody might not understand if they are not coming from your background, you can specifically request that, and they can represent you in any discussions that you might have with an employer."
"The union, and getting that safety net, is very important," added Clarke. "It's one thing that holds us back a bit in our industry. When you're young, and you haven't got much, you don't care. As you go through life and you build your life baggage, it's hard to stick up for yourself in the workplace. You don't want to lose your job. To this day, you can go into the workplace and still not see many other Black people."
The event was organised by Priscilla Igwe, director of The New Black Film Collective, an organisation dedicated to bolstering Black-led film production, distribution and exhibition.