The UK government has announced it is to increase the rate of film tax relief to 25% for all qualifying expenditure, as part of its annual budget statement.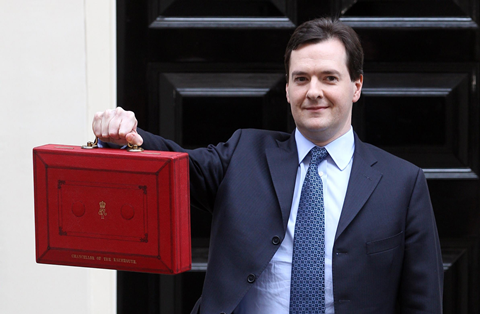 Chancellor George Osborne announced today (March 18) that the rate of film tax relief (FTR) will be increased to 25% regardless of budget level for all qualifying core expenditure, for all eligible film productions.
Previously, FTR applied at a rate of 25% for the first £20m ($29.3m) of qualifying expenditure and 20% to amounts thereafter.
The measure is hoped to encourage the production of "culturally British films" in the UK. It is also hoped that moving to one rate for all expenditure will contribute toward simplifying the tax system.
Subject to state aid approval by the European Commission, the changes will take effect from April 1, 2015 or the date of approval by the EC – whichever is the later date.
What is eligible?
For a film to be eligible for relief, it must be certified as British by passing a cultural test administered by the Department for Culture, Media and Sport (DCMS) – though the British Film Institute (BFI) actually administrate the scheme on a day-to-day basis – or qualifying as an official co-production.
A minimum of 10% of its budget must be spent on UK qualifying expenditure.
There are around 200 to 300 films a year that benefit from FTR, according to the UK government.
High-end TV
The government has also extended the high-end television tax relief by reducing the minimum UK expenditure requirement from 25% to 10%.
The cultural test used to judge whether a film or TV show qualifies for support will also be "modernized".
In addition, a new children's television tax relief will be brought in from April, which will include game shows or competitions.
Skills boost
The government will also extend the Skills Investment Fund, providing £4m ($5.87m) to ensure that it can continue to match fund support for training and development in film, television, visual effects, video-games and animation for a further two years.
In response to today's budget statement BFI CEO, Amanda Nevill said: "Today's budget demonstrates the government's continuing commitment to screen industry reliefs, which do so much to benefit the UK's screen industries and the UK economy overall.
"This welcome support, alongside Lottery funding for talent and skills development, is vital to the ongoing growth and success of the UK's burgeoning and world-leading creative industries."
Adrian Wootton, CEO of the British Film Commission and Film London, said: "The UK is a creative powerhouse, and today's enhancements can only help our screen industries go from strength to strength. Governmental support has proven invaluable, so the new Children's Television Tax Relief is an incredibly positive step.
"Similarly, the enhancements to the high-end television, animation and film tax reliefs will make the UK an even more popular destination for international clients and potential co-producers. This, of course, will in turn help our award-winning infrastructure thrive while creating new jobs and encouraging new investment.