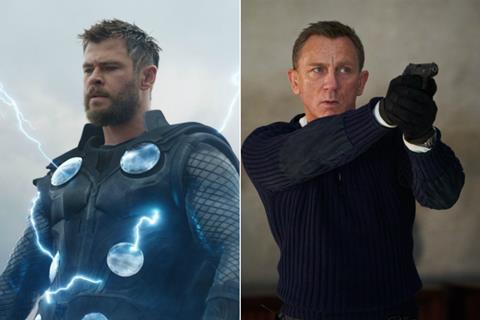 UK cinema admissions and box office recovered from a slow start to record a strong final total for 2019, although total cinema-going and revenue fell slightly year-on-year, a trend which may continue into 2020 with less surefire hits due for release.
According to the UK's cross-industry body Cinema First, which represents both the UK Cinema Association and the Film Distributors' Asociation, total cinema admissions in 2019 passed 176 million, a 0.5% decrease on 2018's 177 million. That number had been the highest since the 193 million in 1970 and makes 2019 the second biggest year by admissions for 49 years.
Box office revenue was also down slightly in 2019 from £1.277 billion in 2018 to £1.251 billion, a 2% decrease. This is still up by 26.6% on the £988 million of 2010.
Three Disney titles led the way in 2019: Avengers: Endgame with £88.6m, The Lion King with £76m, and Toy Story 4 with £66m.
Warner Bros' Joker, which became the first film in a decade to top the box office for six weeks, was next with £58m.
The figures reflect a strong recovery in the year, with the final six weeks delivering 23% more box office revenue than the same period in 2018. This was boosted by Star Wars: The Rise Of Skywalker, as well as titles surpassing expectations including Little Women, Knives Out, and Blue Story.
The year had started slowly with January and February down 24% (£57m) on 2018, partly due to no blockbuster able to match the success of Black Panther.
The four titles mentioned above were the only ones to gross more than £50m in the UK in 2019. Frozen II and Star Wars: The Rise Of Skywalker, released on November 22 and December 19, 2019 respectively, have both crossed the mark since the New Year.
2020 predictions
Looking ahead to 2020, a lack of surefire blockbusters are of some concern for the industry. Citing statistics predicted by the Cinema Advertising Association, UK cinema advertising company Digital Cinema Media (DCM) is projecting just one title will cross the £50m mark in 2020 – Daniel Craig's final outing as James Bond in No Time To Die. Released on April 2 through Universal, DCM projects the film will make £90m, below the £103m of 2012's Skyfall and the £95m of 2015's Spectre.
DCM predicts another Universal title, Minions: The Rise Of Gru, to reach £48m from its July 10 release; with a further seven titles falling between £30m and £40m, including Christopher Nolan's Tenet through Warner Bros from July 17; and the highest-projected Disney title, Marvel film Black Widow, from May 1.
Five titles crossed the threshold in 2018: Avengers: Infinity War, Mamma Mia: Here We Go Again!, Incredibles 2, Bohemian Rhapsody, and Black Panther.
Nonetheless, 2020 is off to a healthy start, with a 25% increase over the same period thanks to Star Wars and strong performance from awards titles Little Women, released by Sony, and eOne's 1917, up to £13.2m and £7.4m respectively as of last weekend.