Warner Bros' John Wick: Chapter 2 is the week's highest new entry with $2.78m (£2.23m) opening; Moonlight posts strong site average.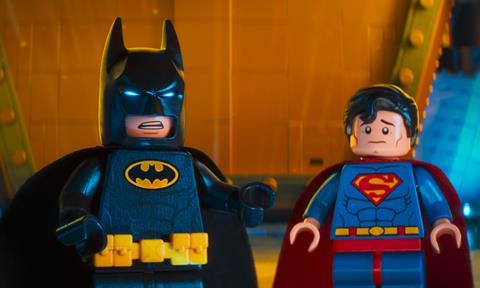 UK TOP FIVE
| Ranking | Film/Distributor | Weekend gross | Running total |
| --- | --- | --- | --- |
| 1 | The Lego Batman Movie (WB) | $5.52m (£4.43m) | $21.7m (£17.43m) |
| 2 | Fifty Shades Darker (Universal) | $4.29m (£3.44m) | $20.8m (£16.71m) |
| 3 | John Wick: Chapter 2 (WB) | $2.78m (£2.23m) | $2.78m (£2.23m) |
| 4 | Sing (Universal) | $2.64m (£2.12m) | $29.3m (£23.45m) |
| 5 | The Great Wall (Universal) | $2.06m (£1.65m) | $2.06m (£1.65m) |
OSCAR BEST PICTURE NOMINEES
| | Film/Distributor | Opening result (number of sites) | Current gross (as of Feb 19) |
| --- | --- | --- | --- |
| | La La Land (Lionsgate) | $8.2m/£6.6m (606) | $35.3m (£28.29m) |
| | Arrival (eOne) | $3.65m/£2.92m (561) | $11.7m (£9.4m) |
| | Hacksaw Ridge (Lionsgate) | $1.86m/£1.49m (432) | $6.17m (£4.94m) |
| | Hidden Figures (Fox) | $1.8m (£1.44m) (489) | $1.8m (£1.44m) |
| | Lion (Entertainment) | $1.58m/£1.27m (369) | $9.97m (£8m) |
| | Manchester By The Sea (Studiocanal) | $910,000/£729,478 (146) | $3.76m (£3.01m) |
| | Moonlight (Altitude) | $774,000/£620,636 (85) | $774,000 (£620,636) |
| | Hell Or High Water (Studiocanal) | $689,000/£552,230 (264) | $2.17m (£1.74m) |
| | Fences (Paramount) | $128,000/£102,688 (21) | $707,000 (£567,000) |
WARNER BROS
The Lego Batman Movie fell only 19% as it retained top spot at the UK box office for the second straight week.
Warner Bros' animation enjoyed a $5.52m (£4.43m) second weekend for a strong $21.7m (£17.43m) to date. As expected, it prospered over the half term as it amassed more than $6.2m (£5m) across Mon-Thurs.
The Lego Movie stood at $27.4m (£21.97m) at the same stage of its run, but didn't have major family competition like Lego Batman does with Sing, with its main rival being Mr. Peabody & Sherman.
Also for Warner Bros, John Wick: Chapter 2 shot to a promising $2.78m (£2.23m) UK debut from its 436 sites to chart third.
The action sequel took $311,000 (£249,000) from Valentine's Day previews and has already surpassed the entire UK haul of John Wick, boosted by that film's cult status on home entertainment.
Sequels are usually front-loaded, but Chapter 2 could benefit as counter-programming to a family and Oscar heavy market at the moment.
UNIVERSAL
Fifty Shades Darker remained in second as it dropped 55% on its way to a $4.29m (£3.44m) second weekend.
Universal's raunchy sequel whipped up $2.49m (£2m) on Valentine's Day and has now reached $20.8m (£16.71m) in the UK, making it the ninth highest-grossing 18-rated film of all time.
Even with similar drops, it should cross £20m by the end of its run.
Also for Universal, Sing fell only 10% with a $2.64m (£2.12m) fourth weekend, helped by boosted Friday takings.
Illumination Entertainment's latest hit animation took more than $3.74m (£3m) across Mon-Thurs thanks to the school holidays, and has now reached a superb $29.3m (£23.45m) in the UK.
Rounding off this week's top five, The Great Wall sliced to a so-so $2.06m (£1.65m) debut from its 459 sites.
That marks director Zhang Yimou's best-ever UK opening, ahead of Hero's $1.25m (£1m) from 254 sites, although that film was entirely in Mandarin compared to The Great Wall's mix of English and Mandarin.
Split added $516,000 (£414,000) for an impressive $13.1m (£10.5m) after five weeks in play, making it director M Night Shyamalan's fourth-biggest UK result.
FOX
Hidden Figures recorded the fourth-biggest UK debut of this year's crop of Oscar Best Picture contenders.
Fox's biopic accumulated a non-final $1.8m (£1.44m) from its 489 sites, including around $287,000 (£230,000) in previews from its Bafta-qualifying run since last Friday (February 10).
The debut is director Theodore Melfi's best-ever UK result.
Also for Fox, Secret Cinema's production of Moulin Rouge! opened its doors on Valentine's Day and has grossed a non-final $246,000 (£197,160). It runs until April 30.
Trolls has now taken $30.6m (£24.55m).
SONY
T2 Trainspotting will soon break into the top ten highest-grossing 18-rated films of all time in the UK.
Sony's long-awaited sequel journeyed to a $990,000 (£794,000) fourth weekend for a decent $19.1m (£15.3m) to date, and will shortly overtake the $19.2m (£15.4m) results of Fatal Attraction (1988) and Basic Instinct (1992), not adjusted for inflation.
ENTERTAINMENT
Lion continued its remarkable UK run with a tiny drop of 7% on its way to a $867,000 (£695,739) fifth weekend.
Entertainment's drama has now travelled to $9.97m (£8m) and could still overtake Arrival's $11.7m (£9.4m) result to become the second highest-grossing Oscar Best Picture nominee of this year.
LIONSGATE
La La Land fell a slim 32% in its sixth weekend as it danced to an extra $810,000 (£649,252).
Lionsgate's Oscar favourite has now amassed a dazzling $35.3m (£28.29m) in the UK and expected awards success should see it past the £30m mark, which would also see it become Lionsgate's third-biggest film ever.
Also for Lionsgate, Hacksaw Ridge fought to a further $320,000 (£256,381) for $6.17m (£4.94m) after four weeks in play.
ALTITUDE
Moonlight enjoyed an auspicious start to its UK box office run after limited previews over the past week.
Altitude's Oscar contender posted an excellent debut of $774,000 (£620,636) from its 85 sites, including $317,000 (£253,924) in previews. Its Fri-Sun total of $457,000 (£366,712) saw it record a healthy site average of $5,381 (£4,314), lifting to $9,098 (£7,294) for its overall opening.
The result marks Altitude's biggest-ever opening, surpassing Amy's $652,000 (£523,192), and the distributor is looking to expand into around 140 sites from Friday (February 24).
Also for Altitude, The Eagle Huntress has reached $424,000 (£339,881), surpassing the results of fellow documentaries like Exit Through The Gift Shop, Finding Vivian Maier and Grizzly Man.
PARAMOUNT
Fences expanded to 148 sites on its way to a non-final $470,000 (£377,000) second weekend.
Paramount's Oscar contender has now grossed $707,000 (£567,000) after ten days in play, and expands to more than 300 sites from this coming Friday where it will hope to profit on Oscar success.
Also for Paramount, Rings has scared up $2.18m (£1.75m) after three weeks in play.
STUDIOCANAL
In a crowded market, Studiocanal's The Founder opened with an unspectacular $289,000 (£231,412) from its 181 sites, marking a site average of $1,595 (£1,279).
That's one of the lowest debuts for director John Lee Hancock, although The Blind Side and Saving Mr. Banks benefitted from awards contention.
Also for Studiocanal, Manchester By The Sea crossed the £3m mark as a $68,000 (£54,197) weekend lifted it to $3.76m (£3.01m).
EONE
Jackie has now grossed $4.1m (£3.29m) following a $119,000 (£95,401) fifth weekend through eOne.
Also for eOne, 20th Century Women expanded to 48 sites for a $101,000 (£80,929) second weekend and $226,000 (£181,448) to date.
SODA PICTURES
In its third weekend, Soda Pictures' Toni Erdmann added a non-final $43,000 (£34,263) for $528,000 (£423,473) to date. Following its widespread critical acclaim, the team will now be hoping for an Oscar bounce to help get the film well clear of the £500,000 mark.
UPCOMING RELEASES
This week sees saturation releases for Lionsgate's Patriots Day (opens February 23) and Fox's A Cure For Wellness.
Curzon Artificial Eye's It's Only The End Of The World, Lionsgate's The Fits, Arrow Films' Shut In and Dogwoof's Best are among the films receiving a limited release.