Universal's Fifty Shades Darker crosses £20m mark in third weekend.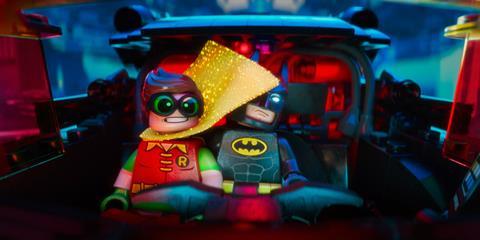 UK TOP FIVE
| Ranking | Film/Distributor | Weekend gross | Running total |
| --- | --- | --- | --- |
| 1 | The Lego Batman Movie (WB) | $3.6m (£2.89m) | $28.7m (£23.06m) |
| 2 | Fifty Shades Darker (Universal) | $1.86m (£1.5m) | $25.2m (£20.31m) |
| 3 | Sing (Universal) | $1.83m (£1.47m) | $33m (£26.55m) |
| 4 | John Wick: Chapter 2 (WB) | $1.42m (£1.15m) | $5.52m (£4.44m) |
| 5 | Hidden Figures (Fox) | $1.22m (£985,666) | $4.16m (£3.35m) |
(Note - Dollar conversions are based on today's rates)
WARNER BROS
The Lego Batman Movie comfortably saw off the competition to record a hat-trick at the top of the UK box office.
Warner Bros' animation fell a respectable 35% as it swung to a $3.6m (£2.89m) third weekend for a terrific $28.7m (£23.06m) so far, giving it an outside - if unlikely - shot at £30m.
Logan will likely prevent Lego Batman from a fourth week as the UK's number one, but it can prosper over the next fortnight until new family competition arrives with Beauty And The Beast on March 17.
Also for Warner Bros, John Wick: Chapter 2 shot its way to a $1.42m (£1.15m) second weekend for $5.52m (£4.44m) to date, and has already done more than double the result of its predecessor.
Within posted a UK bow of $10,400 (£8,364) from its 18 sites.
UNIVERSAL
Fifty Shades Darker has crossed the £20m mark at the UK box office in its third weekend.
Universal's raunchy sequel fell more than 50% to add $1.86m (£1.5m) for a decent $25.2m (£20.31m). It is now the sixth highest-grossing 18-rated film in the UK, with American Beauty ($26.5m/£21.3m) and Hannibal ($26.7m/£21.5m) next in its sights.
Also for Universal, Sing dropped 30% on its way to a $1.83m (£1.47m) fifth weekend for a superb $33m (£26.55m) to date. When final figures are confirmed, it could swap places with Fifty Shades Darker.
The Great Wall fell 42% with a $1.2m (£963,040) second weekend for $4.4m (£3.54m) and will soon become director Zhang Yimou's best-ever UK result.
Split has reached an impressive $13.7m (£11.02m) after six weeks in play.
FOX
Hidden Figures rounded off this week's top five as it fell only 18% (excluding previews) with a non-final $1.22m (£985,666).
Fox's drama has now accumulated $4.16m (£3.35m) in the UK and will hope to not be affected too much by its shut-out at last night's Oscars.
Also for Fox, A Cure For Wellness posted a lacklustre $504,000 (£406,045) UK debut from its 388 sites, arguably affected by its hefty running time and 18 certificate.
It's on par with director Gore Verbinski's lowest-ever UK opening, The Weather Man's $503,000 (£405,509) bow from 258 sites back in 2006.
Secret Cinema's production of Moulin Rouge! has danced to $843,000 (£678,410) after two weeks of its run, while Trolls has now amassed $30.7m (£24.71m).
LIONSGATE
Patriots Day missed out on the top five as it landed in seventh on its UK debut.
Lionsgate's latest Peter Berg outing grossed $1.05m (£844,000) from its 440 sites, including $118,000 (£95,000) in previews, marking a solid, if unspectacular, site average of $2,381 (£1,918).
The opening marks Berg's fifth best overall UK bow, behind The Kingdom's $1.14m (£919,537) from 393 sites.
Also for Lionsgate, Oscar winner La La Land fell a slim 32% on its way to a $555,000 (£447,000) seventh weekend for a dazzling $36.2m (£29.19m), with its awards success likely to see it comfortably past £30m.
Hacksaw Ridge added $199,000 (£160,000) for $6.6m (£5.31m) after five weeks in play, while The Fits opened with $2,100 (£1,690) from its nine sites on its UK debut.
ENTERTAINMENT
Lion continued its remarkable UK run by not dropping at all with a $860,000 (£692,555) sixth weekend.
Entertainment's drama is now up to $11.5m (£9.26m), a result that is more than seven times its $1.58m (£1.27m) debut, and it will soon become the second highest-grossing Oscar Best Picture nominee, ahead of Arrival's $11.7m (£9.4m).
SONY
T2 Trainspotting is now the tenth highest-grossing 18-rated film of all time at the UK box office.
Sony's long-awaited sequel fell 51% as it journeyed to a $488,000 (£392,979) fourth weekend for an excellent $20.1m (£16.14m) to date, surpassing Bruno's $19.5m (£15.7m) result.
ALTITUDE
Expanding to 181 sites, Moonlight enjoyed a 6% boost (excluding previews) with a non-final $486,000 (£391,504) second weekend.
Altitude's Best Picture winner crossed the £1m mark over the weekend to stand at a promising $1.56m (£1.26m) and is set for another expansion of 80 more sites this coming Friday after its Oscar success.
The unique circumstances of its Best Picture win which has gone viral on social media could provide an added boost to the usual awards win uplift.
PARAMOUNT
Fences expanded to 359 sites to post a minimal drop with a non-final $434,000 (£349,147) third weekend.
Paramount's drama is now up to $1.43m (£1.15m) following its gradual rollout and could benefit from Viola Davis' Oscar win last night.
STUDIOCANAL
Receiving a pre-Oscars boost of 58%, Studiocanal's Manchester By The Sea added $119,000 (£95,478) for $3.97m (£3.2m) to date. Its two Oscar wins could see a similar boost over this coming week.
Also for Studiocanal, The Founder dropped more than 70% with a $76,000 (£61,241) second weekend for $536,000 (£431,048) to date.
CURZON ARTIFICIAL EYE
From its 15 sites through Curzon Artificial Eye, It's Only The End Of The World recorded a UK debut of $44,000 (£35,165), including previews, failing to dislodge Mommy's $74,000 (£59,935) from 24 sites as Xavier Dolan's best UK opening.
UPCOMING RELEASES
This week sees saturation releases for Fox's Logan (opens March 1), Warner Bros' Fist Fight and Pathe's Viceroy's House.
Lionsgate's Trespass Against Us receives a wide release, while Park Circus' Certain Women and Arrow Films' Headshot are among the films receiving a limited release.