Call Me By Your Name passes £1m; Thor Ragnarok crosses £30m.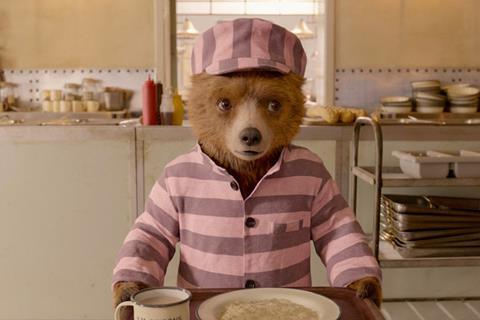 (Note - Dollar conversions are based on today's rates)
UK top five
| Rank | Film / Distributor | Weekend gross (Fri-Sun) | Running total | Week |
| --- | --- | --- | --- | --- |
| 1 | Paddington 2 (Studiocanal) | $3.82m (£2.83m) | $36.34m (£26.88m) | 4 |
| 2 | Daddy's Home 2 (Paramount) | $2.61m (£1.93m) | $10.62m (£7.86m) | 2 |
| 3 | Justice League (Warner Bros) | $2m (£1.48m) | $20.99m (£15.54m) | 3 |
| 4 | Wonder (Lionsgate) | $1.66m (£1.23m) | $1.66m (£1.23m) | 1 |
| 5 | Murder On The Orient Express (Fox) | $1.11m (£819,203) | $1.11m (£819,203) | 5 |
Studiocanal
Paddington 2 returned to the summit of the UK box office in its fourth week, taking a robust $3.82m (£2.83m) for a fall of 37%. The smash-hit now sits on $36.34m (£26.88m), still a long way ahead of the original film's total at the same mark.
Released in late November 2014, Paddington stayed in the UK top five until late January 2015, and was still in 200+ theatres in April that year, so expect Paddington 2 to run and run.
Paramount
In its second week, Daddy's Home 2 fell 30% on its way to a Fri-Sun total of $2.61m (£1.93m). The comedy sequel was top on Friday, but moved down one place to second in the chart for the overall weekend.
The film now sits on $10.62m (£7.86m), still a fair way shy of the original film's $22.97m (£17.2m) gross.
Warner Bros

Superhero outing Justice League fell a further 51% this weekend, taking $2m (£1.48m) for a cume of $20.99m (£15.54m) to-date. That's still a long way off Wonder Woman's return of $29.64m (£22.2m) and Man Of Steel's $40.06m (£30m) looks a distant prospect.
Lionsgate
Julia Roberts, Owen Wilson and Jacob Tremblay-starrer Wonder opened with $1.66m (£1.23m) to sit fourth in the chart. That number came from a wide release of 536 sites for a respectable site average of $3,104 (£2,299).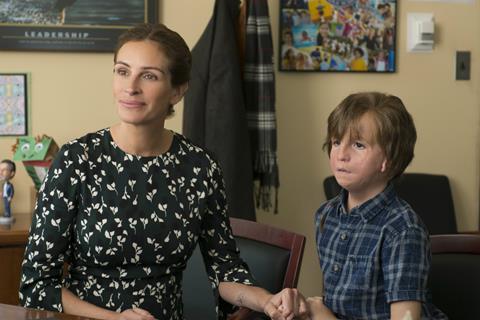 Film Stars Don't Die In Liverpool fell a further 54%, taking $78,736 (£58,310) for $1.04m (£772,999) to-date.
Horror sequel Jigsaw crossed the £5m mark in the UK, adding $39,235 (£29,057) for $6.76m (£5.01m) to-date.
20th Century Fox
Murder On The Orient Express added $1.11m (£819,203) over the weekend and now sits on $29.86m (£22.11m) after five weeks on release.
In its second week, Battle Of The Sexes fell a hefty 57% with $298,079 (£220,795), putting it on $1.53m (£1.13m) to-date.
Disney
Thor Ragnarok fell just 5% over its sixth weekend, registering $776,266 (£575,000) Fri-Sun. After an impressive weekend, the superhero sequel has now topped £30m in the UK and, sitting on $40.76m (£30.19m), will be confident of passing Spider-Man: Homecoming on $40.91m (£30.3m).
Entertainment Film Distributors
A Bad Moms Christmas posted a strong hold this weekend with $456,270 (£337,700) and now sits on $9.86m (£7.3m).
Sony
Family animation The Star held impressively, falling just 16% in its second weekend to $235,003 (£174,000) for a cume of $579,405 (£429,000).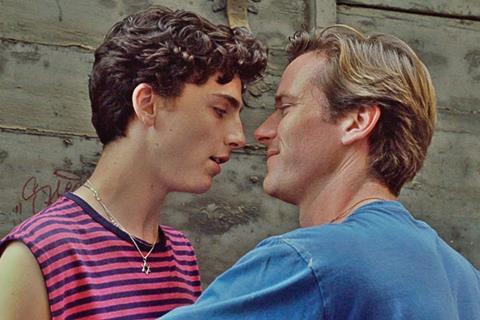 Call Me By Your Name saw an uptick of 17% this weekend with $67,530 (£50,000) and the critical smash has now crossed the £1m mark in the UK after six weeks.
Thunderbird
Biographical drama The Man Who Invented Christmas – which tells the story of the revered author's writing of A Christmas Carol – struggled to a non-final $225,418 (£166,913) over its opening weekend. That total was from a wide release of 381, making for a site average of just $592 (£438).
Trafalgar Releasing
Event cinema release Bolshoi: The Nutcracker scored a one-off total of $215,785 (£160,421) this weekend from 135 sites.
Altitude
The Florida Project is up to $950,298 (£703,657) after a slim drop of 18% this weekend, taking $71,231 (£52,744) Fri-Sun.
Loving Vincent impressively rose 124% Fri-Sun with $17,049 (£12,624) for a cume of $1.19m (£883,271) so far.
Curzon Artificial Eye
Michael Haneke's Cannes competition title Happy End opened to $183,244 (£135,682) from 49 venues, including $60,501 (£44,798) in previews – that's a decent site average of $3,739 (£2,769).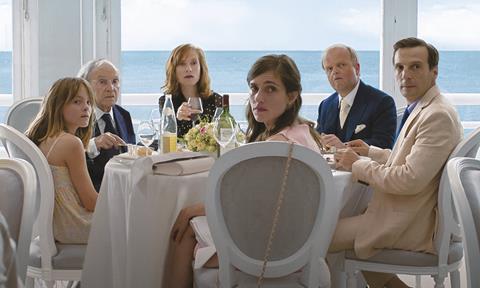 Haneke's previous film Amour, which was released by Artificial Eye in 2012 after winning the Cannes Palme d'Or, took $172,000 (£108,012) from 29 sites – a healthier site average of £3,724. That film ended on $1.32m (£873,316) after riding its awards buzz all the way from mid-November 2012 into March 2013, and Happy End will need similar buzz to achieve a comparable figure.
The director's biggest UK opening remains Cache (Hidden), which took $269,000 (£169,234) over its first weekend in 2006 and ended on $2.67m (£1.76m).
eOne
George Clooney's Suburbicon did little to make up for a disappointing opening, falling 78% with $67,819 (£50,225) Fri-Sun from 264 screens, a site average of just $257 (£190). Sitting on a running total of just $596,935 (£441,731), the film may well become Clooney's lowest-grossing UK directing effort, behind Confessions Of A Dangerous Mind on $1.63m (£1.1m).
The Death Of Stalin added another $71,943 (£53,217) from 98 screens and now sits on $6.6m (£4.88m).
Upcoming releases
Next week sees a saturation release for The Disaster Artist via Warner Bros on Dec 6, and wide releases on Dec 8 for Blade Of The Immortal via Arrow Films, horror-comedy Better Watch Out via Universal, Sundance comedy Brigsby Bear via Sony, and Jake Gyllenhaal-starring Stronger via Lionsgate.