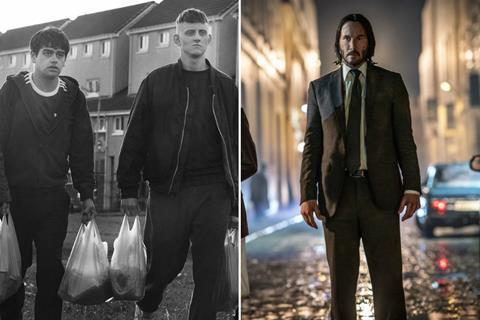 Scottish 90s rave drama Beats and John Wick Chapter 3: Parabellum begin their run at the UK box office this weekend, with Avengers: Endgame aiming to retake the number one crown it surprisingly lost to Pokémon Detective Pikachu last weekend.
Directed by Brian Welsh and based on writer Kieran Hurley's play, Beats sees two best friends from different backgrounds in a small Scottish town in the summer of 1994. They head to an illegal rave which promises to be the best night of their lives, so long as the police don't shut it down first.
The cast, led by Cristian Ortega and Lorn Macdonald as friends Johnno and Spanner, are predominantly newcomers or in the early stages of their career, as is Welsh; his micro-budget first feature In Our Name brought in £3,518 in 2010.
Beats is of a different scale, with BFI backing and Steven Soderbergh as an executive producer. Distributor Altitude will hope for a top 10 result at least, releasing in over 100 locations.
Good word-of-mouth has built up since the film's world premiere at International Film Festival Rotterdam, and a subsequent festival run which included closing Glasgow Film Festival with a giant party in March.
John Wick Chapter 3: Parabellum, the third instalment of the Keanu Reeves-led action franchise, opens this weekend through Lionsgate. Director Chad Stahelski, who helmed the previous two films, returns again, and sets assassin Wick on the run after killing a member of the international assassin's guild, with a $14m bounty on his head.
John Wick opened to £540,466 in April 2015, ending on £1.6m, while the sequel comfortably surpassed that, starting with £2.2m and ending on £6m in early 2017. If the third title keeps up this trajectory, the film should take the number one spot.
With Cannes 2019 well underway, Curzon is releasing a popular title from last year's festival, Ciro Guerra and Cristina Gallego's Colombian drug drama Birds Of Passage.
The pair's previous film (produced by Gallego and directed by Guerra), the Oscar-nominated Embrace Of The Serpent, started with £41,696 in June 2016 and ended on £280,787, buoyed by the Oscar recognition.
Next up for Guerra is Waiting For The Barbarians, for which Screen broke the news of Johnny Depp's involvement at Cannes last year.
Bulldog Film Distribution is distributing writer-director Jamie Patterson's Tucked, about an 80-year-old drag queen who forms a friendship with a younger queen as both struggle with issues of identity and mortality.
Hindi-language distributor Yash Raj Films has Bollywood comedy-romance De De Pyaar De, following a 50-year-old single father who faces opprobrium from his family and ex-wife when he falls in love with a woman half his age.
On the day when reports have emerged linking Robert Pattinson and Nicholas Hoult with the caped crusader role, Warner Brothers is re-releasing a selection of previous Batman titles in 4K restorations. The four films getting another airing are: Batman (1989, grossed £12.1m); Batman Returns (1992, grossed £11m); Batman Forever (1995, grossed £20.2m); and Batman And Robin (1997, grossed £15m).
Other new titles this weekend include Fox's Breakthrough, about a mother praying for the survival of her 14-year-old son after he has an accident and falls into a coma; kids animation Paw Patrol: Mighty Pups through Paramount; documentary Ferrante Fever through Modern Films, about the acclaimed Italian author Elena Ferrante; and a re-release of Stanley Kubrick's 1964 comedy Dr Strangelove or: How I Learned To Stop Worrying And Love The Bomb through rep cinema distributor Park Circus.
Apart from the Avengers: Endgame battle with Pikachu, key holdovers include Universal's The Hustle and Aretha Franklin documentary Amazing Grace.