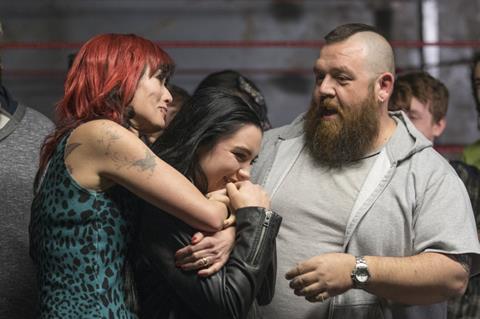 Stephen Merchant's solo directorial debut Fighting With My Family leads the openers at the UK box office this weekend, and will look to dethrone three-time champion The LEGO Movie 2 from the summit.
The film, which premiered as a 'secret screening' in Sundance this year, follows a family of wrestlers from Norwich, as siblings Saraya and Zak work to make it in the WWE. Screen Stars of Tomorrow Florence Pugh (2016) and Jack Lowden (2014) lead the cast, which also includes Nick Frost, Lena Headey and executive producer and former wrestler Dwayne 'The Rock' Johnson. Lionsgate is distributing the film.
It opened in 532 venues on Wednesday 27 February, making £165,000 on that day and £161,000 the following, topping the charts on both days. Including previews which have run since February 18, it has £396,000 heading into its first weekend.
Merchant previously co-directed 2010 comedy-drama Cemetery Junction with frequent writing-directing partner Ricky Gervais. That opened to £641,218 from 330 sites, ending on £1.5m.
The film could also set a new UK high mark for rising star Pugh, who plays Saraya Bevis (her career stage name is Paige).
Pugh's previous feature work includes 2017's Lady Macbeth, for which she won the BIFA for best actress. That title opened to £191,617, ending on £811,298.
She has also had roles in 2018's The Commuter (opened: £1.6m, finished: £4m) and 2015's The Falling (opened: £144,370, finished: £413,917).
Also opening through Fox Searchlight is The Aftermath starring Keira Knightley, Alexander Skarsgård and Jason Clarke. The film follows a British colonel (Clarke) and his wife (Knightley) who are assigned to live in Hamburg during the post-World War II reconstruction. Tensions arise between them and the German (Skarsgård) who previously owned their house.
Director James Kent's previous feature Testament Of Youth opened to £417,703 in January 2015 (including £60,376 of previews), ending on £2.2m.
Knightley has been a box-office draw through the money-spinning Pirates Of The Caribbean franchise, with the second title Dead Man's Chest hitting the highest total of £52.5m in 2006.
More recently she has led Wash Westmoreland's Colette, which had a three-day opening of £561,229 in January this year and is currently on £2.1m with select screenings still available.
Universal is distributing Sundance 2018 title What They Had. The film stars Hilary Swank, Michael Shannon, Robert Forster and Blythe Danner, in a family drama about two siblings trying to convince their father to put their Alzheimer's-suffering mother in a nursing home. Elizabeth Chomko writes and directs in her feature debut.
Sony has action thriller Miss Bala, based on a 2011 Mexican film of the same name, starring Gina Rodriguez, Ismael Cruz Córdova and Anthony Mackie. Catherine Hardwicke, who scored a £11.2m hit in 2008 with the first Twilight film, directs.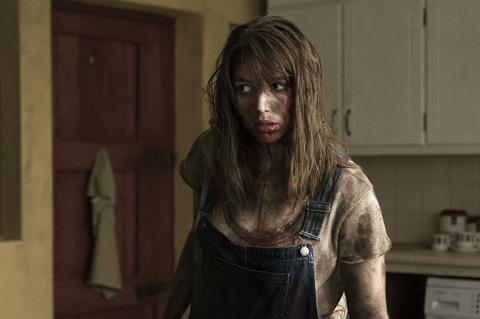 Vertigo Films is releasing Irish horror The Hole In The Ground about a woman who moves to a small town in the woods with her young son in an attempt to escape a broken past. Screen Star of Tomorrow 2017 Seána Kerslake takes the lead role.
Samuel Maoz's military drama Foxtrot gets a release through Curzon after a festival run since debuting in Tel Aviv in August 2017.
Other new openers include Polish crime feature Women Of Mafia 2 (Kobiety Mafii 2) through Phoenix Productions; rock-and-roll road trip Burning Men through Munro Film Services; Italian drama Hannah starring Charlotte Rampling through 606 Distribution; and documentary Of Love & Law about Japan's first law firm set up by openly gay partners, from Hakawati Films.
Peccadillo Pictures has Camille Vidal-Naquet's Sauvage, a drama about a homeless sex worker, which premiered in Critics' Week at Cannes last year.
Rep cinema distributor Park Circus is screening Ridley Scott's sci-fi classic Alien in over 100 locations to celebrate the fortieth anniversary of its release; while a restoration of Hideo Nakata's 1998 horror Ring is being released by Arrow Films for its twentieth anniversary.
Key holdovers include The LEGO Movie 2, which has held top spot for three weeks; Mark Wahlberg and Rose Byrne comedy Instant Family; animated threequel How To Train Your Dragon: The Hidden World; and titles looking for a post-Oscars boost including The Favourite, Bohemian Rhapsody and Green Book.