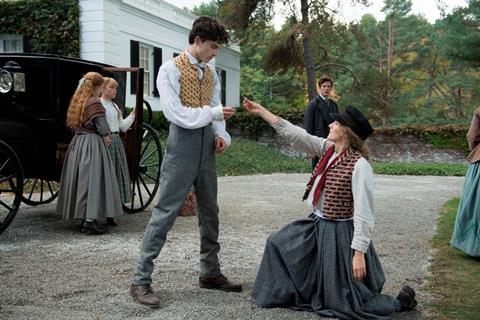 This weekend sees the latest version of Louisa May Alcott's classic 19th-century novel Little Women hit UK cinemas through Sony, looking to capitalise on the seasonal setting of the story.
Adapted and directed by Greta Gerwig, the film stars Saoirse Ronan, Emma Watson, Eliza Scanlen and Screen Star of Tomorrow 2016 Florence Pugh as the four March sisters, each navigating life and exploring themselves in Massachusetts.
The supporting cast includes Laura Dern, Timothée Chalamet, Tracy Letts, Bob Odenkirk, Louis Garrel, Chris Cooper, and Screen Star of Tomorrow 2013 James Norton. It had a non-festival premiere in New York at the beginning of December.
This is the eighth film adaptation of Alcott's work, following silent versions in 1917 and 1918, then further adaptations by George Cukor in 1933, Mervyn LeRoy in 1949, David Lowell Rich in 1978, Gillian Armstrong in 1994, and Clare Niederpruem in 2018.
Perhaps the most prominent of these, Armstrong's 1994 version, opened to £37,326 in one location through Sony in March 1995, going on to gross £3.4m following a wide release. Starring Winona Ryder in the role now played by Ronan, it garnered three Oscar nominations at the 1995 awards – best score, best costume design, and best supporting actress for Ryder.
Little Women will certainly be looking to top that mark and go on to a new box office record for Gerwig. Her first solo directorial feature, 2017's Lady Bird which also starred Ronan and Chalamet, opened to £942,187, going on to gross £5.6m.
She previously co-directed low-budget 2008 mumblecore title Nights And Weekends with Joe Swanberg, while her upcoming work includes a feature film based around the Mattel toy Barbie.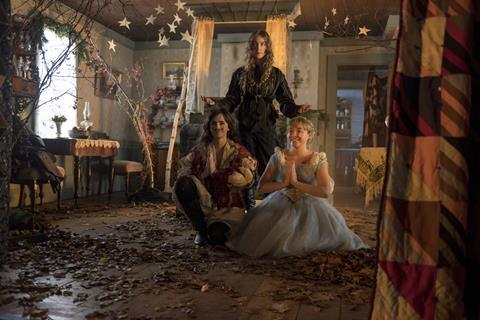 There is considerable box office pedigree among her starry cast. Ronan's breakthrough role and first Oscar nomination (for supporting actress) came in 2007's Atonement, which opened to £1.6m on its way to an impressive £12.4m. A best actress nomination came in 2016 for Brooklyn (opened: £1.1m, closed: £6m), followed by another for Lady Bird in 2018.
After her lead role in the money-spinning Harry Potter series, Watson has focused mainly on smaller fare such as 2012's The Perks Of Being A Wallflower (opened: £600,771, closed: £2.3m), although she returned to the blockbuster realm with 2017 Disney behemoth Beauty And The Beast (opened: £19.7m, closed: £72.4m).
Pugh has had a stunning year with lead roles in both Fighting With My Family (opened: £1.6m, closed: £5.9m) and Midsommar (opened: £635,938, closed: £2.7m). She recently received three individual nods at the London Critics' Circle 2020 nominations, and will next be seen in Cate Shortland's Marvel feature Black Widow alongside Scarlett Johansson.
Australian actress Scanlen is the least well-known of the quartet, but that may not be the case for long. As well as Little Women, she recently led Shannon Murphy's Venice Competition title Babyteeth, which is set for a 2020 UK release through Picturehouse Entertainment. Also ahead is Antonio Campos' psychological thriller The Devil All The Time for Netflix, alongside Robert Pattinson, Bill Skarsgård, Tom Holland, Sebastian Stan, Mia Wasikowska, Jason Clarke, and Riley Keogh.
Punching above its weight
The Boxing Day release slot chosen by Little Women and fellow openers Playing With Fire (Paramount) and Spies In Disguise (Disney) is an intriguing one. With most people on holiday, a potentially large audience is available; however, this is countered somewhat by the profusion of films in cinemas, including blockbuster holdovers released pre-Christmas.
In the last few years, titles released on this date have had a moderate opening weekend, before benefitting from a strong tail as the box office logjam clears. Most notable of these was The Greatest Showman, which opened on Boxing Day 2017 and took £2.6m on its first weekend before word-of-mouth and the popularity of its songs propelled it to £47.9m across an incredible six-month cinema run.
Last year, Transformers franchise title Bumblebee started with £2.5m on its first weekend, ending on a decent £12.8m.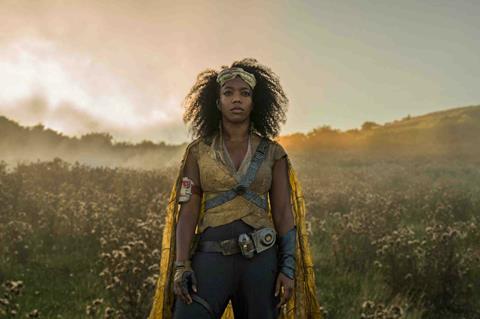 Of those blockbuster holdovers, Star Wars: The Rise Of Skywalker will be looking to out-perform the second weekend holds of the previous two titles of the series.
2015's The Force Awakens fell 58% from its then-record opening of £24.2m, taking £10.2m on its second-weekend session despite most cinemas being closed for one of the three weekend days for Christmas Day.
2017's The Last Jedi dropped 60.7% on its second session, from £20.3m to £8m. The Rise Of Skywalker is starting from a notably lower base of £14.4m, caused partly by a later release date.
Also looking to maintain its balance is Universal's much-maligned Cats, which underperformed with £3.2m on its first weekend. The predominantly negative reviews, which have now become a story of their own, may actually end up benefitting the film, with audiences keen to see what all the fuss is about.
Other openers
Returning to the other titles starting their UK runs, comedy Playing With Fire is the latest film to star former WWE wrestler John Cena, who has previously appeared in the aforementioned Bumblebee as well as Daddy's Home and Daddy's Home 2 (grossed a decent £17.4m and £14.4m respectively). Directed by Andy Fickman, the film centres on a crew of firefighters attempting to rescue three rambunctious kids.
Disney's latest animated offering Spies In Disguise has Will Smith providing the voice of the world's best spy, who is turned into what Screen's review called 'a perturbed pigeon'. He must enlist the help of his nerdy tech officer (voiced by Screen Star of Tomorrow 2012 Tom Holland) to save the world.
The film is a 20th Century Fox production, with distribution through Walt Disney Studios Motion Pictures following the merger earlier this year.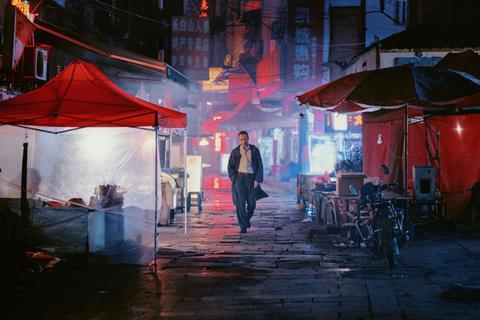 Robert Beeson's New Wave Films is releasing Bi Gan's Cannes 2018 title Long Day's Journey Into Night, a 138-minute 3D mystery, half of which is told through one continuous shot. The film was nominated for five prizes at Taiwan's Golden Horse awards in 2018, winning for best cinematography, score, and sound effects.
FilmOne Distribution has Nigerian English-language action-comedy sequel Merry Men 2; while further foreign-language fare includes Raj Mehta's Good Newwz through Zee Studios, and the conclusion of Wilson Yip's IP Man series, Ip Man 4 through Asia Releasing.