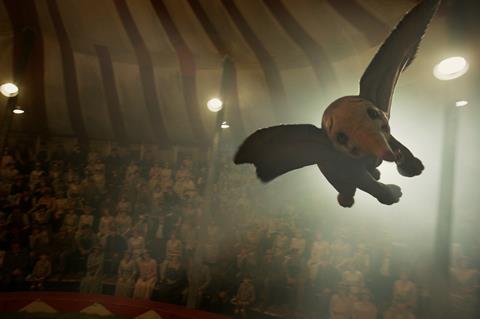 Fantasy adventure Dumbo is the headline title opening at the UK box office this weekend, and may oust Disney stablemate Captain Marvel from the number one spot it has held for three weeks.
Directed by Tim Burton, Dumbo is inspired by the 1941 Disney animation of the same name, which itself was based on the novel by Helen Aberson and Harold Pearl. Colin Farrell, Michael Keaton, Danny DeVito, Eva Green and Alan Arkin star in the story of a family which works at a failing circus, who encounter a baby elephant who is capable of flying.
The benchmark for recent Disney live-action remakes is the stunning £19.7m opening for Beauty And The Beast in March 2017. The film went on to a colossal £72.4m, and is the ninth highest-grossing title of all time in the UK.
The Jungle Book opened with £9.9m in April 2016 and ended on a strong £46.2m.
Furter recent Disney films about a pre-existing character include Mary Poppins Returns, which began with £8.2m in December last year and is nearing the end of its run on £44.2m.
Walt Disney Productions' The BFG was released through eOne in the UK in June 2016, opening with £5.3m and ending on £32.1m.
Tim Burton's most successful title in the UK is 2010's Alice In Wonderland (also for Disney), which opened on £10.6m and grossed a £45.6m in total.
Like Dumbo, both The BFG and Alice In Wonderland are live-action fantasy literary adaptation remakes, with prominent use of CGI.
Other Burton titles to perform well in the UK include 2005's Charlie And The Chocolate Factory (started: £8m, ended: £37.8m); 2001's Planet Of The Apes (£5.4m and £17m) and 2016's Miss Peregrine's Home For Peculiar Children (£3.5m and £12.3m).
Curzon/Artificial Eye is distributing Julian Schnabel's Venice 2018 title At Eternity's Gate which gained Willem Dafoe a best actor Oscar nomination for his role as Vincent van Gogh, in the painter's years in Arles and Auvers-sur-Oise in France.
Dafoe was also Oscar-nominated the year before for The Florida Project which opened to £242,170 and ended on £941,029.
Schabel's biggest UK result was for The Diving Bell And The Butterfly, which began with £106,911 in February 2008, and grew to a £1m final gross.
Picturehouse Entertainment is releasing Carol Morley's police mystery Out Of Blue starring Patricia Clarkson. Morley's The Falling opened to £144,370 in April 2014, ending on £413,917.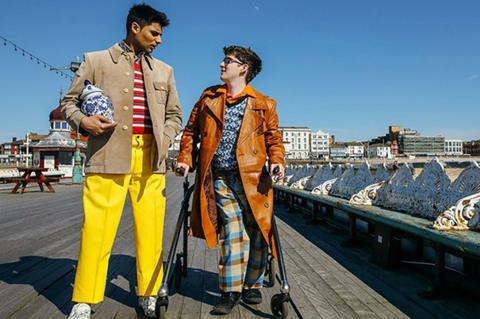 Buddy comedy Eaten By Lions from director Jason Wingard is releasing in over 100 locations through Munro Film Services. The film stars Screen Star of Tomorrow 2018 Antonio Aakeel and Jack Carroll (who came second in the TV talent show Britain's Got Talent in 2013 as a comedian) as two half-brothers who go in search of one of their fathers.
Further UK releases this weekened include Kristoffer Nyholm's crime thriller The Vanishing starring Gerard Butler through Lionsgate; Jonas Åkerlund's black metal horror Lords Of Chaos through Arrow Films; documentary Being Frank: The Chris Sievey Story about eccentric comedian Frank Sidebottom, through Altitude; and Bollywood romance Notebook through Yash Raj Films.
Key holdovers are the fourth weekend of Captain Marvel, which will look to approach the £37m gross of Iron Man 3; Jordan Peele's horror Us; and UK titles Fisherman's Friends and Fighting With My Family.