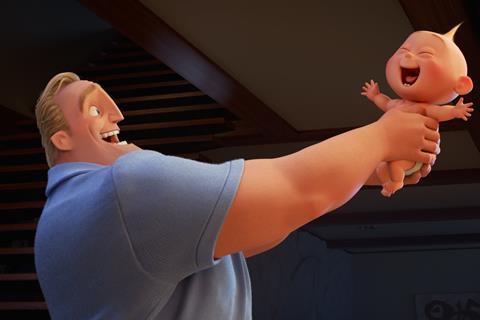 After a very quiet period at the UK box office - last week's three-day weekend was the second lowest since 2011 - cinemagoers are expected back into the theatres from today (July 13).
Walt Disney is opening Brad Bird's Pixar title Incredibles 2. The first film, also directed by Bird, grossed $62m at the UK box office back in 2004 to make it the fourth-highest grossing film of that year.
Action thriller Skyscraper, starring Dwayne 'The Rock' Johnson, hits theatres around the world this weekend, including 542 sites in the UK via Universal.
Sergio G Sanchez's English-language Spanish horror The Secret Of Marrowbone, starring George McKay is opening via eOne. Sanchez's credits include the screeplay for JA Bayona's The Oprhanage. The Secret Of Marrowbone first debuted at Toronto and then San Sebastian last year.
Further crossover potential comes in the guise of Paul Schrader's First Reformed, which is being released by Picturehouse at 61 sites. Ethan Hawke plays a troubled priest in upstate New York.
The arthouse titles opening include New Wave Film's Summer 1993, written and directed by Catalan director Carla Simon, a graduate of the London Film School. The film screened at the Berlinale last year where it won the best first feature award.
Margaret Monteith's Pinpoint Films is launching Deborah Haywood's UK indie Pin Cushion (which Monteith also produced) on 21 screens this weekend. Haywood's debut drama opened Venice Critics' Week in 2017. It will be the third release from Pinpoint following Double Date and Kaleidoscope.

Frederick Wiseman's documentary Ex Libris: The New York Public Library is being released by Eve Gabareau's Modern Films at 27 sites for mostly single screenings on Sunday.