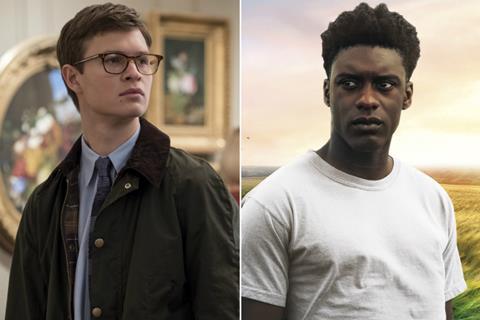 John Crowley's The Goldfinch and Shola Amoo's The Last Tree are two of the 2019 festival titles opening at the UK box office this weekend amid a field of strong holdovers.
Released by Warner Bros, The Goldfinch is an adaptation of Donna Tartt's best-selling novel about a boy taken in by a wealthy New York family. Ansel Elgort stars as the young man whose troubled childhood leads him into the world of art forgery. Nicole Kidman, Sarah Paulson, and Jeffrey Wright have supporting roles in the film which made its world premiere to mixed reviews at Toronto earlier this month.
Crowley's films have previously proven popular at the UK box office. His debut feature Intermission started with £146,220 in August 2003 and built up to an impressive £2.1m.
Is Anybody There? (2008) and Closed Circuit (2013) received smaller releases but scored impressive results while the Oscar-nominated Brooklyn, starring Saoirse Ronan, opened to £1.1m in November 2015 and built to £6m.
Elgort's breakthrough role was in another adaptation of a contemporary book, The Fault In Our Stars. That romantic drama opened to £3.4m in June 2014 and reached £11.5m.
Elgort led Edgar Wright's Baby Driver, which opened with £3.6m in June 2017, rising to £13.1m; and had a supporting role in the Divergent trilogy, which grossed £6.7m, £8m and £4.6m respectively.
Launching this weekend through Picturehouse Entertainment is The Last Tree, Shola Amoo's semi-autobiographical second feature about a young British boy of Nigerian heritage who is raised by a white woman in the countryside, but then brought back to the city as a teenager to live with his mother.
That transfer and other parts of the film are based on Amoo's own experiences growing up in the UK with mixed heritage.
The film debuted at Sundance in January. It stars Screen Star of Tomorrow 2019 Sam Adewunmi as the older Femi, with Tai Golding as the younger version and Gbemisola Ikumelo as Femi's mother. Another Screen Star of Tomorrow, Mdhamiri Á Nkemi, is editor on the film.
NFTS graduate Amoo's debut, A Moving Image, grossed £6,234 through Verve Pictures in spring 2017.
Other films about the African diasporic experience in London include Saul Dibb's Bullet Boy (2004, opened: £140,332, closed: £456,453) and Julian Henriques' Babymother (1998, opened: £19,200, closed: £62,928).
Double-helping of horror
Twentieth Century Fox opened Matt Bettinelli-Olpin and Tyler Gillett's comedy-horror Ready Or Not on Wednesday (September 25). In the film, a bride's wedding night takes a sinister turn when her eccentric new in-laws force her to take part in a terrifying game.
The directing duo previously helmed horror Devil's Due, which opened in January 2014 to £1m and ended on £2.1m.
Ready Or Not stars Samara Weaving (best known for Netflix serie Orange Is The New Black) and debuted at Canada's Fantasia International Film Festival. It was first seen in the UK at London's FrightFest in August.
A horror rival to the film will be Blumhouse Productions' latest film, Jacob Estes' Don't Let Go, starring David Oyelowo as a man who believes his family have been murdered, until he receives a call from his niece.
Estes' only UK release to date is crime drama Mean Creek in 2005, which started with £32,072 and ended on £166,312
The record UK gross for a production by horror specialists Blumhouse is the £11.4m of 2017's Split, the second part of M. Night Shyamalan's trilogy. They also produced Glass, which hit £11m earlier this year; and Get Out, which made £10.4m in 2017.
Jamie Bell has Skin in the game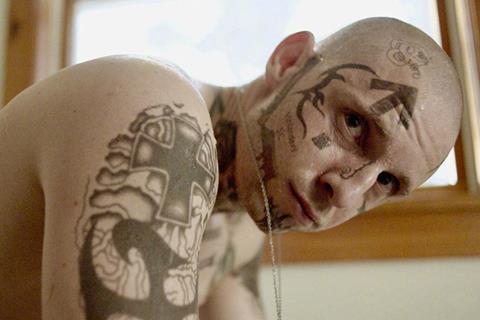 Lionsgate is releasing Guy Nattiv's Skin, a crime drama starring Jamie Bell as a man who turns his back on the white supremacists who raised him.
The film launched as a Special Presentation at Toronto 2018, where it won the FIPRESCI prize.
Nattiv previously directed a short of the same name, which won the Oscar for best live-action short at the 2019 Oscars. The two films are not connected.
His first feature Strangers launched at Jerusalem Film Festival in 2008 before going to Sundance and Tribeca, while 2010 drama The Flood debuted at Haifa Film Festival before appearing in Berlin's Generation strand the following year.
As well as a supporting role in 2019's Rocketman (opened: £5.3m, closed: £23.2m), Bell's recent credits include 2017's Film Stars Don't Die In Liverpool (opened: £236,317, closed £1.1m) and 2015's Fantastic Four (opened: £2.7m, closed: £6.2m).
Documentary releases
In the documentary sector, Curzon has Nanfu Wang's One Child Nation about the untold history of China's one-child policy. It won the grand jury prize in the world cinema documentary competition on its debut at Sundance this year and scored many subsequent prizes including the Tim Hetherington Award at Sheffield Doc/Fest in June.
Dogwoof is opening Richard Ladkani's Sea Of Shadows, a documentary about the hunting of the vaquita – the world's smallest breed of whale – by Mexican cartels and Chinese mafia.
The Institue of Contemporary Art is distributing Adele Tulli's Berlin 2019 title Normal, which looks at gender construction in contemporary Italian life.
Hotel Mumbai getting dual release
Dev Patel stars in Sky Cinema's Hotel Mumbai, an action drama about the terrorist attacks in the Taj Hotel in Mumbai. The film will be available on Sky Movies as well as in select theatres via Altitude from September 27.
Phoenix Productions has Polish historical drama Pilsudski; B4U Network has Bengali drama Password; while Stronghold is releasing Martha Pinson's war veteran drama Tomorrow, with a cast including the UK's Stephen Fry and Paul Kaye.
Event cinema releases this week include rep screenings of The Third Man on Sunday 29, while National Theatre Live screened Richard Bean's play One Man, Two Guvnors on Thursday 26.
Barring a surprise result, Downton Abbey is likely to keep its crown for the third weekend in a row. It had grossed £13.2m as of last weekend.
Further key holdovers include Brad Pitt in Ad Astra, horror sequel It: Chapter Two, and Jennifer Lopez in Hustlers.