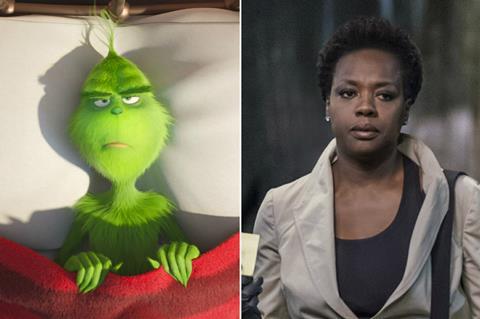 Universal's family animation The Grinch and 20th Century Fox's Steve McQueen-directed heist thriller Widows are two of the titles looking to usurp Bohemian Rhapsody, after two weeks at the top of the UK box office for the Queen rock biopic.
Looking to tap into the early seasonal market, 3D animation The Grinch is the latest adaptation of Dr. Seuss's children's books, about a grumpy green creature who seeks to ruin Christmas for the residents of Whoville. Benedict Cumberbatch voices the titular character, with Cameron Seeley, Rashida Jones, Kenan Thompson, Angela Lansbury and Pharrell Williams as additional voice cast.
Universal's live-action 2000 film How The Grinch Stole Christmas (called The Grinch in the UK), directed by Ron Howard and starring Jim Carrey, opened with £3m from 430 sites (a £7,125 average) in the UK and went on to gross £15.2m ($21.6m at the time of release). Universal's release of another Dr Seuss adaptation, The Lorax, grossed £7.9m in the UK in 2012.
Fox's Widows, produced by the UK's See-Saw Films and developed with Film4, premiered at the Toronto Film Festival and opened the BFI London Film Festival last month. Starring Viola Davis, Michelle Rodriguez, Elisabeth Debicki, Carrie Coon and Cynthia Erivo, the film opened on Tuesday and took £729,289 in its first three days of previews.
McQueen's 12 Years A Slave is the director's highest-grossing film in the UK to date. The drama starring Chiwetel Ejiofor and Lupita Nyong'o opened with an impressive £2.5m from 207 sites (£12,127 average) in 2014. That number was buoyed by strong awards buzz that brought three Oscars including best picture. It grossed £20m in total.
Paramount is opening Julius Avery's war action horror Overlord, the story of two US soldiers behind enemy lines on D-Day, produced by J.J. Abrams and Lindsey Weber.
Depicting war in an entirely different way is Warner Bros' They Shall Not Grow Old, a Peter Jackson-directed documentary about World War I featuring never-before-seen footage. The film marks the centennial of the end of the war, and will look to take in audiences engaged in the important remembrance weekend. It uses digital technology to restore archive footage, recreating life for servicemen in the trenches.
The Ballad Of Buster Scruggs and Outlaw King, two autumn festival titles headed to Netflix, are receiving an awards-qualifying limited theatrical release through Curzon from this weekend. The move has caused controversy in the UK and Irish industry, with a group of 15 independent UK and Irish cinemas appealing to the streaming giant to widen its release strategy yesterday (November 8).
Kaleidoscope Home Entertainment is opening Paul Dano's directorial debut Wildlife, which premiered at Sundance in January and stars Carey Mulligan and Jake Gyllenhaal.
Lorton Entertainment is releasing Bros: After The Screaming Stops, a doc about the 1980s pop duo and the aftermath of their success, in select venues.
Thugs Of Hindostan, a Hindi action adventure about a gang who challenged the British Empire in India based on Philip Meadows Taylor's 1839 novel Confessions Of A Thug, will get a release through Yash Raj Films.
In addition to Bohemian Rhapsody's continued run, key holdovers include Disney's The Nutcracker And The Four Realms and Warner Bros' ongoing popular hit A Star Is Born.