Sony's T2 Trainspotting records third biggest Fri-Sun opening for an 18-rated film with non-final $6.4m (£5.1m) debut.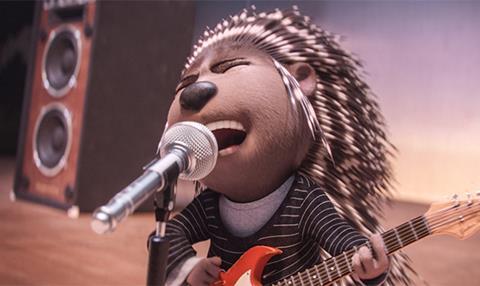 UK TOP FIVE
| Ranking | Film/Distributor | Weekend gross | Running total |
| --- | --- | --- | --- |
| 1 | Sing (Universal) | $13.1m (£10.45m) | $13.1m (£10.45m) |
| 2 | T2 Trainspotting (Sony) | $6.4m (£5.1m) | $6.4m (£5.1m) |
| 3 | La La Land (Lionsgate) | $3.87m (£3.09m) | $26.2m (£20.94m) |
| 4 | Split (Universal) | $2.49m (£1.99m) | $7.53m (£6.01m) |
| 5 | Hacksaw Ridge (Lionsgate) | $1.85m (£1.48m) | $1.85m (£1.48m) |
(Note - Dollar conversions are based on today's rates)
UNIVERSAL
Following its record-breaking previews, Sing has made its official bow at the top of the UK box office.
Universal's latest Illumination Entertainment hit enjoyed a show-stopping $13.1m (£10.45m), including $5.26m (£4.2m) from two days of previews last weekend, from its 556 sites. It is worth noting that its Fri-Sun tally of $7.82m (£6.25m) would have also seen it chart top.
That marks Illumination's third-best UK opening and their best-ever bow for an original offering, ahead of The Secret Life Of Pets' $12m (£9.58m), including $4.54m (£3.63m) in previews, from 592 sites.
Pets went on to take a bumper $45.5m (£36.4m) in the UK and with February half-term coming up, Sing could enjoy a similar run despite the competition from The Lego Batman Movie, previewing this coming weekend and opening February 10.
Also for Universal, Split fell a slim 23% with a $2.49m (£1.99m) second weekend as it dropped to fourth.
M. Night Shyamalan's thriller is now up to a promising $7.53m (£6.01m) in the UK and will soon become the director's fifth best result, ahead of After Earth's $8m (£6.4m). It will need another good hold to challenge The Village's $12.9m (£10.31m).
SONY
T2 Trainspotting arrived in style at the UK box office as it charted second.
Sony's long-awaited sequel journeyed to a strong non-final $6.4m (£5.1m) debut from its 589 sites, marking a terrific site average of $10.835 (£8,659). That marks director Danny Boyle's best-ever UK debut by some distance, ahead of The Beach's $3.03m (£2.42m) from 311 sites.
It's also the third biggest Fri-Sun opening of all time for an 18-rated film, behind only Fifty Shades Of Grey and Hannibal, and fourth-biggest 18-rated opening overall behind Legend as well.
Unsurprisingly T2 Trainspotting went down a storm in Scotland, with only two non-Scottish cinemas in the top 20 sites for the film this weekend.
Also for Sony, Passengers has now amassed $15.9m (£12.7m) after six weeks in play.
LIONSGATE
La La Land may have been dethroned as the UK's number one, but it can celebrate crossing £20m this weekend.
Lionsgate's awards contender fell a respectable 30% as it danced to a $3.87m (£3.09m) third weekend for an excellent $26.2m (£20.94m) to date. With its PGA win pointing to Oscar success, it should run until the end of February at least.
Also for Lionsgate, Hacksaw Ridge rounded off this week's top five with a $1.85m (£1.48m) debut, including $274,000 (£219,072) in previews, from its 432 sites.
That's ahead of Apocalypto's $1.7m (£1.36m) debut, but behind The Passion Of The Christ's $2.13m (£1.7m) haul from its first weekend of nationwide release. In a crowded market, it could struggle to sustain.
Back in 1995, Braveheart opened with $1.65m (£1.32m) and went on to take $15.8m (£12.65m) as Gibson's best-ever UK result as director.
ENTERTAINMENT
Lion fell only 14% as it travelled to a $1.38m (£1.1m) second weekend as it dropped two places to sixth.
Entertainment's Best Picture nominee is up to $4.15m (£3.31m) after adding almost $1.25m (£1m) across its first Monday-Thursday period, and is making an impact with its older-skewing audience despite the crowded market.
PARAMOUNT
Falling 54% (excluding previews), xXx: The Return of Xander Cage shot to a non-final $810,000 (£647,000) second weekend.
Paramount's action threequel is now up to $3.58m (£2.86m) and has at least overtaken sequel xXx: The Next Level's final UK result, but won't come close to xXx's $14.4m (£11.51m) haul.
EONE
Jackie expanded to 275 sites and posted a 17% drop (excluding previews) with a $696,000 (£555,624) second weekend.
eOne's biopic is up to a decent $2.22m (£1.77m) and will hope that last week's Oscar nominations will boost its midweek audience.
Also for eOne, Denial recorded a $295,000 (£235,292) UK debut, including $40,000 (£32,090) in previews, from its 79 sites following its timely release on International Holocaust Remembrance Day (January 27).
DISNEY
Rogue One: A Star Wars Story is now the tenth highest-grossing film of all time at the UK box office.
Disney's spin-off fell 44% with a $617,000 (£493,000) seventh weekend for a stellar $81.6m (£65.2m) to date, overtaking Jurassic World's $80.7m (£64.5m) result. It could still surpass Philosopher's Stone's $82.7m (£66.1m) tally.
Also for Disney, Moana sailed to a $409,000 (£327,000) ninth weekend, a drop of 34%, for $23.3m (£18.6m) to date.
STUDIOCANAL
Falling 56% in its third weekend, Studiocanal's Manchester By The Sea grossed $291,000 (£232,425) from its 277 sites for $2.88m (£2.3m) to date.
Also for Studiocanal, Silence has taken $2.76m (£2.21m) after four weeks in play.
FOX
In its 15th weekend of release, Fox's Trolls took a non-final $220,000 (£175,753) for $30m (£23.99m) to date.
Also for Fox, Assassin's Creed has now hunted down $9.9m (£7.92m) after four weeks in play.
CURZON ARTIFICIAL EYE
From its six sites through Curzon Artificial Eye, Christine posted a UK debut of $15,000 (£11,904), including $6,100 (£4,855) in previews.
UPCOMING RELEASES
This week sees saturation releases for Paramount's Rings and Studiocanal's Gold.
Sony's Resident Evil: The Final Chapter, Universal's Loving and Soda Pictures' Toni Erdmann all receive wide releases, while Picturehouse Docs' Tower receives a limited release.