Disney's Beauty And The Beast becomes 14th-biggest film of all time.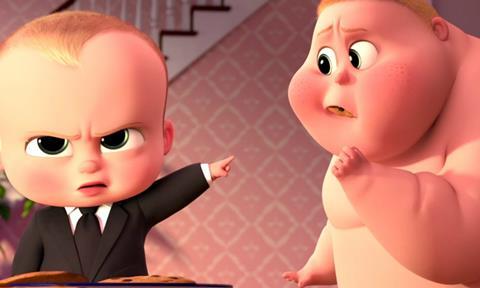 UK TOP FIVE
| Ranking | Film/Distributor | Weekend gross | Running total |
| --- | --- | --- | --- |
| 1 | The Boss Baby (Fox) | $9.9m (£8.02m) | $9.9m (£8.02m) |
| 2 | Beauty And The Beast (Disney) | $3.42m (£2.76m) | $72.5m (£58.49m) |
| 3 | Peppa Pig: My First Cinema Experience (eOne) | $1.3m (£1.05m) | $1.3m (£1.05m) |
| 4 | Ghost In The Shell (Paramount) | $868,000 (£700,000) | $5.11m (£4.12m) |
| 5 | Get Out (Universal) | $739,000 (£596,000) | $10m (£8.04m) |
(Note - Dollar conversions are based on today's rates)
FOX
The Boss Baby has ended Beauty And The Beast's reign as the UK's number one.
Fox's latest DreamWorks Animation outing recorded a non-final $9.9m (£8.02m) debut from its 600 sites, including a hefty $6.5m (£5.2m) in previews. Its Fri-Sun tally of $3.46m (£2.79m) would have also seen it land the top spot.
In terms of overall openings, The Boss Baby enjoyed the biggest for an original DreamWorks offering, ahead of Kung Fu Panda's $9.6m (£7.76m) from 446 sites, including $2.1m (£1.7m) in previews.
However, in terms of Fri-Sun takings, it drops down the list behind the likes of Trolls, Home, Shrek and Monsters Vs Aliens.
Also for Fox, Logan sliced to a further $291,000 (£234,304) for $28.9m (£23.33m) to date, while Table 19 posted a soft UK bow of $162,000 (£130,307) from its 221 sites, marking a site average of $732 (£590).
Hidden Figures stands at $7.6m (£6.13m).
DISNEY
Beauty And The Beast suffered its first big drop, which was likely in part due to the hot weather which affected the whole market this weekend.
Disney's live-action remake fell 59% with a $3.42m (£2.76m) fourth weekend for a dazzling $72.5m (£58.49m) to date, making it the 14th highest grossing film of all time at the UK box office.
With Easter weekend to come and school holidays in play, Beauty And The Beast will soon waltz into the all-time top ten, with Harry Potter And The Philosopher's Stone's $81.4m (£65.61m) result currently in tenth place.
EONE
Peppa Pig: My First Cinema Experience defied the hot weather with an excellent debut as it charted third.
eOne's preschool animated offering grossed a non-final $1.3m (£1.05m) from its 531 sites, marking a site average of $2,452 (£1,977). That's a debut ahead of Peppa Pig: The Golden Boots' $852,000 (£687,417) from 370 sites.
The Golden Boots went on to take $2.9m (£2.33m) across its three-week release, a target My First Cinema Experience could top.
PARAMOUNT
Ghost In The Shell fell 63% (excluding previews) with a non-final $868,000 (£700,000) second weekend.
Paramount's live-action adaptation has now shot to $5.11m (£4.12m) after 11 days in play, and will hope its big drop was more down to the sunny weather than the film's generally poor reception.
UNIVERSAL
Get Out recorded the best holdover of the top ten, falling 46% with a $739,000 (£596,000) fourth weekend as it rounded off the top five.
Universal's critically acclaimed horror has now scared up $10m (£8.04m), a result that's almost four times its opening, and could still see the film reach the £10m mark in the coming weeks.
Also for Universal, Raw bit into $82,000 (£66,504) from its 80 sites on its UK debut, including $21,000 (£17,053) in previews.
WARNER BROS
Going In Style missed its mark with a soft UK opening as it charted sixth.
Warner Bros heist comedy grossed $702,000 (£566,000) from its 458 sites, recording a site average of $1,533 (£1,236). That does mark director Zach Braff's biggest UK debut, but it was also significantly his widest release, up on Garden State's 48 sites.
Given the busy market is going to be increased with the arrival of Fast & Furious 8, Going In Style will struggle to sustain.
Also for Warner Bros, Kong: Skull Island has now roared to $18.8m (£15.18m) following a $407,000 (£328,000) fifth weekend.
SONY
After its disappointing opening, Sony's Smurfs: The Lost Village fell 60% (excluding previews) as it journeyed to a $466,000 (£376,000) second weekend for $3m (£2.43m) to date.
Also for Sony, Life added $129,000 (£104,000) for $2.35m (£1.9m) after three weeks in play.
LIONSGATE
Falling 60% in its third weekend, Lionsgate's Power Rangers fought to an extra $429,000 (£345,568) for $4.87m (£3.93m) to date.
ALTITUDE
Including $40,000 (£32,280) in previews, Altitude's documentary I Am Not Your Negro enjoyed a $108,000 (£86,955) debut from its 46 sites.
SODA PICTURES
A Quiet Passion recorded a non-final UK debut of $98,000 (£78,740) from its 49 sites, including $34,000 (£27,261) in previews, through Soda Pictures.
That's down on director Terence Davies' last UK release, Sunset Song's $141,000 (£113,912) debut from 80 sites, including $35,000 (£28,247) in previews.
STUDIOCANAL
Falling a steep 77% (excluding previews), Studiocanal's Free Fire took $92,000 (£74,137) for $1m (£807,152) to date, making it Ben Wheatley's second best UK result, behind High-Rise's $2.44m (£1.97m).
ICON FILM DISTRIBUTION
From its 57 sites through Icon Film Distribution, City Of Tiny Lights could only post a $35,000 (£28,038) UK debut, including $15,000 (£12,352) in previews.
UPCOMING RELEASES
This week sees a saturation release for Universal's Fast & Furious 8 (opens April 12), while Studiocanal's The Sense Of An Ending receives a wide release.
Curzon Artificial Eye's The Handmaiden and ICO/Studiocanal's re-release of Mulholland Drive are among the films receiving a limited release.