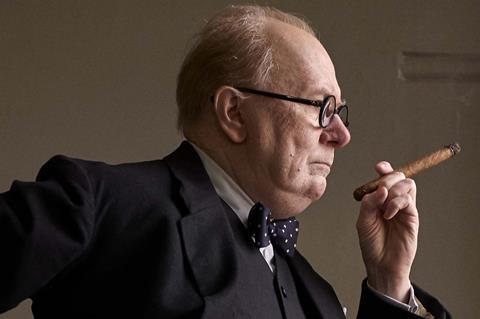 The BFI has released its annual figures for UK film and TV production spend and box office admissions.
The report shows the UK production sector is thriving but is hugely reliant on inward investment. It also paints a mixed picture for UK independent production, with box office share going up, but the number of low-budget titles produced falling dramatically.
Independent UK films
The data shows the market share of independently-produced local films at the UK box office was 11.7% in 2018, up from 9.5% on the previous year, the third highest level in a decade and the highest since 2014.
The leading independent titles were Darkest Hour (£24.1 million), Johnny English Strikes Again (£17.7 million), Three Billboards Outside Ebbing, Missouri (£15.3 million) and Early Man (£11.2 million). The top 20 independent UK films released last year are below.
The BFI defines an independent film as one produced without creative or financial input from the major US studios.
When studio-backed films such as Mamma Mia! Here We Go Again, Bohemian Rhapsody, Mary Poppins Returns and Fantastic Beasts: The Crimes of Grindelwald are factored in the market share for UK films goes up to 45%, the highest since records began in 2002.
Production spend
Total UK film and TV production spend hit £3.1bn in 2018, slightly down on last year's record total of £3.3 billion.
Of this, £1.9bn was for film production, the second highest total ever since records began in 1994, but again slightly down on 2017. Inward investment by 51 films accounted for £1.6bn (84%) of this. Local UK films contributed a total production spend of £295m (17%). Co-productions accounted for £24m (1%). UK co-production spend has been dropping steadily since 2014, when it was £53.6m.
The figures also show a dramatic drop in the number of low-budget UK films. Local titles with budgets of less than £500,000 fell from 135 in 2017 to 53 in 2018, with a total UK spend of £12m (4%). This is down from £22m in 2017.
The number of UK films with a budget greater than or equal to £500,000 decreased from 84 to 78, but production spend on these titles rose 23% to £284m.
Total UK spend on high-end TV went up slightly to £1.1bn, the highest since the introduction of the high-end television tax relief in 2013. Of this, £795m was generated by inward investment and co-production.
According to the BFI, the above production spend data should be treated as interim figures which are likely to increase, as there is a time lag in obtaining information on production activity in the UK.
Cinema admissions
As previously reported, 2018 was a strong year for the UK box office, with the BFI confirming UK cinema admissions increased to 177 million last year, the highest level of admissions since 1970 and 3.7% up on 2017.
The total box office in the UK and Ireland was £1.3bn, up 0.6% on 2017. The top grossing films were Avengers: Infinity War (£70.8m), Mamma Mia: Here We Go Again! (£65.5) and Incredibles 2 (£56.2).
"In a time of seismic change, today's figures prove that film and television are thriving, a vital creative industry that is outstripping other sectors," said BFI CEO Amanda Nevill. "With spend for film and high-end television production at almost £3.1 billion, we remain one of the most in demand places in the world to create moving image content. The benefits are being felt UK-wide with production expanding in the nations and regions, boosting the economy, building skills, creating jobs and giving opportunities for people of all backgrounds to join our industry."
Top 20 independent UK films released in 2018
| Film | Box office gross | Distributor |
| --- | --- | --- |
| Darkest Hour | £24.1m | Universal |
| Johnny English Strikes Again | £17.7m | Universal |
| Three Billboards Outside Ebbing, Missouri | £15.3m | 20th Century Fox |
| Early Man | £11.2m | StudioCanal |
| Red Sparrow | £6.4m | 20th Century Fox |
| Widows | £6.3m | 20th Century Fox |
| King of Thieves | £6.1m | StudioCanal |
| Isle of Dogs | £6.0m | 20th Century Fox |
| The Guernsey Literary and Potato Peel Pie Society | £5.9m | StudioCanal |
| Finding Your Feet | £5.9m | eOne Films |
| The Commuter | £4.0m | StudioCanal |
| The Festival | £3.4m | Entertainment |
| Nativity Rocks! | £3.1m | eOne Films |
| The Children Act | £2.9m | eOne Films |
| Phantom Thread | £2.8m | Universal |
| Robin Hood | £2.8m | Lionsgate |
| The Wife | £1.7m | Picturehouse Entertainment |
| Ghost Stories | £1.6m | Lionsgate |
| Peterloo | £1.2m | eOne Films |
| Patrick | £1.2m | Disney |