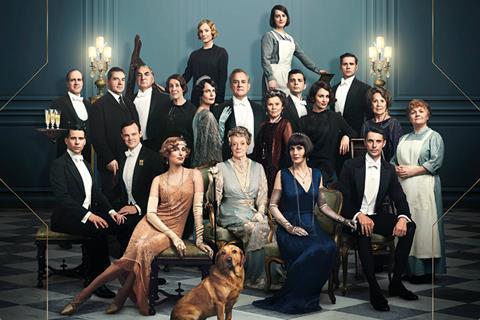 Independent UK films secured their highest market share at the local box office for five years, according to the BFI's official statistics for 2019 which have been published today.
Films including Downton Abbey, The Favourite and Yesterday helped boost the market share of independent UK films to 13% in 2019, up from 11.7% the previous year.
Downton Abbey, the big-screen adaptation of the period TV drama, led the chart having grossed £28.2m following its release by Universal in September. It was produced by Carnival Films with Focus Features and released by Universal.
The Favourite, which won seven Baftas and an Oscar for lead actress Olivia Colman, ranked second with £17m after being released by Fox Searchlight Pictures in January. It was produced by Element Pictures and Scarlet Films.
The total box office for the top 20 independent UK films accounted for 87% of the gross box office for all independent UK films released in 2019.
When studio-backed films that were made in the UK are included, such as Avengers: Endgame and The Lion King, that figure rises to 46% – the highest since records began.
As previously reported, 2019 proved a strong year at the UK box office, with the BFI confirming cinema admissions of 176 million, worth £1.25bn. However, this is slightly down on the 177 million recorded in 2018, which had been the highest level of admissions since 1970.
The top grossing films were Avengers: Endgame (£88.7m), The Lion King (£76m) and Star Wars: The Rise Of Skywalker (£54.9m) in the UK in 2019.
The BFI definition of an independent film includes titles "made with independent (non-studio) US support or with the independent arm of a US studio."
Top 20 independent UK films released in 2019
| | | |
| --- | --- | --- |
| Film | Box office gross | Distributor |
| Downton Abbey | £28.2m | Universal |
| The Favourite | £17.0m | Fox |
| Yesterday | £13.8m | Universal |
| Stan And Ollie | £10.6m | eOne Films |
| Mary, Queen Of Scots | £9.2m | Universal |
| Judy | £8.1m | Fox |
| Angel Has Fallen | £7.5m | Lionsgate |
| Fisherman's Friends | £7.4m | Entertainment Film Distributors |
| Shaun The Sheep Movie: Farmageddon | £7.0m | Studiocanal |
| Fighting With My Family | £5.9m | Lionsgate |
| Blue Story | £4.5m | Paramount |
| The Kid Who Would Be King | £3.7m | Fox |
| Blinded By The Light | £3.2m | eOne Films |
| Wild Rose | £2.9m | eOne Films |
| Horrible Histories: The Movie - Rotten Romans | £2.9m | Altitude Film Distribution |
| Peppa Pig: Festival Of Fun | £2.8m | eOne Films |
| Red Joan | £2.8m | Lionsgate |
| Colette | £2.5m | Lionsgate |
| Official Secrets | £2.4m | eOne Films |
| The Aftermath | £2.0m | Fox |