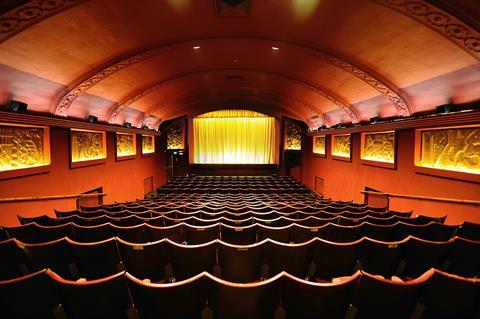 UK cinemas have taken a step closer to reopening with the publication of government-endorsed guidelines for operating during the Covid-19 pandemic.
The 29-page document, titled 'Cinemas – keeping workers and customers safe during Covid-19', has been issued ahead of a government-approved reopening date of July 4 in England and comes close to three months since exhibitors shut their doors as part of a nationwide lockdown.
It covers social distancing (which has been reduced to one metre) and hygiene measures that should be considered both in and out of the auditorium to tackle the spread of the virus. The guidelines currently only apply to England and not the devolved nations of Northern Ireland, Scotland and Wales at this time.
The guidance, which has been in the works for close to three months, has been compiled by trade body the UK Cinema Association in consultation with the government's Department for Culture Media and Sport (DCMS). Input has been provided by the BFI Screen Sector Task Force, Independent Cinema Office and Bectu, in consultation with Public Health England and the Health and Safety Executive.
The document will help exhibitors restart their businesses after a costly period of closures. UK cinemas have lost an estimated £5.7m ($7.1m) per day through a combination of eliminated revenues such as box office and screen advertising revenue, according to the UKCA. With the reopening date of July 4 marking 105 days of closures since March 20, that adds up to total losses of £110.7m ($137.5m).
This week, exhibitors have been announcing plans to get back to business following a greenlight from the UK government to reopen cinemas from July 4. The Scottish government made its own announcement the following day, setting a date of July 15.
All cinemas are expected to complete a Covid-19 risk assessment, in consultation with unions or workers, before reopening for business.
Social distancing champions
The guidelines begin when audiences arrive at venues and suggest using outside premises, such as car parks, for queuing and the use of hand sanitiser for people entering the cinema.
Once inside, floor markings are suggested to highlight social distancing and to flow foot traffic one-way, where possible. Protective screens between staff and customers, at the box office or concessions stand, are recommended. Self-service confectionary, such as pick 'n' mix, should be removed but cinema staples such as popcorn will be served.
In the auditoriums themselves, allocated seating is suggested to meet social distancing measures and staff should be appointed – known as 'social distancing champions' – to monitor this. Again, one-way traffic is encouraged, which could involve entering at the back of the room and exiting through emergency doors at the other end of the auditorium.
Limiting the number of people in the venue and "managing occupancy levels" are recommended but there is no capacity cap stated in the guidelines. With one metre of social distancing between seats, auditoriums could be limited to around 60% capacity.
What it does state is that frequent cleaning is necessary, typically between each screening, and reducing the number of showings is suggested to manage the number of customers in the venue while giving staff sufficient time to undertake cleaning. This could see multiplexes keeping some screens closed.
Restaurants and cafes within cinemas should remain closed until further notice and where kitchens are used, to serve people in screening rooms, as few people as possible should be working in kitchens. Staff that could continue to work from home include film programmers and finance employees.
Face coverings guidance
While face coverings have been required on public transport in England from June 15, their use in cinemas will neither be expected or encouraged, but staff and customers that do choose to employ personal protective equipment (PPE) will not be discouraged from doing so.
The guidelines also include mobile cinemas but not drive-ins or open-air screenings, which were cleared to go ahead from June 15 and are subject to separate considerations. The UKCA is also set to publish revised guidelines for drive-ins and other open-air cinemas today.
One suggestion that stands out in the guidelines concerns avoiding screenings that would see audience members "raise their voices" or engage in "communal dancing". This could apply to features such as The Rocky Horror Picture Show or Mamma Mia!, where the audience is usually encouraged to interact and sing along with the film.
The document advises: "Being mindful of – and avoiding – programming film content which is likely to encourage audience behaviours increasing transmission risk. All venues should ensure that steps are taken to avoid people needing to unduly raise their voices to each other.
"This includes – but is not limited to – refraining from playing music or broadcasts that may encourage shouting or singing, including if played at a volume that makes normal conversation difficult. This is because of the potential for increased risk of transmission – particularly from aerosol transmission… You should take similar steps to prevent other close contact activities – such as communal dancing."
The differing nature of the audience at each cinema should also be taken into account, according to the document, particularly where it might include people more clinically vulnerable to Covid-19 such as those aged over 70 or with underlying health conditions.
The guidance is intended as advisory, not mandatory, and should be considered alongside existing government advice around social distancing, hygiene and PPE. It is also a "live document", which will be amended and updated as UK government protocols concerning coronavirus evolve.