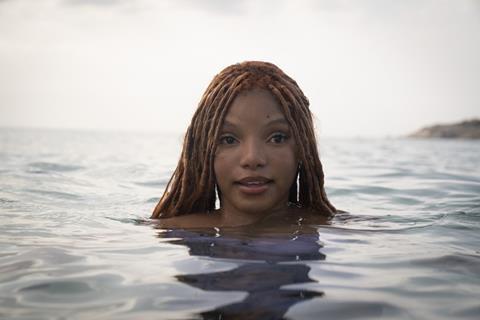 Disney's The Little Mermaid is aiming to make a splash in cinemas this weekend as the live-action remake opens in 732 locations.
Halle Bailey stars as a young mermaid desperate to experience life above water. The Little Mermaid was directed by Rob Marshall while Melissa McCarthy, Jonah Hauer-King, Davey Diggs and Javier Bardem round off the rest of the cast.
Marshall directed 2018 Disney remake Mary Poppins Returns which scored an impressive £8.2m in the UK's widest-ever opening at the time, with 740 locations. The 1989 animated version of The Little Mermaid has grossed over $211m worldwide since its release.
Also opening this weekend is Warner Bros' Hypnotic in 429 cinemas. Robert Rodriguez's action thriller stars Ben Affleck as a detective caught up in a mystery involving his missing daughter and a secret government programme.
Affleck recently starred, directed and produced Nike sports drama Air which earned decent results for Amazon Prime Video with a £807,693 opening weekend (£1.6m including previews).
Signature Entertainment is releasing animated adventure My Fairy Troublemaker in 288 locations. Directed by Caroline Origer, the film follows a fairy who gets trapped in the human world and enlist the help of a young girl to help her get home.
Sony is opening the Finnish war drama Sisu in 280 locations this weekend. Directed by Jalmari Helander, the Toronto 2022 title follows a former commander who finds gold buried in Finland's Lapland and must defend himself from a group of Nazi soldiers.
Royal Opera House is running an encore of its live performance of Sleeping Beauty on Sunday (May 28) in 109 cinemas.
Also opening this weekend is Eric Gravel's Cesar-nominated Full Time for Parkland Entertainment. Releasing in 38 cinemas, the French drama follows a mother who gets caught up in a transport strike on the way to an important interview. The film had its world premiere at Venice in 2021 where it picked up best director and actress in the Horizons strand.
Paul Schrader's Master Gardener is opening for Vertigo Releasing in 41 sites. The Venice 2022 title stars Joel Edgerton and Sigourney Weaver as a meticulous gardener and his employer whose relationship becomes complicated when a favour emerges.
Studiocanal is releasing the 4K restoration of David Lynch's 2006 thriller Inland Empire in 38 cinemas.
Dublin Audience Award winner 406 Days is releasing in 18 cinemas this weekend for Eclipse Pictures. The documentary centres around the 2020 strike of Debenham workers after 1,000 employees were made redundant.
Dartmouth Films is opening the documentary A Crack In The Mountain in four locations. Directed by Alastair Evans, the film follows a Vietnamese community conflicted by what to do when the largest cave in the world is discovered nearby.
Vue Cinemas is also opening Hey Duggee At The Cinema! 2.
This weekend's main holdovers are Fast X; Guardians Of The Galaxy Vol. 3; and The Super Mario Bros. Movie.