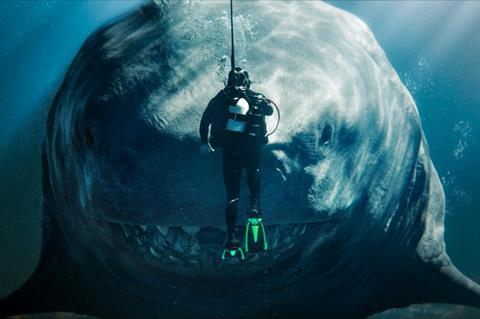 Shark sequel Meg 2: The Trench is the first major challenger to the Barbenheimer supremacy, opening in 544 cinemas at the UK-Ireland box office this weekend.
Meg 2 will look to challenge both its Warner Bros stablemate Barbie, and Universal's Oppenheimer, while benefitting from the surge in audiences those titles have brought in the past fortnight.
The first title, 2018's The Meg, started with £3.7m also in early August; and ended on a sharp £15.9m.
Jason Statham returns for the sequel, which sees a research team encounter multiple threats while exploring the depths of the ocean, including a malevolent mining operation. Further cast includes Cliff Curtis, Sienna Guillory, Shuya Sophia Cai and Skyler Samuels.
Meg 2 is the 10th film in the eclectic career of UK filmmaker Ben Wheatley. Having started with micro-budget Down Terrace in 2009 (£8,788 box office), Wheatley broke through with his second feature, 2011 horror Kill List (£266,527).
He has since jumped around multiple genres, from the serial killer comedy of 2012's Sightseers (£661,711), J.G.Ballard adaptation High Rise (his highest-grosser to date with £2m), 2016 shootout title Free Fire (£1m) and 2020 Daphne Du Maurier adaptation Rebecca for Netflix.
Knocking Barbie or Oppenheimer off their marks will be a tough ask. On the day the US filmmaker turns 40, Greta Gerwig's pink powerhouse will cross the £60m mark in the UK and Ireland – already the number-one film of 2023 at the box office, and entering the top 30 highest-grossing films of all time after just 14 days on release. It also has a chance of becoming the highest-grossing film of all time in Ireland – currently at £4.6m, and chasing down Avatar's £7.5m.
It dropped 28.5% from its first-to-second weekend, for £13.2m; a similar drop this time would give it a £9.5m weekend. Oppenheimer held even better, falling just 24%; the same again would give it a £6.2m third weekend. Reaching either figure would represent an astonishing success for Meg 2.
Turtle time
Another title with lofty aspirations is Paramount's Teenage Mutant Ninja Turtles: Mutant Mayhem. Directed by Jeff Rowe and Kyler Spears, the film played a work-in-progress version at Annecy International Animation Film Festival in June, drawing record queues from the animation-savvy audience.
It opened for previews on Monday, July 31 ahead of its first weekend. A reboot of the TNMT series, it sees the titular Turtles seek to be accepted as normal turtles through a series of heroic acts.
Hannibal Buress, Rose Byrne, John Cena, Jackie Chan, Ice Cube, Natasia Demetriou, Ayo Edebiri, Giancarlo Esposito, Post Malone, Seth Rogen, Paul Rudd and Maya Rudolph head a stacked voice cast. Rowe, Dan Hernandez and Benji Samit wrote the screenplay with Rogen and his Superbad collaborator Evan Goldberg.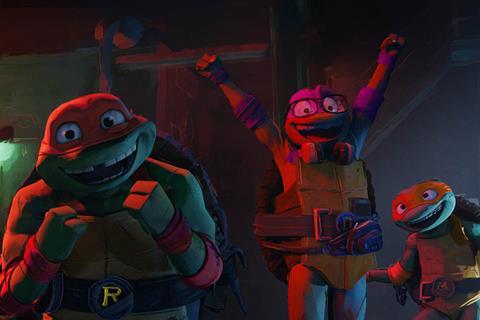 The first TMNT film grossed £5.6m – a healthy result for a 1990 release. Total grosses dropped for the next two films, before heading upwards for 2007's TMNT (£3m) and 2014's Teenage Mutant Ninja Turtles (£13.9m). The last film, 2016's Teenage Mutant Ninja Turtles: Out Of The Shadows, opened to £3.5m, ending on £6m, and will be the first target for the new release.
Lionsgate is starting comedy Joy Ride in 365 cinemas. Directed by Crazy Rich Asians and Raya And The Last Dragon writer Adele Lim, the film follows four Asian American friends travelling through China in search of one of their birth mothers.
Emily In Paris star Ashley Park leads the cast, alongside Sherry Cola, Everything Everywhere All At Once actress Stephanie Hsu, and Sabrina Wu. The film is also produced by Rogen and Goldberg's Point Grey Pictures, like Mutant Mayhem. Crazy Rich Asians scored a decent £5.9m total box office in 2018, and was an even bigger hit in the US where it made $174.5m (£137.4m).
Super controversy
Signature Entertainment is starting Norwegian family animation Just Super in 217 cinemas this weekend, with multiple off-date bookings already secured. The film, about a young girl whose father puts on a lion costume to become a superhero, had its world premiere in the Toronto TIFF Junior strand last September.
It was then programmed for the Generation Kplus strand at the Berlinale; only for the festival to pull the film's international premiere nine minutes before the screening was due to start, due to allegations of racism from the Anti-Racism Taskforce for European Film (ARTEF).
Both Qvisten Animation, the film's Norwegian producer, and the Norwegian Film Institute said they "strongly objected" to the allegations; further screenings went ahead that week with a message advising audiences of "elements that could be interpreted differently" in the film.
Matthijs Wouter Knol, director of the European Film Academy, stood down from his role as one of three ARTEF directors following the incident.
Picturehouse Entertainment is opening Alice Winocour's Cannes Directors' Fortnight 2022 title Paris Memories, inspired by the director's brother's survival of the Paris 2015 terrorist attacks, in 20 sites with a further 20 next week. Meanwhile, Curzon is putting a 4k restoration of Lars Von Trier's Breaking The Waves in 10 cinemas.
In the documentary sphere, Dogwoof is opening D. Smith's Kokomo City, a depiction of the lives of four Black transgender sex workers, in 17 cinemas. The film debuted at Sundance this year, going on to play festivals including the Berlinale, BFI Flare, Miami, SXSW, CPH:DOX and Docaviv.
Sony is putting anime title Psycho-Pass: Providence in 11 cinemas this weekend, having played it in 72 cinemas over August 2-3.
National Amusements has family title Thomas And Friends: King Of The Railway. Netflix, which does not share site numbers, is opening Tom Harper's crime thriller Heart Of Stone starring Gal Gadot.
Barbie and Oppenheimer will head the holdovers again, while Altitude will look to build on the excellent £643,354 full opening of horror Talk To Me – an all-time record for the distributor.