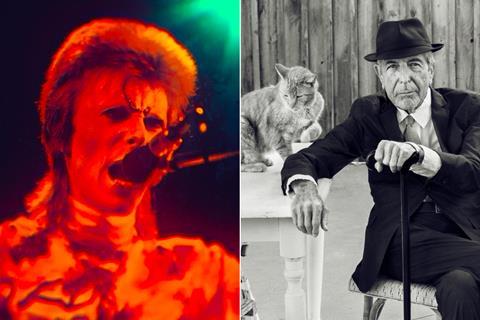 Two modern music icons face off at UK-Ireland cinemas this weekend, with the release of David Bowie documentary Moonage Daydream and Hallelujah: Leonard Cohen, A Journey, A Song.
Opening in 50 sites, most of which are Imax, Universal's Moonage Daydream is a journey through Bowie's creative and musical output. The film, which launched as an out-of-competition Midnight Screening in Cannes this May, is written, directed, edited and produced by US filmmaker Brett Morgen.
Moonage Daydream has the backing of the David Bowie estate – a verification that has proven hard to come by, both prior to and since the musician's death in January 2016.
Stardust, a 2020 historical fiction film about Bowie's first tour of the US in 1971, did not receive a license to use his music. The film received a limited theatrical release in the US through IFC Films, and went straight to digital platforms in the UK and Ireland during the pandemic through Vertigo Releasing.
Of greater success was Bowie's on-screen career, which included 1976's The Man Who Fell To Earth; Jim Henson's cult hit musical Labyrinth (a strong £3.6m total in 1986), 2001 comedy Zoolander (£2.2m) and Christopher Nolan's 2006 The Prestige (£3.7m), where he played inventor Nikola Tesla.
Moonage Daydream is Morgen's seventh feature documentary, with two of his previous films co-directed with Nanette Burstein. He has previously tackled modern music icons in 2012's The Rolling Stones: Crossfire Hurricane (£34,514 total); and 2015's Cobain: Montage Of Heck (£401,679 total), about Nirvana frontman Kurt Cobain.
Bowie has Canadian singer-songwriter Leonard Cohen for company this weekend, as Hallelujah: Leonard Cohen, A Journey, A Song opens in 69 sites via Sony.
The film explores the life and work of Cohen through the prism of his most well-known song 'Hallelujah'. First appearing on Cohen's 1984 album Various Positions, the song has been covered to great acclaim by artists including John Cale, Jeff Buckley and Rufus Wainwright.
The various versions have been used in numerous film and TV works. Animation hit Shrek, crime drama Lord Of War and cartoon adaptation Watchmen are just three to have used it on the big screen, with The O.C., One Tree Hill, The West Wing and The Young Pope among those to feature it on television.
Previous films about Cohen include documentary Marianne & Leonard: Words Of Love, which took a decent £706,230 in 2019 through Dogwoof.
Hallelujah debuted at Telluride 2021, going on to play out-of-competition at Venice and at festivals including Tribeca, IDFA, CPH:DOX, Jerusalem and Edinburgh.
It is the seventh feature-length film from documentary duo Daniel Geller and Dayna Goldfine. Their previous films include 2014 Berlinale entry The Galapagos Affair: Satan Came To Eden; and ballet documentary Ballets Russes, which grossed £140,946 through Revolver in 2006.
Verve rugby drama
Verve Pictures has its widest opening for over a decade this weekend, with Matt Carter's gay rugby drama In From The Side in 61 locations. The film, which debuted at the BFI Flare: London LGBTQIA+ Film Festival in March, follows two attached men from a cash-strapped rugby who unwittingly sleepwalk into an adulterous affair.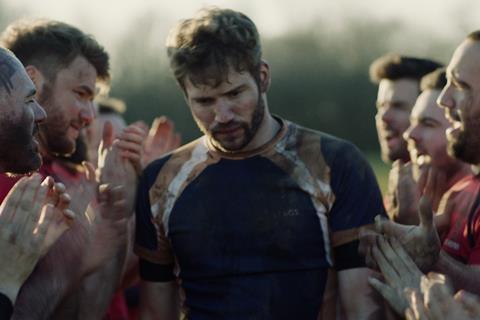 Having worked in the VFX department on the Harry Potter and Narnia film series, In From The Side is the directorial debut of UK filmmaker Carter, who co-wrote, directed, produced, edited, shot and composed the score for the film.
Picturehouse Entertainment is opening Sundance 2022 premiere Hatching, from Finnish director Hanna Bergholm, in 52 sites. The horror film centres on a young gymnast desperately trying to please her demanding mother, who then discovers a strange egg.
Curzon is releasing Owen Kline's Cannes Directors' Fortnight comedy Funny Pages in 35 locations. US filmmaker Kline's debut feature follows a teenage cartoonist who rejects the comforts of his suburban life in a misguided quest for soul.
Lionsgate is starting Kevin Smith's comedy Clerks III, in which the protagonists are enlisted to make a film about the convenience store that started the series. The first Clerks film grossed £356,503 in 1995, with the second taking £515,174 in 2006.
Breakout Pictures is distributing Rachael Moriarty and Peter Murphy's Roise & Frank, about a widow who becomes conviced that a stray dog is the reincarnation of her late husband, in 36 cinemas, predominantly in Ireland.
Further releases this weekend include Jean-Christophe Meurisse's Cannes 2021 out-of-competition comedy Bloody Oranges, through Anti-Worlds; Sundance 2021 adventure comedy Strawberry Mansion in seven sites through Bulldog Film Distribution; romance Redeeming Love through Kaleidoscope; a Park Circus re-release of Quentin Tarantino's Jackie Brown in 258 sites over its first week; and cartoon Hey Duggee At The Movies 4 in 84 sites through Vue.
Universal was scheduled to open George Clooney and Julia Roberts romantic comedy Ticket To Paradise this weekend, before moving it to Tuesday, September 20 to open after the funeral of Queen Elizabeth II. Most cinemas across the country have chosen to close on Monday for the funeral, with around 150 putting on free screenings.
Holdovers this weekend include Disney's number one See How They Run and Bollywood title Brahmastra Part 1: Shiva, plus Universal's Jaws re-release and long-running Minions: The Rise Of Gru.