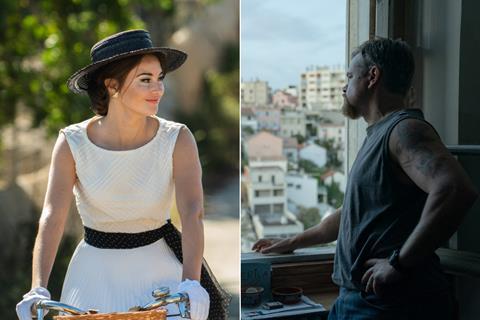 Augustine Frizzell's film of Jojo Moyes' book The Last Letter From Your Lover leads the new titles in UK-Ireland cinemas this weekend, looking to work towards the result of previous Moyes' adaptation Me Before You.
Released by Studiocanal in 550 locations, The Last Letter From Your Lover follows an ambitious journalist who attempts to solve the mystery of a forbidden affair at the centre of a series of secret love letters from 1964. A co-production between the UK's Blueprint Pictures and Canada's The Film Farm, it is being released by Netflix in the US.
UK novelist Moyes previously wrote the book and adapted the screenplay for Thea Sharrock's 2016 Me Before You starring Emilia Clarke and Sam Claflin. The film opened to £1.8m from 445 locations, ending on a strong £9.7m for Warner Bros.
With many cinemas still employing distancing measures and a crowded summer box office, The Last Letter will do extremely well to get near that opening figure. It will look to the popularity of Moyes' books, plus a starry cast lead by Shailene Woodley and Screen Stars of Tomorrow Felicity Jones (2007), Callum Turner (2014), Joe Alwyn (2015), Nabhaan Rizwan (2019) and Ncuti Gatwa (2020) to boost audience numbers.
It is Frizzell's second directorial feature after Sundance 2018 comedy Never Goin' Back, which was not released theatrically in the UK.
Primary competition among new releases this weekend comes in the form of crime drama Stillwater, starring Matt Damon as a man who travels from Oklahoma to France to help his estranged daughter, who is in prison for a murder she claims she didn't commit.
The film is distributor eOne's first release in the territory since cinemas reopened in England on May 17; the company's last title was animation Two By Two: Overboard! in October 2020, which took over £1m despite a release split by the second pandemic lockdown.
Stillwater premiered as an out of Competition title at last month's Cannes Film Festival, with director Tom McCarthy, Damon and co-stars Abigail Breslin and Camile Cottin present to promote the film.
The film also marks Damon's first big-screen outing since the pandemic began; his last lead role in UK-Ireland cinemas was in James Mangold's Le Mans '66 (titled Ford v Ferrari in most territories), which opened to £2m from 559 locations in November 2019, going on to hit £6.3m. His highest-grossing lead role remains 2007 franchise title The Bourne Ultimatum (£24m), closely followed by 2015's The Martian (£23.7m), for which he received Oscar and Bafta nominations for best actor.
McCarthy won the Oscar for best original screenplay and was nominated for best director for Spotlight in 2016, with the film also winning best picture. That film opened to £1.1m and closed on £6.4m, also through eOne.
Indie credentials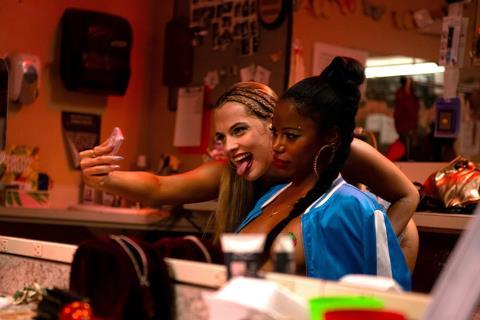 Sony is distributing Janicza Bravo's comic crime drama Zola in 110 locations, fresh from its UK premiere at Sundance London last weekend.
Zola is Bravo's second feature after 2017's Lemon. It debuted at the main Sundance film festival in Utah in 2020, with releases in most territories subsequently delayed by the pandemic.
Inspired by a twitter thread from Aziah Wells in 2015, the film depicts a woman going on a wild road trip to Florida with a stripper friend she has just met.
Although released by Sony, Zola has good credentials for the independent crowd: a score from Mica Levi (Under The Skin, Jackie); A24 handling US distribution; and a cast including Riley Keough (American Honey), Nicholas Braun (TV's Succession), Jason Mitchell (Straight Outta Compton), Colman Domingo (Selma) and led by newcomer Taylour Paige.
Universal extends its streak of consecutive weekends with a new title to four, with thriller Profile from Russian-Kazakh director Timur Bekmambetov in 140 sites.
The film follows an undercover British journalist who infiltrates the online propaganda channels of the so-called Islamic State, only to be sucked in by her recruiter.
Profile debuted in Panorama at the Berlin Film Festival back in 2018, alongside two titles Bekmambetov produced – Aneesh Chaganty's Searching and Stephen Susco's sequel Unfriended: Dark Web.
Bekmambetov scored a decent £9.8m final result on 2008's Wanted starring Angelina Jolie; while the original Unfriended title, which he also produced through his Russian company Bazelevs Production and which Levan Gabriadze directed, took £3.6m.
Signature Entertainment is releasing Ali Samadi Ahadi's family animation Moonbound, based on a popular German children's book, in 304 locations; while Magic Light Pictures is playing two family titles, The Snail And The Whale and Zog And The Flying Doctors, in all 91 Vue venues.

Limited releases include Maya Da-Rin's The Fever in eight locations through New Wave Films; Mo Scarpelli's El Father Plays Himself in a single site through Ardimages; Chris Baugh's comedy horror Boys From County Hell through Vertigo Releasing; and a re-release of Irving Rapper's 1942 Now, Voyager in 11 sites through BFI Distribution.
Key holdovers from last weekend include new number one The Suicide Squad from Warner Bros; Disney's theme park ride-inspired Jungle Cruise; and sequel Space Jam: A New Legacy, also from Warner.