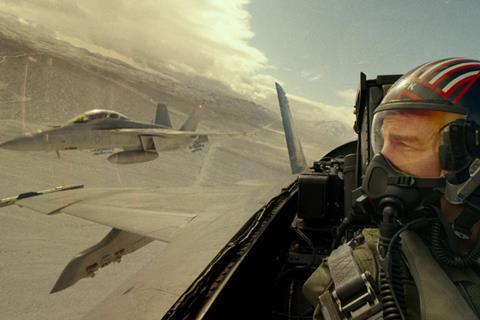 Long-awaited sequel Top Gun: Maverick takes flight in 737 UK-Ireland cinemas this weekend through Paramount – the fifth widest opening of all time in the territory.
The number – coincidentally a significant one for the aviation industry – is also the third-widest opening for a 12A certificate film, behind Star Wars: The Rise Of Skywalker and No Time To Die.
Top Gun: Maverick is one of the last blockbusters that were originally scheduled for the pandemic months to hit cinemas. It was originally dated for July 12, 2019, before a delay to June 26, 2020 due filming certain action sequences. Due to the pandemic, it was subsequently moved to December 23, 2020; to July 2, 2021, to November 19; before finally settling on this late-May date.
Tom Cruise has led an extensive press tour for the film across the past few weeks, including a Cannes premiere and conversation session, with Cruise revealing in the latter that Paramount "wouldn't dare" put the film on a streaming platform ahead of a theatrical release.
It also received a spectacular flypast along the Croisette from the French Air Force.
The first Top Gun film was the highest-grossing title of 1986 in the UK and Ireland, taking £8.5m – the equivalent to £20.6m in 2021.
The sequel returns to Cruise's renegade pilot Pete Mitchell, who continues to push the envelope with his methods and is dodging an advancement in rank that would ground him.
Miles Teller, Jennifer Connelly, Jon Hamm and Glen Powell fill out the cast, plus Val Kilmer returning from the first film. Joseph Kosinski directs, with Cruise producing alongside Jerry Bruckheimer, Christopher McQuarrie and David Ellison.
Busy weekend
Weekends with such a major title as Top Gun: Maverick are often quiet elsewhere as distributors move out of the way of the blockbuster; but that trend is bucked this weekend, with several other significant releases.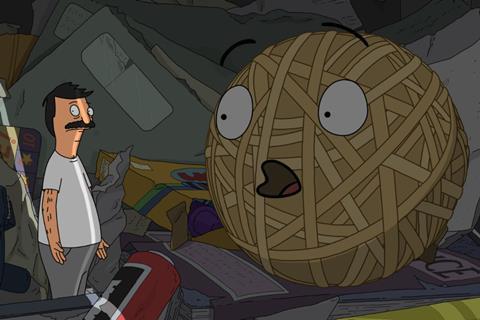 Disney is opening The Bob's Burgers Movie in 472 locations. Directed by Loren Bouchard and Bernard Derriman, it is a feature runout for the popular 20th Television (formerly 20th Century Fox Television) series, which is now up to a 13th season.
The series centres on Bob Belcher and his family-run burger restaurant. In the film, the family tries to save the restaurant from closing as a sinkhole forms in front of it.
Among genre comparisons, The Simpsons Movie opened to £13.6m in the UK and Ireland in 2007, going on to £38.7m total, although that series holds a bigger audience than Bob's Burgers.
A closer example could be 1999's South Park: Bigger, Longer & Uncut, which made the transition from small to big screen with a £1.5m opening and £6.6m total run.
Signature Entertainment is releasing documentary Elizabeth: A Portrait In Parts, about Queen Elizabeth II, the longest-reigning and oldest-ever British monarch.
The release is shortly before the June 5 platinum jubilee, with Bank Holidays on both Thursday and Friday of next week offering strong prospects for the film.
It is the final film directed by the late Roger Michell, and is produced by his regular collaborator Kevin Loader of Free Range Films.
Altitude is playing David Fairhead and Ant Palmer's documentary Lancaster, about the bomber that is synonymous with the Dambusters and night raids on Nazi Germany
Curzon has Emmanuel Carrere's journalism drama Between Two Worlds in 25 sites; while Peccadillo Pictures is opening Alex Camilleri's Maltese Oscar international feature entry Luzzu, about a fisherman who enters the black market in an effort to support his wife and child.
Kaleidoscope has Erin Vassilopoulos' thriller Superior in 10 sites, about a woman on the run who hides out in her hometown with her identical twin sister.
Non-English language fare includes Bollywood titles Jo And Jo from RFT Films, and Anek from Cinestaan.
Repertory releases include a 4k restoration of Mike Hodges' Newcastle-set crime drama Get Carter starring Michael Caine, in 15 sites through BFI Distribution; and the original theatrical version of Alfred Hitchcock's legendary horror Psycho, playing in 132 sites through Park Circus.