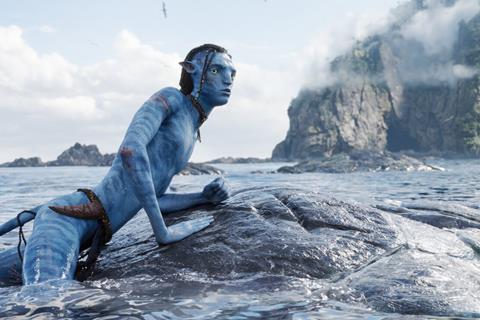 Walt Disney's Avatar: The Way Of Water dominates the UK-Ireland box office this weekend, opening in 725 cinemas and looking to break records 13 years after the first film's release.
The Way Of Water resumes the story of Jake Sully, living with his newfound Na'vi family on Pandora, who faces a familiar threat that returns to finish what it previously started.
James Cameron directs again, and is one of five credited writers on the three hours and 12-minutes film. With a reported budget of $350m to $400m, the film has been in development for over a decade. It was initially slated for a 2014 release, before being repeatedly delayed to allow advancement of the performance capture technology required in the film.
The first Avatar film opened to £8.5m from 503 cinemas, at a £16,917 average. It rolled on to a colossal £94m total to become the highest-grossing film ever at the time. It has since moved down to sixth in that list, but remains one of only two films in the top 10 released prior to 2010 – alongside 1998's Titanic with £80.3m, also directed by Cameron.
Although UK-Ireland box office has been tracking at around 80% of pre-pandemic levels this year, the figures for major blockbusters have occasionally matched or even surpassed those of before 2020.
Films to have topped a £10m opening weekend since the pandemic include No Time To Die (£21m), Spider-Man: No Way Home (£19.5m), Doctor Strange And The Multiverse Of Madness (£14.9m), The Batman (£13.5m), Black Panther: Wakanda Forever (£12.4m), Jurassic World: Dominion (£12.1m) and Top Gun: Maverick (£11.2m).
Top per-cinema opening averages over this time include Spider-Man: No Way Home (£28,714), No Time To Die (£27,231), Multiverse (£21,752), The Batman (£19,053) and Black Panther: Wakanda Forever (£17,663).
A £20,000 per-cinema average from 725 sites for The Way Of Water would bring it a £14.5m opening; a £25,000 average would push that opening to £18.1m.
The Way Of Water is a 10th feature film for Cameron, who has operated in the blockbuster space ever since his 1984 feature The Terminator became an international hit. He also directed sequel Terminator 2: Judgement Day, which opened to £2.6m in August 1991 on its way to a £18.2m total – equivalent to £38.3m in 2022.
Avatar and Titanic remain his highest-grossing titles; his other films include 1986's Aliens (£195,854 total), 1989's The Abyss (£1.4m) and 1994's True Lies (£12.9m).
Russian animation opens
The Way Of Water is dominating screens this weekend; as one example, London's Vue Westfield Stratford is playing the film 32 times on Saturday alone.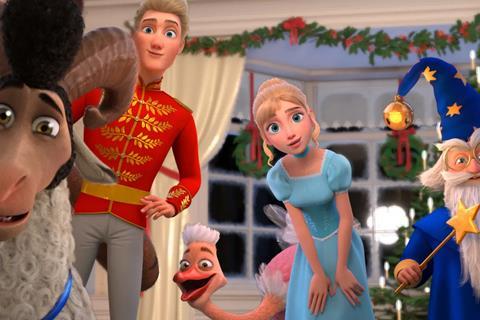 This leaves limited space for other titles, both new and holdovers. Only one other film has taken the plunge to open against the blockbuster – Russian animation The Nutcracker And The Magic Flute. It will start in 128 locations, predominantly in matinee screenings.
Directed by Viktor Glukhushin, the family animation follows a young woman who makes a wish and becomes the same size as her toy nutcracker, who is really a prince under a spell.
Russian film product has been scarce on the international scene since the invasion of Ukraine on February 24 this year, with many companies in UK-Ireland and further afield choosing not to do business of any kind with the country.
Nutcracker is produced by Moscow- and St Petersburg-based CTB Film Company, a privately-owned independent firm founded in 1992 by Sergey Selyanov, who is also head of the Russian Association of Motion Pictures and TV Producers.
The company works across production and distribution; it has previously had success in the animation field with the Sheep And Wolves franchise.
Holdovers will also struggle for space amid Avatar's dominance; however Roald Dahl's Matilda The Musical will look to provide a family counter-programming option, while festival favourites Aftersun, The Banshees Of Inisherin, Bones And All and Living are all still in select cinemas.