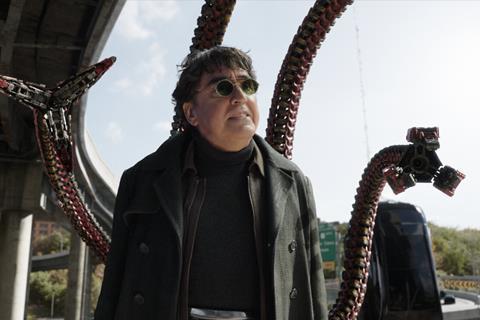 Worldwide box office December 17-19
| Rank | Film (distributor) | 3-day (World) | Cume (World) | 3-day (Int'l) | Cume (Int') | Territories |
| --- | --- | --- | --- | --- | --- | --- |
| 1. | Spider-Man: No Way Home (Sony) | $587.2m | $587.2m | $334.2m | $334.2m | 61 |
| 2. | Fireflies In The Sun (various) | $54.3m | $55.4m | $54.3m | $55.4m | 1 |
| 3. | Encanto (Disney) | $14.4m | $175.5m | $7.9m | $94m | 48 |
| 4. | The Matrix Resurrections (Warner Bros) | $9.2m | $9.2m | $9.2m | $9.2m | 7 |
| 5. | Lion Dance Boy (various) | $7.8m | $101.6m | $7.4m | $101.6m | 1 |
Credit: Comscore, all figures estimates
'Spider-Man: No Way Home' sets pandemic-era box office record
After just five days of play, Spider-Man: No Way Home is already the third biggest US studio film of the pandemic era, with an estimated global $587.2m – $253.0m for North America and $334.2m from 59 international markets.
The Sony release is behind only No Time To Die ($773.7m) and Fast & Furious 9 ($726.2m) in the pandemic-era rankings for US films. There are also three Chinese titles ahead of No Way Home, led by The Battle At Lake Changjin ($902.4m).
No Way Home, which has yet to be released in China, has already outgrossed every film that was released in 2020 – a chart that is topped by Chinese film The Eight Hundred ($461.4m). The top US studio film in 2020, Bad Boys For Life, grossed $426.5m over its lifetime.
No Way Home totally dominated the market in the latest worldwide box office chart – with more than 10 times the takings of second-placed Fireflies In The Sun (released solely in China) and more than 40 times the takings of the next highest ranked Hollywood film (Encanto, with global weekend takings of $14.4m).
UK/Ireland led the charge for No Way Home among international markets, with an estimated $41.4m for the five-day opening period – helping power the western Europe region to a $113.0m total (see UK report).
Among other European territories, France came second with an estimated $17.8m, ahead of Italy ($13.0m), Germany ($11.4m) and Spain ($10.4m).
In Latin America, Mexico delivered a sensational estimated $32.4m (the biggest opening of all time in the country), helping power the region to a $79.5m total. Brazil, with $17.9m, saw its second biggest opening of all time. Argentina ($6.8m) and Ecuador ($3.7m) both achieved their biggest openings of all time with the film.
In Asia, where box office totalled $74.0m, South Korea led the field with an estimated $23.7m, ahead of India with a very strong $18.2m – the second biggest opening for a Hollywood film. Japan releases No Way Home on January 7.
No Way Home achieved the third biggest opening of all time in Australia with $18.7m, and the fifth-biggest opening in New Zealand with $2.3m.
Eastern Europe contributed $26.9m, led by Russia with an estimated $17.4m, the fifth-biggest launch of all time there.
The Middle East delivered $19.8m, led by fast-growing Saudi Arabia with an estimated $5.2m – the biggest opening for the territory to date.
Comparisons with 2019's Spider-Man: Far From Home are complicated by the fact that Far From Home released in China and Japan the weekend prior to other markets, and then rolled out across the world early the following week – including in North America from Tuesday July 2, leading into the July 4 holiday.
By the end of the first full global play period – 10 days in the case of China and Japan, and six days in the case of North America and UK/Ireland – Far From Home had grossed $580.1m. In comparison, No Way Home has already overtaken that number with an estimated $587.2m, from fewer days of play in key markets, and with no China or Japan release.
In like-for-like international markets at current exchange rates, Sony calculates that No Way Home is 72% ahead of Far From Home at the same stage of release.
Far From Home grossed $391m in North America by the end of its run, $741m for International, and $1.13bn worldwide. Despite the challenges of the pandemic and especially the omicron variant that is bringing in new restrictions, Sony should be optimistic of being able to match – and exceed – the Far From Home numbers.
Next to open No Way Home is Thailand (December 23), followed by Japan (January 7) and Philippines (January 8).
'The Matrix Resurrections' debuts with $9m in select markets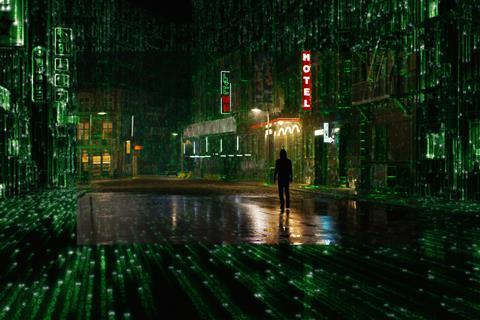 The Matrix Resurrections has begun its international rollout a week ahead of landing in major markets such as North America, western Europe and Mexico. The belated sequel to the original Matrix trilogy grossed an estimated $9.2m from Russia, Japan, Thailand and four smaller markets.
Russia and Japan were tied with an estimated $3.9m opening in both markets. In both territories, those numbers are bigger than the launch of both Eternals and Black Widow.
In 2003, Matrix sequels Reloaded and Revolutions respectively grossed $742m and $427m worldwide – which compare with $467m for 1999's The Matrix. Success of The Matrix on DVD had paved the way for a bigger theatrical audience for the first sequel, which then tailed off with Revolutions.
Resurrections has made a promising start in its early markets – but did not have to compete with the Spider-Man film in Japan. Resurrections lands this Wednesday (December 22) in 70 fresh markets including North America, UK/Ireland, France, Mexico, Brazil and South Korea.
'West Side Story' slides to $5.5m weekend
Disney's West Side Story still looks stuck near the beginning of a very long road to profitability after sliding at the global box office at the weekend – down an estimated 68% in North America, and 53% in international markets (despite increasing the territory count for the latter).
Steven Spielberg's film grossed an estimated $3.4m in North America and $2.1m for international. Totals after two weekends of play are respectively $18.0m and $9.1m, combining for $27.1m worldwide. Production budget is estimated at $100m.
Disney is trumpeting strong midweek grosses on the film, suggesting West Side Story can sustain with an older adult audience midweek, even as it loses the weekend battle to Spider-Man: No Way Home and, soon enough, The Matrix Resurrections.
West Side Story lands in Spain and Italy this week, and in Australia, New Zealand and Vietnam on Sunday (December 26). South Korea follows in January and Japan in February – with a China release yet to be determined.