Stars Judi Dench and Steve Coogan expected to attend gala screening.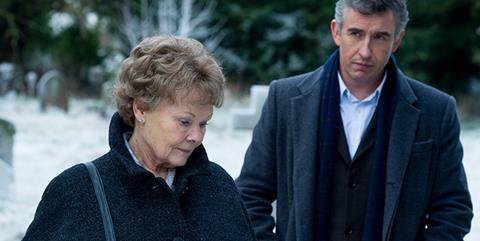 The 57th BFI London Film Festival (Oct 9-20) has announced that the festival's American Express Gala will be the UK premiere of Stephen Frears' Philomena.
The gala will take place on Oct 16 at the Odeon Leicester Square, ahead of Pathé's UK release date of Nov 1. The film receives its world premiere at the Venice International Film Festival tomorrow [Aug 31] before going on to play at the Toronto International Film Festival on Sept 8/9.
Based on true events, Judi Dench plays the title role alongside Steve Coogan as journalist Martin Sixsmith. The screenplay was written by Coogan and Jeff Pope, based on the book The Lost Child of Philomena Lee by Martin Sixsmith.
Dench plays an Irish woman seeking the son she was forced to give up for adoption 50 years ago. Coogan plays the reporter who helps her.
Frears, best known for directing The Queen, High Fidelity and Dangerous Liasons, is expected to attend the gala screening with Dench and Coogan.
Clare Stewart, BFI head of exhibition and festival director said Philomena had "extraordinary potency and relevance".
"Stephen Frears demonstrates his customary flair for extracting brilliant performances and balancing cogent wit and deep pathos while Judi Dench and Steve Coogan adroitly navigate the tonal shifts between drama and humour and imbue their real-life characters with depth and dignity," she added."
The Weinstein Company paid around $6.5m for US, Canadian and Spanish rights to the drama at the Cannes Film Festival in May.
Further deals were secured by Pathe International with Australia (Hopscotch), Italy (Lucky Red), Germany (Square One), Latin America (IDC), Scandinavia (Scanbox), Japan (Phantom Films), Portugal (Lusomundo), Greece (Feel Good), Czech Republic (AQS), Middle East (Shooting Star), Hong Kong (Golden Harvest), Israel (Shani), Taiwan (Atom) and Iceland (Myndform).
Philomena was developed by BBC Films, produced by Gabrielle Tana, Steve Coogan and Tracey Seaward and executive produced by Baby Cow's Henry Normal, BBC Films' Christine Langan, Pathé's Cameron McCracken and Francois Ivernel, and Magnolia Mae Films' Carolyn Marks Blackwood. The senior executive representing the BFI Film Fund was Natascha Wharton.
The London Film Festival will open with Paul Greengrass' hijack thriller Captain Phillips on Oct 9 and will close with Disney's Saving Mr Banks on Oct 20. Both star Tom Hanks.
The full programme will be announced next Wednesday [Sept 4].