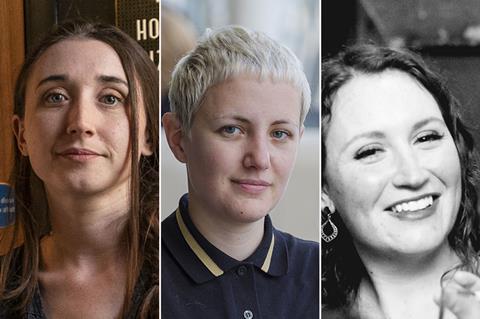 The full Producers' Roundtable report into the challenges facing the UK's emerging independent film producers has been unveiled.
The report, commissioned by Producers' Roundtable founders Loran Dunn, Sophie Reynolds and Helen Simmons, surveyed 149 UK independent producers about earnings, working practices, education and socio-economic background.
The findings in the report paint a challenging picture of the UK's independent sector, with respondents commenting on the dire financial prospects for producing indie films, but also the impact on their mental health and barriers to diversity in the sector.
Mental health
82% of the respondents said their job had a negative effect on their mental health, with half those surveyed "taking action" to mitigate this. Simmons said: "Producers have found themselves in a difficult place because you don't want to admit weakness or look like you don't know what you're doing. That's where it affects people's mental health, not feeling like you can ask for help."
The survey also asked why producers might give up producing. 80% cited the lack of money, with slow career progression (27%), tastes not aligning with financiers (26%), raising children (25%), mental health (16%) and prevalence of nepotism (12%) also mentioned.
Barriers to entry
Top UK production companies are still seen as overwhelmingly the preserve of "white men who went to boarding school", according to Simmons, with many surveyed acknowledging significant barriers to entry for people from other backgrounds. Some 31% of those surveyed went to private, fee-paying schools (compared to the national average of 6.5%).
One respondent said: "I have a very negative outlook at present. Many people are feeling like this, particularly people of colour or who sit in the 'diversity' bracket… It would help if we acknowledged that the industry is a rich white boy's club".
Perceived barriers to entry noted in the survey include lack of money (71%), lack of contacts (49%), length of time for projects to get off the ground (45%) and the prevalence of nepotism (17%).
Adds Reynolds: "There's a lack of emphasis on diversity of producers. If you want to find these diverse stories producers must spend more time doing that, they are often working with people who need more hand-holding but no allowance is given to producers to help these new voices come through. People don't realise that."
Work practices
Most producers surveyed (88%) are operating as a limited company, with 59% of those companies making no profit in the past two years and producers often having to personally invest in their companies, with 27% having invested more than £20k.
Nearly half (42%) of respondents said they are working more than 50 hours a week producing, whilst 60% supplement their film income by either producing TV or commercials, teaching film studies, doing other freelance work in the industry, or working in a part job outside the industry (8%).
The time taken to develop film projects was also a significant problem for many producers, with one saying: "Development finance is very difficult… producer fees are too low and often deferred and net profits are often unachievable. Time taken to develop and produce is never compensated nearly well enough when a film is finally produced."
On a typical individual feature film project, 30% of those surveyed spend 24-36 months developing the project, with 24% spending 18-24 months.
Income
The majority of those surveyed make minimal income from producing independent UK films, with 69% earning less than £15k in the past two years, and 30% making less than £1k.
Deferred fees are a significant issue, with 77% of producers surveyed having had to defer their fees at least once on a project, with 53% deferring their fee multiple times. 17% have received no fee whatsoever on a project.78% of respondents have had to cashflow their projects through development and production.
Says Dunn: "All we want is to be paid in line with other crew members, but what tends to happen is that our fees get compromised. If we run into overages it comes out of our fee, we see is time and gain producers end up with nothing out of the production budget whilst everyone else is protected and paid for their work. We don't expect to be paid on the backend of these projects, we just want to be able to be paid like everyone else."
These challenges mean film producers often have other sources of income, including renting out property (23%), spousal support (20%) and parental support (8%).
The future of the industry
The vast majority of respondents (83%) think being an indie producer in the UK today is not sustainable, with one saying: "If the definition of sustainable is expanded to mean 'sustainable for a diverse group of people' then the answer is no. It isn't now and won't become so without a significant overhaul of working practices in the industry. It's an extraordinary luxury to be able to countenance making very little, if any, money for the first several years of your career."
Factors that would make the industry more sustainable according those surveyed include: more development funding (59%), an agreed floor to producers' fees (43%) and a higher tax credit (32%).
Discussing the findings, Dunn said: "We've been quite overwhelmed by the response [to the survey]. It feels like people are at breaking point, struggling to live, not making any money, and feeling like they can't talk to anyone, that they don't deserve to be paid. It's frightening. We're worried about the future of the independent sector."
The Producers Roundtable group has worked with BBC Films, the BFI and Film4 to come up with guidelines to help support UK producers.
Simmons outlined why these are important: "What the guidelines being made public does is when people are in the room they have something to relate back to. The power of the collective is where this will start to work."
The guidelines are:
1) In order for production companies and producers to be able to sustain themselves, and the writers and directors they work with, we recommend the production fee on any film under £3m should be no less than 8% of the direct costs of production, to be divided between the producer(s) and production company(ies) as the lead producer sees fit.
2) Deferral of producer fees for development or production should not be encouraged, endorsed or suggested by any financier or their representatives, and the Producers' Roundtable strongly encourages producers not to defer any of their fees, instead finding alternative solutions and savings within the budget. Most producers have already deferred their fees during the development of the project, and even successful features which find an audience are unlikely to see a return at the back end for the producer themselves, making fees pivotal.
3) Given the importance of talent relationships and transparency across the board, as well as a need to not undermine the fundamental role of the producer, especially at an early stage of their career, the producer must be involved in all meetings and correspondence with the writer or director, pertaining to the shared project. Financiers must not meet with the writer or director, specifically about the shared project, except as organised and attended by the producer(s). This should be the case during the consideration of the project, during development and production, and during the project's initial exploitation.
4) No production financier may participate in net profits from the producer pool of net profits, even in the event of receiving a producer credit; this must be reserved only for the filmmakers.
5) Given the importance of film festivals in promoting and selling a film, and in career progression for all filmmakers involved, it is vital that the producer of a film is supported in attending its premiere, equal to the director, especially as salaried executive producers are often paid to attend themselves. We therefore encourage sales agents to make sure the producer is always tied to the director in attendance of any international and UK premiere of the film, including their travel, accommodation and accreditation expenses. We hope financiers will also encourage and financially support this move.