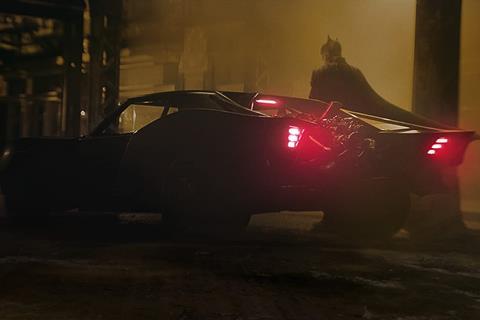 Large-scale film and TV production is set to resume in the UK in late June or July. That is the message as the government-endorsed 'British Film Commission Production Guidance for Film and High-End TV Drama' is published on Monday (June 1).
"I'd like to think that this will give [producers] the tools to be able to begin again and put thousands and thousands of people back to work and to start generating millions of pounds back into UK PLC revenue," Adrian Wootton, chief executive of Film London and the British Film Commission (BFC), told Screen.
The BFC rushed to put the guidance together as part of its work with the BFI Screen Sector Task Force working on Covid-19 recovery.
Big US studio productions such as Disney's The Little Mermaid and Warner Bros' The Batman can now go back in front of the cameras. One source told Screen productions are expected to return mid-June to Pinewood in order to get ready for a full return to shooting in mid-July.
"The UK is recognised around the globe as a brilliant place to make films, and is home to the world's best film and high-end TV talent. We've worked hard to support the industry through these difficult times, and I'm delighted we've been able to agree this step forward towards getting the cameras rolling safely again," said the UK's culture secretary Oliver Dowden of the guidance.
However, the timeline for smaller independent production resuming remains less clear.
The 'Working Safely During Covid-19 in Film and High-end TV Drama Production' guidance runs to 44 pages. It was put together after a massive, rapidly-conducted consultation exercise involving the UK and international film industries. Among the "thousands" who took part in the consultation were the BFI, Pact, Bectu, US studios, streamers, heads of independent production companies, and line producers.
The consultation has now been reviewed by the UK's Health & Safety Executive, Public Health England, and government scientific advisors. The deputy chief medical officer has signed off on the guidance.
"It has got all this extraordinary feedback from the international and domestic industry but it has also got the benefit of the most up-to-date government guidance," Wootton told Screen.
The BFC's chief executive acknowledged "ferocious" competition among countries worldwide to get their film industries back up and running post-lockdown in order to attract inward investment.
"All I can say is that I believe that what the UK film and television industry has done, all the organisations and my team, is nothing short of miraculous in terms of the time – we certainly haven't hung about."
The Production Guidance is a "live and evolving" document which will be reviewed on a weekly basis. If and when UK government guidance on coronavirus changes, the protocols will be amended. They cover everything from social distancing and personal hygiene to mental health and wellbeing, travel, accommodation, catering, cast and stunts, construction, and hair and make-up.
"It is absolutely as robust, sensible, practical and appropriate as it possibly can be," Wootton said.
Quarantine regulations
As matters stand now, cast and crew coming into the UK, whether high-profile actors or heads of department, will need to follow government guidance on quarantine. From June 8, that will mean 14 days in social isolation.
"There is a 21-day review built into the existing quarantine regulations. Obviously, if it does get modified, we will change the guidance," Wootton said.
Around £1bn of film and TV production in the UK is estimated to have been suspended because of the coronavirus lockdown, which started on March 23. The hope now is that the the "road map" is in place for much of this production to begin again.
"Productions, depending on what state they were in when they were suspended, can use this to run their own risk assessments and to go back into essentially pre-production," Wootton suggested.
"I would like to think that certainly for the large-scale movies and high-end television, this will give them the information and guidance they can use so we will see a resumption in production this summer. Whether that is June or July I don't know."
One key issue for independent film and TV production is insurance, which, Wootton admits, remains "a significant impediment". Last week, a task force headed by Pact made a proposal for the UK government to cover costs incurred if film and TV production had to be suspended because of coronavirus. If the so-called government "backstop" is put in place, banks and completion guarantors would then be expected to invest in and cover independent production as normal.
The guidance is intended as advisory, not mandatory, and scalable, with producers encouraged to apply the guidance according to what their particular projects need.
"The demand for what we have in the UK is, if anything, going to be bigger than it was before we went into lockdown," a bullish Wootton commented, citing the huge hunger for content among audiences and the massive spike in home media consumption since the lockdown began.
The release of the guidelines will be welcomed across the UK industry, with BFI chief executive Ben Roberts joining Wootton in celebrating their release.
"Our film and TV industry has been growing faster than any other sector, generating over £7.9bn a year in GVA to the UK economy and employing 166,200 people – so creating scaleable guidance to help restart film and high-end TV production as safely and as quickly as possible has been paramount," said Roberts.
"There is still work to be done to address the cost of recovery and business insurance as a result of Covid-19, but government support has been crucial in getting us to this point."
In a related development, UK Screen Alliance today (Monday) published "Guidance for safe working in Post-Production and Visual Effects during the Covid-19 Pandemic", in consultation with companies from the post and VFX sectors, several US studios and the BFI, BFC, Pact and BECTU, and the UK government.
Updates to follow this week