Funding will bring independent and British film to audiences across the North West and Central England.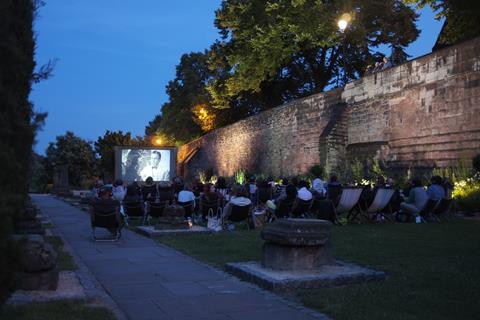 Film Hub North West Central, part of the BFI Film Audience Network, has announced funding for a new raft of film organisations across the North West and Central England region.
Aimed at local audiences and including touring programmes, archive films, pop-ups and live events, the funding will assist Arts Alive, Chester Performs, Foxlowe Arts Centre, Live and Local, Nantwich Family Films, North West Film Archive, Skwigly, The Dukes Theatre and the Whitaker Arts Centre
Flicks in The Sticks is the cinema branch of Arts Alive and it will receive funding for its work taking big screen films to rural communities including Shropshire and Cheshire, whose access to the cinema can be severely limited.
Regional arts producer Chester Performs will bring its Moonlight Flicks series to Chester this summer and, after winning a bid for funding from Film Hub NWC, the series is set to tour around the region, with the aim of reaching more communities.
Foxlowe Film Group also scooped a funding award and will aim to boost audience numbers for its weekly cinema programme in Staffordshire by scheduling occasional guest speakers, producing programme notes for films and running offers to encourage and engage members of the community who might not otherwise come to the cinema.
North West Film Archive has also been announced as a partner organization. A Message Home is a series of short films, made in 1944-45, of servicemen and women in the Far East sending personal messages home.
With the biggest collection of clips in the country, NWFA will prepare a searchable database of the heartfelt messages in an attempt to trace relatives and servicemen. Film Hub NWC will support NWFA's screening of a film featuring the messages at HOME later in the year.
Online animation magazine Skwigly has been awarded funding for its new project This Is Not A Cartoon; a series of screenings showcasing some of the best new animated short films from around the world alongside live director interviews and Q&A sessions taking place across the region.
The Dukes in Lancaster will support five new venues to develop dedicated screenings that engage audiences with dementia and memory problems. After a pilot scheme, which saw attendance rise from 20 to 80 people per film, The Dukes will help other venues adapt their environment to be as supportive as possible.
Also receiving funding from Film Hub NWC is Live and Local's The Big Picture Show, Nantwich Family Films and The Whitaker Arts Centre's Whitaker Cinematheque.