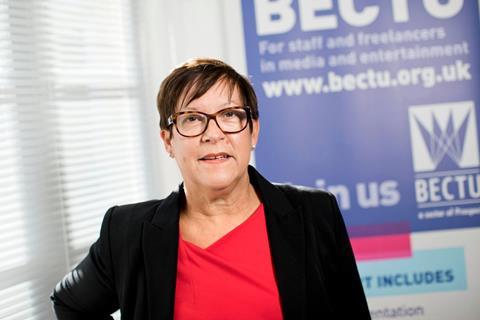 UK creative industries union Bectu has recommended that members reject indie trade body Pact's offer for revised drama pay proposals due to a lack of detail and clarity.
The union's representatives have been assessing concessions put forward by Pact last week, designed to improve working conditions on sub-£7m per-hour scripted genres.
The offer aimed to resolve Pact's ongoing dispute with Bectu over pay and working conditions for its members, after negotiations broke down in March. They include an hour shorter standard working day, unsocial hours pay, additional pay for prep and wrap, increased overtime and paid bank holidays.
Head of Bectu Philippa Childs said: "While we appreciate Pact has presented an improved offer it does not adequately stipulate the boundaries between working time and personal time and lacks the detail and clarity necessary for our members to feel confident that their concerns have been addressed."
"Many of the improvements only apply to shooting hours/days, devaluing work done outside filming hours, and there are loopholes that would allow productions to schedule around penalties. We are also pushing for an agreement that safeguards against the exploitation of prep and wrap arrangements that we know is widespread in TV drama."
She added that it is "essential" to get the agreement right as it will make "significant changes to the working lives and wellbeing" of scripted TV crew, and said the union looks forward to continuing discussions with Pact.
Bectu's members will vote on the proposal between Wednesday 20 July and close on Sunday 31 July at midnight.
Pact has agreed to keep discussions open on the terms after the ballot.
This story first appeared on Screen's sister site Broadcast.