Alexey German Jr.'s Under Electric Clouds has become the first high-profile title to fall victim to Ukraine's new distribution ban on Russian films and TV series, which came into effect last week.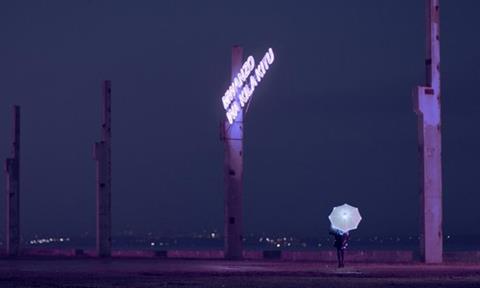 One law entitled ¨On the Protection of the Information, TV and Radio Space of Ukraine¨ forbids all audiovisual works that contain the ¨popularization, agitation for, propagation about all law enforcement agencies, the armed forces, and other armed, military or security forces of the occupier state¨ from being shown on Ukrainian territory.
In addition, a law banning the distribution and showing of films and TV series produced in Russia after January 1, 2014, came into force at the same time, according to UNIAN Information Agency.
The ban coincided with the film's theatrical opening by distributor Paradis in Russian cinemas and was all the more surprising given that German's film was made as a co-production between Russia, Ukraine and Poland between Artem Vasiliev's Metrafilm, Ukraine's Linked Films (Egor Olesov, Sergey Antonov), Poland's Dariusz Jablonski of Apple Films and Krzysztof Zanussi's TOR Film Studio.
Speaking to the RIA Novosti news agency, German explained that, in addition to being co-produced with Ukraine, the film had also been partly shot in Ukraine [in a first tranche of shooting in 2012].
¨There were talks [about distribution] but it is not being released [in Ukraine] and now I don't have any information from the Ukrainian side,¨ he said.
Made up of seven interconnected stories with copious references to Russian history, politics, art, literature, and social issues, Under Electric Clouds - whose international sales are being handled by Films Boutique - won the third Screen International Best Pitch Award at Tallinn's Baltic Event in 2010 and had its world premiere this February in the Berlinale's Competition section.
The film's two cinematographers Evgeniy Privin and Sergey Mikhalchuk received a Silver Bear for an outstanding contribution.
RUSSIA BRIEFS
Moscow Business Square projects
27 projects have been selected for this year's Moscow Co-Production Forum as part of the Moscow Business Square (21-22 June).
The line-up with a pronounced Russian weighting includes new feature projects by Andrey Konchalovsky (Paradise), Anders Banke (Lastochka) Morten Tyldum (Invincible.Kinscem) and Kuba Czekaj (The Other Cheek) as well as documentaries by Rebecca E. Marshall (The Forest In Me) and Sergey Shanovich (Bau/Bxy), among others.
In addition, seven projects developed at the B'Est training programme will be presented to potential production partners including The Woman From Ingria, to be produced by one of this year's Screen Future Leaders Pavel Odynin, Protos by Iceland's Martein Thorsson, and The Tattooist by Slovakia's Martin Repka.
For the first time this year, Screen International will present a Best Pitch Award to one of the projects presented at the Moscow Business Square. The prize will follow the model practised over the past seven years at Tallinn's Baltic Event where the winner of the Best Pitch Award is followed editorially through all stages of production to festival premiere and international sales.
Moscow Business Square's full line -up of projects to be pitched can be found at www.miffbs.ru/en/mcf
Festival juries
With less than 10 days to go before the opening of the 37th edition of the Moscow International Film Festival (MIFF), organisers have now unveiled the line-up of jury members for the International Jury under the presidency of veteran French director Jean-Jacques Annaud.
They are: British actress Jacqueline Bissett, German screenwriter Fred Breinersdorfer - whose latest film 13 Minutes about Georg Elser's failed assassination attempt on Adolf Hitler premiered at this year's Berlinale, Russian director Alexey Fedorchenko whose Angels of The Revolution had its national premiere at the Kinotavr festival in Sochi this week, and Hungarian-born producer and businessman Andrew Vajna.
MIFF's documentary competition will be judged by a three-person jury including producer/sales agent Philippa Kowarsky, Armenian director and festival organiser Harutyan Khachatryan, and Russian producer-director Alexey Vakhrushev.
Ministry of Culture to back 25 projects
New films by Pavel Lungin, Andrey Konchalovsky and Ivan Tverdovsky are among 25 feature films, debuts, children's films and TV series set to be funded by the Russian Federation's Ministry of Culture.
A committee of experts recommended that the Ministry provide production support for 14 projects in the auteur and experiemental cinema category, including Lungin's thriller Queen of Spades, which was pitched at the Moscow Business Square in 2013; Corrections Class director Ivan Tverdovsky's next feature Zoologia, Nikolai Dostal's Monakh i Bes, to be produced by Igor Tolstunov, and veteran producer-director Konchalovsky's follow-up to The Postman's White Nights, Zhenri.
12 projects placed on the reserve list included Two Women director Vera Glagoleva's new film Glinyanaya Yama as another collaboration with Horosho Productions, Oksana Bychkova's Vrosliye Lyudi, and a sequel to Nord Star Pictures' time travel adventure We Are From The Future, We Are From The Past by Dmitriy Korobkin..
While two debuts were recommended for funding, actor Grigoriy Dobrynin's feature debut Slava was put on the reserve list along with Marmot-Film's Vash Repetitor to be produced by Valery Todorovsky.