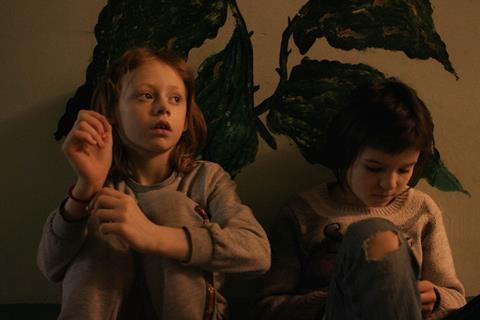 Swiss documentary festival Visions du Réel has unveiled the line-ups for its Grand Angle and Latitudes sections, ahead of the full programme's announcement on March 15, which includes A House Made Of Splinters, set in a children's home in Eastern Ukraine.
A statement from the festival said: "Visions du Réel is joining the international movement of solidarity with the Ukrainian people, who are fighting for their freedom. We express our support for Ukrainian artists and filmmakers, and for all those whose lives are threatened and upended by the war. We strongly condemn the ongoing Russian invasion.
"At the same time, the Festival wishes to convey its support for the Russian artists and citizens who are currently expressing their resistance."
The line-up will feature three other films directed and/or produced in Ukraine, to be announced on March 15.
The Grand Angle competition comprises of films that have already played at other festivals, or are set to in the coming year, with the award decided by public vote. Two world premieres and five international premieres makes up the 12 titles in the competition.
Sundance world cinema documentary best director award winner A House Made Of Splinters is a Simon Lereng Wilmont-directed title, that takes place in a children's home in Lysychansk, as it receives a steady stream of new residents.
The festival is taking place in Nyon, Switzerland, from April 7-17.
Scroll down for the Grand Angle and Latitudes line-up
World premieres include the Jan Šimanek and Petr Záruba directed Adam Ondra: Pushing the Limits, a co-production from the Czech Republic and Italy, that follows the life and career of fearless Czech climber Adam Ondra.
Il Posto (A Steady Job) is directed by Gianluca Matarrese and Mattia Colombo. The Italian and French road movie looks at the struggles of hundreds of unemployed nurses travel from the south to the north of Italy in search of work.
There are 11 films in the non-competitive Latitudes section, which showcases a breadth of current documentary filmmaking practices. Two world premieres in the section are Silent Love by Marek Kozakiewicz, a Polish-German co-production, about a woman who moves from Germany to Poland with her partner, where she is forced to hide her love for another woman from the authorities, and Things I Could Never Tell My Mother, a film from Bangladesh and France that takes the guise of a romantic comedy, and looks at a filmmaker's attempts to reconcile her relationship with a Hindu man from Calcutta and her Muslim identity.
Visions du Réel – Grand Angle
*denotes a world premiere
Adam Ondra: Pushing the Limits (Czech-It) dirs. Jan Šimanek, Petr Záruba*
A German Party (Ger) dir. Simon Brückner
A House Made Of Splinters (Den-Fin-Swe) dir. Simon Lereng Wilmont
A Marble Travelogue (Neth-HK-Fr-Greece) dir. Sean Wang
Children Of The Mist (Viet) dir. Diem Ha Le
Daughters (Swe-Den) dir. Jennifer Malqvist
Fire Of Love (US-Can) dir. Sara Dosa
Il Posto (A Steady Job) (It-Fr) dirs. Gianluca Matarrese, Mattia Colombo*
Into The Ice (Den-Ger) dir. Lars Osterfeld
Karaoke Paradise (Fin) dir. Einari Paakkanen
The Herd (Pol) dir. Monika Kotecka, Karolina Poryzała
Tolyatti Adrift (Sp-Fr) dir. Laura Sistero
Latitudes
Atlantide (It-Fr) dir. Yuri Ancarani
A Vendredi Robinson (Fr-Switz-Leb-Ire) dir. Mitra Farahani
Camouflage (Arg) dir. Jonathan Perel
Malintzin 17 (Mex-Switz) dir. Mara Polgovsky
Mutzenbacher (Austria) dir. Ruth Beckermann
No Place For You In Our Town (Bul) dir. Nikolay Stefanov
Republic Of Silence (Ger-Fr-Syria-Qat-It) dir. Diana El Jeroudi
Silent Love (Pol-Ger) dir. Marek Kozakiewicz*
Silver Bird And Rainbow Fish (US-Neth) dir. Lei Lei
Taamaden (S Afr-Fr-Bel-Came) dir. Seydou Cissé
Things I Could Never Tell My Mother (Ban-Fr) dir. Humaira Bilkis*