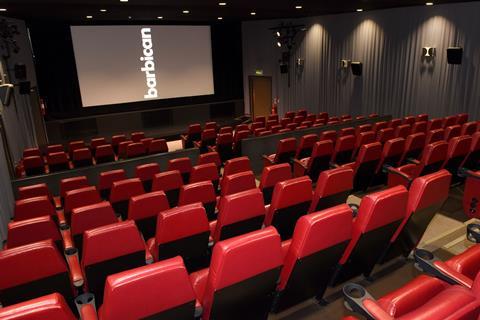 London arts venue the Barbican has launched an Emerging Film Curators Lab in a bid to widen the range of voices and perspectives across its cinema programme.
The inaugural lab, which is free to enter, will invite proposals from individuals or collectives of up to three people for public screenings at the Barbican in autumn 2020.
A total of 10 projects will be shortlisted to take part in the lab, which will comprise group and one-to-one sessions over a few days. Four projects will be selected for development and hosted at the Barbican this autumn.
The arts venue, located within the City of London, recently announced it would extend its closure to June 30 due to the coronavirus pandemic and this lab will take place online as a result.
Gali Gold, head of cinema at the Barbican, told Screen: "Our aim is to provide career development opportunities to emerging curatorial talent, as well as opening up the Barbican programme to a wider range of voices and perspectives, enriching the offer to existing and new audiences. This is part of the Barbican's wider commitment to artist and talent development."
She added: "It's important to stress that this is an open call. Equal consideration will be given to those without a degree or institutional affiliation who demonstrate a high level of creativity, critical thought and other potential in their respective fields."
All projects will include a film screening with an additional live element and each will receive a curatorial fee as well as funds to cover the cost of event production.
Applicants are invited to enter before the end of April HERE.