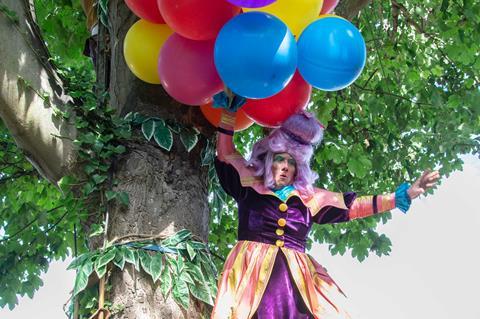 UK cinema chains Everyman and Showcase will give a theatrical release to Peter Duncan's "guerilla-style" pantomime Jack And The Beanstalk, starting from December 4.
The performance was filmed on socially-distanced sets at the former Blue Peter presenter's house during the summer.
It will receive a red-carpet premiere at the Everyman Crystal Palace at the beginning of December, before rolling out to all Everyman cinemas on December 4. It will then add Showcase venues – including the company's Cinema De Luxe sites – from December 11, for a total of 55 cinemas.
Everyman Cinemas has also come on board as a co-producer. The film will also be available to stream online, including family tickets and options for school groups, Scouts, Guides and care homes.
Duncan has performed in multiple pantomimes across his career, often in the comic 'dame' role which he has reprised for this performance.
He also wrote this adaptation and co-directed alongside Ian Talbot.
The 35-strong cast includes Sam Ebenezer as Jack Trott; Talbot as Squire Shortshanks; Nicola Blackman as Garden Fairy; Jos Vantyler as Fleshcreepy; and Sarah Moss as Jill Shortshanks.
"When I had the initial idea for Panto Online, I naively though we might shoot a traditional panto guerilla-style on mobile phones, but that evolved and was upscaled as I recruited the cast and production team," said Duncan. "We are now rushing to finish all post-production work to ensure Jack And The Beanstalk is a wonderful cinema treat for those who prefer a group outing to join in the boos, cheers, shouts of 'he's behind yous', a sing-a-long song and all the classic panto antics that families normally love in a theatre setting.
"When Peter came to us and showed the rough cuts of his work, I was so enthralled we decided to come on board as co-producers," said Paul Wise, executive chairman of Everyman Cinemas. "What the country needs right now is a great panto, with a positive story, full of laughter and the hope of a vaccine. It looks like we have both."
Duncan added, "There may be no 007 and Christmas may have been cancelled by all the studio blockbusters, but Jack And The Beanstalk is coming to a cinema near you to cheer us all up. Oh, yes it is!"
Jack And The Beanstalk retells the fairytale of a young man who exchanges his mother's cow for a seemingly worthless bag of beans. When the beans produce a giant beanstalk, he must climb it to rescue his girlfriend and save his village from Giant Blunderbore.