New films from Harry Wootliff, the directors of Notes On Blindness and Yardie star Aml Ameen are among the titles selected for this year's Great 8, the annual Cannes buyers' showcase of UK films from emerging directors.
The selected filmmakers will present unseen footage from their films to international buyers and festival programmers online on June 17. All eight films are in post-production and will be available to buyers at the pre-Cannes screenings virtual market (June 21-25).
Now in its fourth edition, the showcase is funded and run by the BFI and the British Council, in partnership with BBC Film and Film4.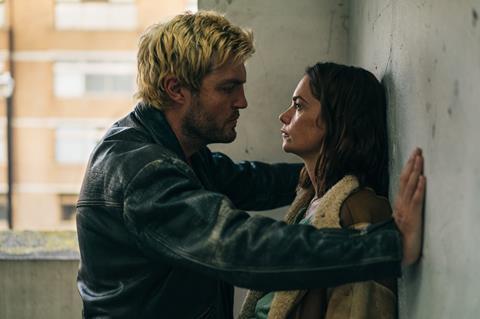 Among this year's line-up is True Things (The Bureau), the second feature from director-writer Harry Wootlif, whose debut Only You was nominated for outstanding debut at the Baftas. True Things stars Ruth Wilson and Tom Burke.
Also selected is documentary The Real Charlie Chaplin (Altitude), a contemporary take on the legendary comedian from Peter Middleton and James Spinney, the Bafta-nominated directors of Notes On Blindness.
The other six projects are debut features. The comedy Ballywater (Bankside) stars Seána Kerslake and Patrick Kielty and is directed by Prasanna Puwanarajah, who trained as a doctor before going on to write 2012 short Boy starring Timothy Spall, which featured in London 2012 Olympics opening ceremony. Puwanaraja also wrote the stage play Nightwatchman, which premiered at the National Theatre in 2011.
Psychological horror A Banquet (Hanway) marks the feature debut of Ruth Paxton, whose previous work includes Paris/Sexy, winner of the best UK short prize at the London Short Film Festival in 2011.
Aml Ameen, star of Idris Elba's Yardie and I May Destroy You, is presenting Boxing Day (Rocket Science), about a UK author living in the US who returns home to London for Christmas to introduce his US fiancée to his eccentric British-Caribbean family. Ameen featured in Screen's Stars Of Tomorrow 2013: Brits in LA showcase.
Jim Archer's comedy Brian And Charles (Bankside), which was developed and co-funded by Film4 and the BFI, has also been selected. Archer's credits including BBC series The Young Offenders and 2017 short Brian And Charles, on which the film is based.
Documentary Ride The Wave (MetFilm) tells the story of 14-year-old champion surfer Ben Larg and his attempt to surf one of the world's most dangerous cold water waves at Mullaghmore, Ireland. Director Martyn Robertson has produced and directed short films which have screened at Edinburgh, the LFF and the Berlinale.
Finally, Charlotte Colbert is presently the psychological thriller She Will (Rocket Science), starring Alice Krige, Kota Eberhardt, Malcolm McDowell and Rupert Everett. Colbert is an established artist and filmmaker, who has written screenplays for Olivier Dahan, Eric Cantona, Tony Grisoni and Harry Wootliff. Her 2016 short The Silent Man starred Simon Amstell.
Films that have been presented in previous Great 8 showcases include Rungano Nyoni's I Am Not A Witch, Nick Rowland's Calm With Horses, Rose Glass's Saint Maud, Simon Bird's Days Of The Bagnold Summer, Fyzal Boulifa's Lynn + Lucy and Michael Pearce's Beast. Past attendees include Apple, SPC, Bleecker Street and IFC.
Great 8 2021 line-up:
Ballywalter (UK-Ire)
Dir: Prasanna Puwanarajah
Scr: Stacey Gregg
Prods : James Bierman, Nik Bower
Cast: Seána Kerslake, Patrick Kielty
Prod cos: Empire Street Productions, Riverstone Pictures, Cowtown Pictures
Intl sales: Bankside Films
A Banquet (UK)
Dir: Ruth Paxton
Scr: Justin Bull
Prods: Leonora Darby, Mark Lane, James Harris, Nik Bower, Laure Vaysse
Cast: Sienna Guillory, Jessica Alexander, Ruby Stokes, Kaine Zajaz, Lindsay Duncan
Prod cos: Tea Shop Productions,Riverstone Pictures,REP Productions 8
Intl sales: Hanway Films
Boxing Day (UK)
Dir: Aml Ameen
Scr: Aml Ameen, Bruce Purnell
Prods: Matthew G Zamias, Damian Jones, Aml Ameen, Dominique Telson, Joy Gharoro-AkpojotorCast: Aml Ameen, Aja Naomi King, Marianne Jean-Baptiste, Leigh-Anne Pinnock, Tamara Lawrence
Prod cos: DJ Films, Studi0 113, BFI, Film4, Warner Bros UK
Intl sales: Rocket Science
Brian And Charles (UK)
Dir: Jim Archer
Scr: David Earl, Chris Hayward
Prod: Rupert Majendie
Cast: David Earl, Chris Hayward, Louise Brealey, Jamie Michie, Nina Sosanya
Prod cos: Mr Box, BFI, Film4
Intl sales: Bankside Films
The Real Charlie Chaplin (UK)
Dirs: Peter Middleton, James Spinney
Scrs: Oliver Kindeberg, Peter Middleton, James Spinney
Prods: Ben Limberg, John Battsek, Mike Brett, Steve Jamieson, Jo-Jo Ellison
Prod cos: Archer's Mark, Passion Pictures, Smaller Biggie, BFI, Film4, Showtime
Intl sales: Altitude Film Sales
Ride The Wave (UK)
Dir: Martyn Robinson
Prods: Martyn Robinson, Louise Storrie
Prod co: Blackhouse Films
Intl sales: MetFilm Sales
She Will (UK)
Dir: Charlotte Colbert
Scrs: Kitty Percy, Charlotte Colber
Prods: Jessica Malik, Bob Last
Cast: Alice Krige, Kota Eberhardt, Malcolm McDowell, Rupert Everett
Prod cos: Popcorn Group, Rocket Science, Intermission Film, Pressman Film
Intl sales: Rocket Science
True Things (UK)
Dir: Harry Wootliff
Scrs: Harry Wootliff, Molly Davies
Prods: Tristan Goligher, Ruth Wilson, Ben Jackson, Jude Law
Cast: Ruth Wilson, Tom Burke
Prod cos: The Bureau, Lady Lazarus, Riff Raff UK, BFI, BBC Film
Intl sales: The Bureau Sales